Handsome Czech Muscle BelAmi Gay Porn Star, Steve Skarsgaard
Known Aliases / aka: Pavel (Fit Casting)
Years Active: 2017
BEL AMI INFO:
We first introduced Steve around Christmas 2016 and since his casting and photosession he has appeared in a few scenes over the past year, most recently being trained as a top by Andrei Karenin. While he is a natural as a bottom, it will be interesting to see how he progresses also as a top. One of our more athletic models, you will be seeing more of Steve in the future.
Eye Color: Blue
Zodiac: Gemini
Dick Type: Average
Dick Size: 16
Hair Color: Brown light
Height: 170
Weight: 70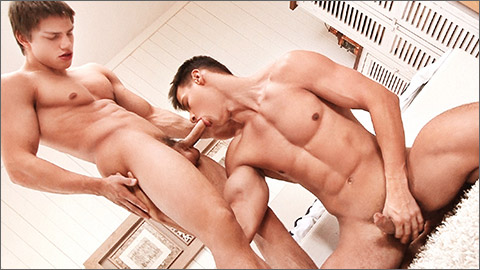 FRESHMEN TUESDAY: ANDREI KARENIN & STEVE SKARSGAARD
This clip is certainly one for lovers of fine bodies. Andrei Karenin's physique has to rate in our top 10 of all time, so he seemed like the perfect match for aspiring model Steve Skarsgaard.
   This is Steve's scene that he filmed with us and his first as a top. When he is chatting with Andrei he admits to being quite nervous the first time around as having sex in front of a camera is a lot different than having sex for fun. We know that Steve's haircut here may be a bit 'leonine' for some of you, but this Freshmen Tuesday clip is more about the bodies, so we hope you will enjoy it.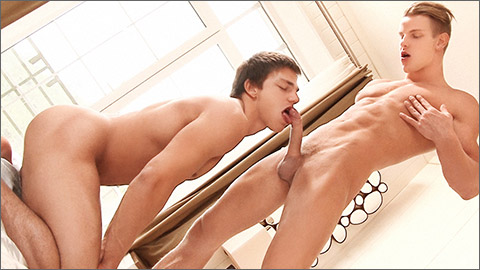 ROALD EKBERG & STEVE SKARSGAARD
Today we have for you Steve Skarsgaard's training video with Roald Ekberg. Roald is a little concerned at the beginning that Steve may actually surprise us and be more of an expert than he is. At the end, although Steve does show that he is no slouch, but Roald's years of experience I think give him the upper hand…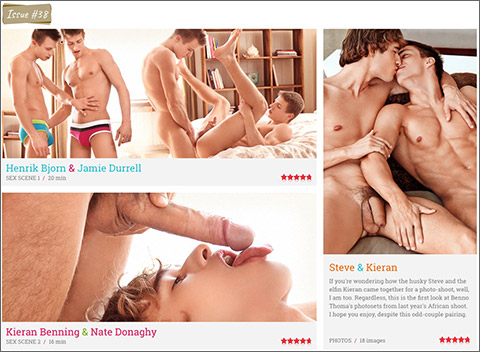 FRESHMEN ISSUE 38 – PHOTOS: Steve Skarsgaard & Kieran Benning
If you're wondering how the husky Steve and the elfin Kieran came together for a photo-shoot, well, I am too. Regardless, this is the first look at Benno Thoma's photosets from last year's African shoot. I hope you enjoy, despite this odd-couple pairing.

FRESHMEN ISSUE 17: Steve Skarsgaard & Hoyt Kogan
That Steve Skarsgaard's future with us is questionable may surprise you. He has a great body, a sweet smile and impressive equipment. I will also say he is willing and accommodating. What's not to love? Despite all these positives I suspect that his sexual appetite falls below what's needed for a first-rate porn star. Thus we present here his best scene, not his first . As sexy and sensual Hoyt always brings out the best in everyone, it may be hard to notice any issues here. As always, we await your feedback (almost) as much as you await each installment!