Furry Raging Stallion American Gay Porn Star, Shawn Wolfe
Known Aliases: Drew (Sean Cody)
Years Active: 2012 – 2014
TWITTER @ShawnWolfeXXX
SHAWN WOLFE IS NEW RSS/FALCON EXCLUSIVE (2012):
"For me, getting into the business was just a matter of time," the hairy Wolfe says. "I have spent the recent years preparing for this moment, and Raging Stallion has always been the direction I wanted to go with my career. I remember being younger and realizing what I wanted, and focusing on molding myself in the vision of a Raging Stallion man. I look forward to my future in this industry and can't wait to get out there, work hard and meet the fans!"
   A native of the Pacific Northwest, Wolfe is a versatile performer (he bottoms for fellow newbie Woody Fox in IMPACT) who will mainly work in RSS productions. He also recently shot a solo scene for the upcoming OH MY GODFRE DVD with Benjamin Godfre, playing his "dirty director". This is the first onscreen co-star for Godfre, who previously worked as an underwear model.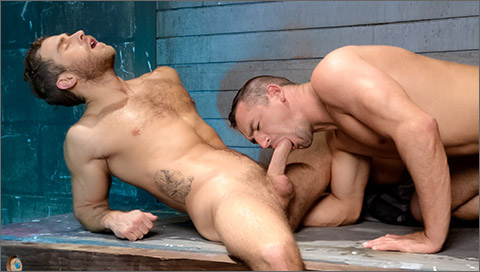 HUNG AMERICANS – PART 2: Shawn Wolfe & Tyson Reade
A perfect ass fills the screen; it's smooth and muscular. Tyson Reade is dry-humping Shawn Wolfe, who's on his back with his pants around his ankles. They exercise their hip flexor muscles vigorously, crushing their balls together while their cocks glide past each other with enough friction to burn. Tyson chews Shawn's lips, then his nipples before moving down to his cock. Splayed out on a workbench, Shawn is all slim and trim with dark blond fur. Shawn finds it all but impossible to refrain from blowing his load down Tyson's throat but he holds it in, trading places so he can deliver it later. Shawn opens his throat and takes Tyson's meat for a balls-deep blow job, earning a mouthful of cum for his efforts. His tasty reward sends him over the edge as he resumes deep throating Tyson and jerks off vigorously until his own load is on the floor.
RAGING STALLION
FALCON STUDIOS
NAKEDSWORD
CLICK HERE TO GO TO HIS RAGING STALLION DETAILS