British Gay Porn Star Ruffian, Shane Stone
Years Active: 2008 – 2016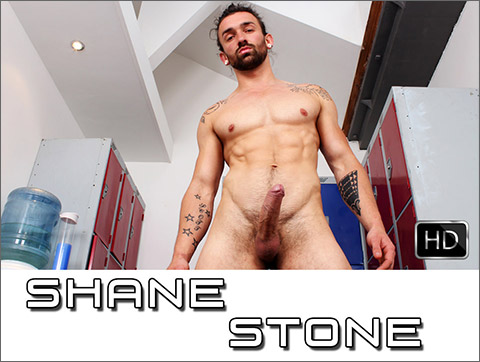 LOCKER JOCK: SHANE STONE
There's something primal, almost animalistic about Shane Stone. Outdoorsy, rugged and just so burly. Like a caveman with a sense of humour and a killer smile. Shane rustles and plays with his shiny shorts, peeling them off to reveal a standard crisp white jock strap, framing his muscular arse and cupping that big bulge perfectly. Stripping off his lycra he shows off what the outdoors can do for a man's body, the guy is ripped! playing with his nips, groping his bulge and stiffening this meaty fucking cock, he gets it out. A proper weapon, 8" mega thick dick, we can see why he's a top! he strokes, groans, plays and spits on himself. Dirty, masculine and hot as fuck!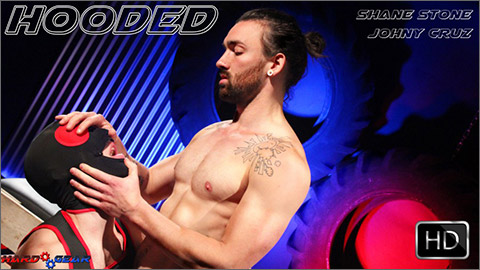 HARDGEAR | HOODED: : SHANE STONE FUCKS JOHNY CRUZ
Like a predator selecting his prey Shane paces back and forth in front of his line up of potential hooded submissive bottom jocks. He tastes, smells and gets a feel for each boy before carefully selecting one who he thinks will satisfy his needs.
   Taken, thrown down on his back and unaware how the session will play out, the boy can only wait. Shane is already hard and wants a hot arse to fuck, gets his huge weapon out, briefly lubes up and jams it straight into his hooded boys fuck hole. He gasps and groans, not expecting his bosses cock so quickly, lucky boy! Shane fucks him with no mercy and is a seriously skilled top. Pulling cock out and plunging fingers in deep, in mixed repetitions, he's really testing the boys limits and stretching his arse! Up to 4 fingers easily at one point with noises of ecstasy coming from the hole in the black-out hood. Shane moves round to the other end of his fuck toy pulling his head over the edge of the bench, upside down to fuck his throat. Just another hole with limits to test. Shane is impressed with his boys resolve, he takes a good throat fucking with pleasure. He rewards him by sucking his fuck stick, he may be a mean top but he knows how to keep his sub happy and wanting more. Pulling him round and bending The boy over the bench, his arse is on offer again. Rammed hard, at a medium pace the boy is loving it. A final reward from a generous dom, the hood comes off but the play goes on.
UK HOT JOCKS
EUROCREME
HARD BRIT LADS