Spanish Kink BDSM Gay Porn Performer, Sergio Mutty
Years Active: 2013 – 2015
TWITTER @sergiomutty
HARDKINKS INFO:
Age: 21
Role: Master
Height: 176 cm
Weight: 65 kg
Sergio Mutty is a Spanish young macho from Madrid, an amazingly hot and fresh stud. At his only 21 years old he's able to show our cameras who he really is: a boy brave enough as to dominate any men on his hands.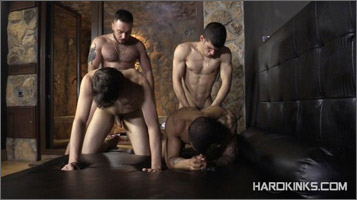 BULLFIGHT EDITION vol 3
3 years ago we've released our first movie, so we're going to celebrate leaving three slaves in a dungeon for the amusement of Masters Macanao Torres & Sergio Mutty. Prepare yourself for pure Hardkinks action.
This movie contains: Anal Sex, Armpits, Bad Language, Blowjobs, Bondage, Boots, Dog Training, Extreme, Feet, Humiliation, Leather, Orgy, Piss, Servant, Sneakers, Spank, Spitting, Torture, Trackies, Whip, Young Masters
CLICK HERE TO GO TO HIS HARDKINKS DETAILS