Tattooed Spanish Hunk Gay Porn Star, Sergio Moreno
Years Active: 2013 – 2014

SERGIO MORENO FUCKS FERNAND DUTCH
Catching up with two friends by the canal, Jack knows some serious hotties, and muscled men Sergio, dark hair and beard, with shaven headed stud Fernand make a damn hot pair of fuckers we can't wait to see getting down and dirty in their apartment! With some proper intense armpit licking, lapping up the sweat of the day from each other before moving to Fernand's smooth butt which takes a lick then instantly 3 fingers from Sergio, we can already tell who the bottom is going to be! The tattooed hunk with inked script all over his heaving body is a real top fucker with an appetite to match his throbbing dick! Teased with heavy fingering, Fernand's gaping ass is almost begging for more, and gets Sergio's dick finally pushed deep inside him doggy style, letting us take in his own inked body whilst also getting the pleasure of Sergio's dick working in and out of him until he shoots his load and Sergio flossing his fuck buddy's face and chest with sprays of spunk!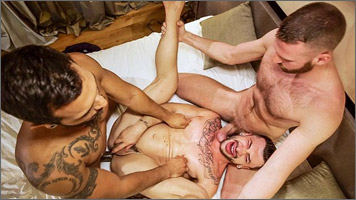 LUCIO SAINTS & TIM KRUGER FUCK SERGIO MORENO
While others stuff their Turkey today, our extrahung fuckers Tim and Lucio stuff Sergio Moreno's hot musclebutt.
   They start nice and slow on the bed and feed Sergio with their huge cocks before they turn him around and both take care of his musclebutt. But they are not finished yet. They all move to the bathroom where Sergio has to eat all the cum Tim and Lucio have collected for him in their balls. Happy Thanksgiving!!!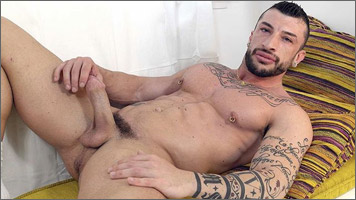 FIXED & FUCKED: SERGIO MORENO SOLO
There's sexy men and fucking sexy men. Sergio brought the sun with him from Spain together with a massive muscular body, amazingly hot tattoos, rough masculine features and a beautiful meaty cock. He slowly strips in front of me and I'm mesmerized by him. It's something I can't describe. You have to watch it!
TIM TALES
KRISTEN BJORN PRODUCTIONS
BUTCH DIXON
ALPHAMALES