Slutty Kink Men American Gay Porn Star, Sebastian Keys
Known Aliases: Sebastian Keyes
Years Active: 2009 – 2016
TWITTER @XXXMrKeysXXX
RENT MEN
RENT MEN INFO:
Age: 26 Y/O
Height: 6'0″ – 180 cm
Weight: 175lbs – 73 kg
Body: Athletic
Body Hair: Light Hairy
Orientation: Ask me
Ethnicity: Caucasian
The one and only Sebastian Keys at your service, but you may call me Mr Keys until further instructed. Looking for the perfect BDSM experience, catered to you? Contact me to fulfill all your desires. My services include BDSM, Fetish, Massage, Wrestling and BFE. Don't waste another moment, book me now to make all your fantasies come true!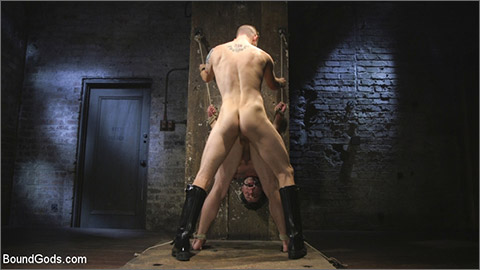 MR. KEYS TAKES THE HOUSE SLAVE TO THE NEXT LEVEL
Master Sebastian Keys just found his newest contender for house slave: Jackson Fillmore. First Jackson must endure days of confinement in full duct tape bondage, while Master Keys beats and toys with him. After Jackson is released from his tape restraints, he must escape the imprisonment of his own mind. Master Keys torments Jackson with his crop while delving deep into the pain sluts inner psyche. Jackson needs to understand his desire for pain if he wishes to continue. Jackson's arms are suspended above him as Master Keys unleashes the full power of his flogger on him. Jackson embraces the torment, and is rewarded by being tied against the wall, and feeling his master's hard cock fill up his asshole. Master Keys fucks Jackson, until he can no longer contain himself, and coats Jackson's slutty ass with his fuck juice. Jackson is proud to have passed the challenge and releases a cum stream that trickles across the floor.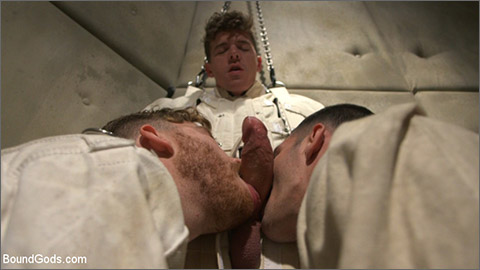 PATIENT AND NURSE BATTERED AND ASS FUCKED BY SADISTIC DOCTOR AND HIS 10 INCH COCK
Brogan Reed is having problems with his cock, and decides to visit Dr. JJ Knight and his assistant Nurse Sebastian Keys. After rigorous testing, Dr. Knight concludes that the best solution is to attack Brogan's erection until it goes down. Nurse Keys grabs Brogan, while Dr. Knight beats Brogan's hard cock, using his hands, and a crop. Dr. Knight pulls out his ten inch cock and shoves it down Brogan's mouth. Dr. Knight's new patient takes all ten inches in his throat, until the doctor can't restrain himself, and fills Brogan's mouth with hot cum. Nurse Keys wants some sloppy seconds, and ties Brogan to the bed before sticking his stiff cock down Brogan's throat. Dr. Knight decides that only he can treat the patient, and proceeds to savagely beat Brogan and Nurse Keys with a crop. Nurse Keys dreams of the doctor in a maxcita sleep slack, while he and Brogan lick all over the doctor's luscious dick. Nurse Key's awakens from the sweet dream, and finds himself in a padded cell next to Brogan. Dr. Knight towers over his bound nurse and patient. The vengeful doctor paddles Nurse Keys and Brogan as they grovel on the floor. Dr. Knight then chains them to the ceiling, and brutally flogs them until they cry for mercy. Dr. Knight lets them down and then presses them against the wall. The three form a fuck train as Dr. Knight thrusts his massive cock in Nurse Keys' ass, while Nurse Keys butt fucks Brogan against the wall. Nurse Keys wants even more cock, and takes both Dr. Knight and Brogan's dicks up his ass simultaneously. The intense double penetration leads Nurse Keys to shoot his sticky cum all over Dr. Knight's chest. Dr. Knight pushes the nurse off his cock and bends Brogan over to fuck the cum out of him. Brogan takes Dr. Knights thick dick up his ass while Nurse Keys strokes the cum from his cock. Dr. Knight then pulls Nurse Keys and Brogan to the floor, where he showers their faces with his cum.
RAGING STALLION
RAGING STALLION FETISH FORCE
HOT HOUSE
HOT HOUSE CLUB INFERNO
GIO CARUSO'S BAIT BUDDIES
MEN.COM
PRIDE STUDIOS
HIGH PERFORMANCE MEN
GAY ROOM
DOMINIC FORD