Scruffy ChaosMen Amateur Gay Porn Guy, Sean Peyton
Known Aliases / aka: Brett Cash (Jason Sparks Live)
Years Active: 2016
BRIAN OCKERT / CHAOS MEN INFO:
Start Age: 23
Debuted: February 22, 2016
Height: 5'10"
Weight: 145 lbs
Cock: 7″ Cut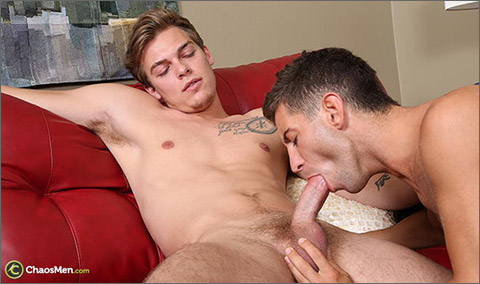 SERVICED: JUSTIS & SEAN PEYTON
Justis really dives in to this video!
   Sean starts by playing with his cock through his shorts, but Justis is hard and ready to go. He looks around uncomfortably, not really sure where to look, but VERY turned on.
   Despite Justis saying he is straight, I am going to toss him in the 'bi, at least' category for now. He was very comfortable, and shaking with excitement, very much like we all did during our own first times.
   I know 'first time' videos are dubious, but he swears he has never done anything with a guy, so perhaps he has been saving-up for a situation where it would be "just a job."
   Regardless, Sean works his cock like a pro. He gets him on the couch to really attack his dick with his mouth.
   Sean stands up to give Justis access to his cock. Justis tries sucking dick for the first time. He goes at it with gusto. There is a glimmer of skill, but it does seem like he is still learning the ropes. He sucks on Sean while stroking his own cock, enjoying having a cock in his mouth and trying to please Sean.
   Then Justis gets his ass rimmed, and he sure does pop that ass of his out for the licking. Future bottom? He does look a little uncomfortable at first, but he eases into it, and his cock definitely liked the extra attention.
   Justis then fucks his face, trying to get close. I think the angle was a bit too hard to navigate, so he stands upright and jerks his cock until he sprays all over Sean's face.
   Sean stands up quickly and busts his own load all over Justis's spent cock.
   Not wanting to leave a mess, Sean gets on his knees and cleans all that delicious cum off!
   Justis said he had a great time, and is excited to try more, so I will definitely try to get him back in!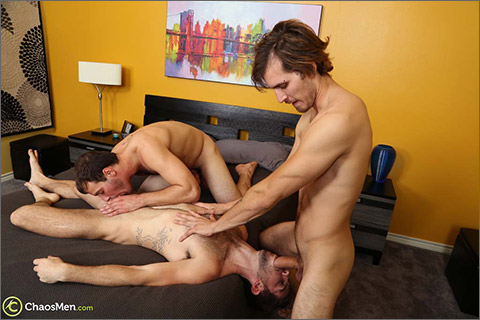 SERVICED: LEON & SEAN PEYTON & TRUMAN
Last week you met both Leon and Sean Peyton doing their solos. I thought I would put them together to see how well they do with cock sucking. Two new guys first time being filmed!
   Truman was supposed to do a cam show, but he got a new job catering, and could not leave. Sorry cam viewers! He was of course looking for money for the holidays and regretted missing the cam show. So I thought why not drop Truman in there and have someone in the shoot that is familiar with being filmed.
   Sean starts by getting Truman hard. Such an easy thing to do as Truman, self-admittedly, is a dirty boy. He has been playing with guys now outside of doing ChaosMen work, but nothing serious. He is still dating girls, and I think the band-aid he is wearing is a result of run in with one of the girls he was dating. He loves getting fucked by guys, but girls keep luring him in.
   Leon was nervous, and it took him a bit to get hard. Sean works his cock until his big uncut cock was fully hard. Truman climbs up so that Leon can suck on him while Sean services him.
   Truman then sucks on Leon's cock, while Sean strokes his own cock to get hard and join in on the fun. Truman goes back and forth sucking both dudes. Finally both Sean and Truman suck on Leon's big cock, licking his foreskin, and sharing the task of taking on his monumental cock.
   Truman straddles Leon and puts his cock up against Leon's dick. Sean has a chance to suck both guys, trying to get both cocks in his mouth!
   Truman spins around and starts to make-out with Leon. That leaves his cock and ass available for Sean to rim and suck. Sean goes to town rimming Truman and then having a nice big cock to suck.
   Sean volunteered to be the recipient of both guy's loads. Leon gets up and feeds Sean his cock. Sean tries his best to get Leon's cock down his throat. Sean also rims Leon's hole.
   All the guys start jerking-off and I have to admit the timing on this video is crazy good! Leon shoots his load onto Sean, then Sean blows his load, and Truman adds his load to everyone else's. Boom! Boom! Boom! It's a domino effect of…
   Sean's furry body is coated in cum! You can practically smell all that cum through your screen!
href="http://mpa3.chaosmen.com/hit.php?s=1&p=1&a=100040&t=0&c=&u=http%3A%2F%2Fwww.chaosmen.com%2Fshowgal.php%3Fg%3Dcontent%2FCM%2Fvideo%2F2015%2F1758-sean_peyton_theodore_serviced%2F8216%2F7_1%26s%3D31″ target="_blank">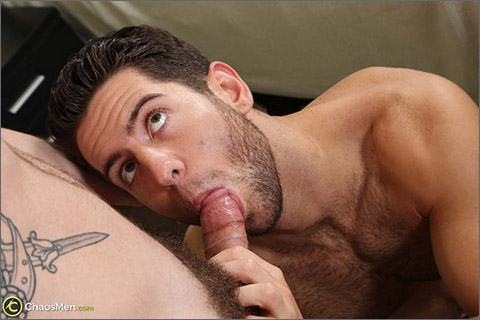 SERVICED: SEAN PEYTON & THEODORE
Theodore was a little nervous getting his dick sucked by a guy his first time. He did seem curious and excited to give it a try, so I figured things would go smooth.
   His dick was excited too. He pops out of his shorts hard, so Sean sets to work on servicing him.
   Theodore is doing fine with the porn video playing for him, and as usual I ease the audio down to mute as we go along. He gets a little wobbly without the sound of the porn playing for him, but Sean moves into full stroke mode.
   Not sure if it was his stroking that got his cock back to hard. Sean finally peels off his shorts, and spreads Theodore's legs wide, and that passive position seemed to be the turning point. He got rock hard with his legs in the air! Theodore paid little attention to the video after that.
   And in all the videos I have shot, I have never had any one make the request that Theodore did.
   Theodore asked Sean to rub his beard on his cock! It tickled him AND turned him on! Not many guys, gay or straight, can handle that, but Theodore was enjoying it, smiling really big! Hmmm.
   Sean went to rim him, and his beard tickled him again. After a few giggles though, Theodore was loving having his ass licked.
   Theodore stands so Sean can get at his cock even better.
   Theodore strokes his cock and gives Sean an amazing facial that coats his entire face!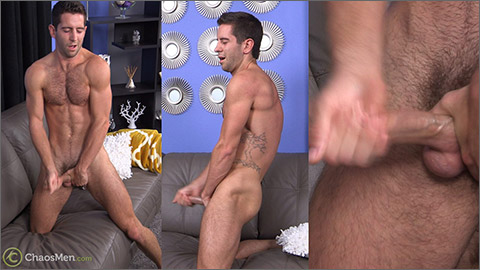 SOLO: SEAN PEYTON
Noah Riley referred me to Sean Peyton. They both dance together at the clubs, and Noah sent some pics of Sean. I liked what I saw, but he had a boyfriend and didn't think he would be keen on him doing porn.
   Well, boyfriends come and go, and we finally connected. He didn't have any recent photos, and just wanted to come over to do a few test shots. I would have shot a solo right then, but I had an appointment and we put the video off until we both had time.
   Sean likes the guys, and is more of a Bottom. He also likes 'mature' type guys, so if you are older than 35, you are in his wheelhouse. I think he mentioned his last boyfriend was 50, so we older dawgs have a shot with him!
   His solo is great! He has a curved 7inch cock, and I love his body hair. His hole is perfect too, and I can't wait to see a cock pounding him!
CLICK HERE TO GO TO HIS CHAOSMEN BIO PAGE