American Military Active Duty Amateur, Scott
Known Aliases / aka: Scott 5
Years Active: 2016

MATTHEW REEVES & SCOTT
Golly, these are a couple of COOL cats! I just love this duo and I think the whole squad will too. We have 'fresh steez' Matthew Reeves paired up with 'smokin' hot' Scott.
   It doesn't take too long before Scott subtly suggests Matthew lean on over and have a taste. Matthew enthusiastically dives right in, taking Scott's happy cock into his warm mouth.
   Scott wasn't about to let Matthew have ALL the fun. After a little while, the guys reposition so Scott can service Matthew for a while. Scott sure knows how to work a hard cock. It's easy to see how well he does by Matthew's reaction.
   The guys move from the couch to a standing position so Scott can continue pleasuring Matthew. Scott takes advantage of this opportunity to display his impressive collection of cock-sucking skills.
   In fact, Matthew enjoys it so much, he decides to have some more of Scott's dick. Scott reclines on the couch and lets Matthew do some more work.
   Then, before anything else, the boys sit together on the couch and kiss passionately for a while. I don't blame 'em…good sucking like that only leads to genuine, hot intimacy. And then of course some fucking! Scott gets on all fours on top of a black, leather footstool and allows Matthew to penetrate his tight ass.
   Then they switch things up a bit, with Scott going to his back for more punishment. This is some of the hottest action I've seen come to us in a while and I know everyone's gonna fall in love with this pairing. They're such hot dudes and they have a long way to go in this troop, as far as I'm concerned.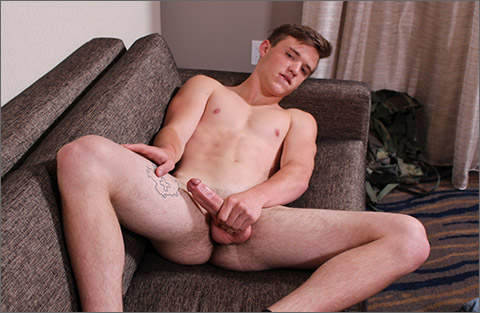 SCOTT
Hey Troops,Y'all are gonna just melt when you meet this brand new recruit. His name is Scott and he's the most delicious thing I've seen in TOO long! Claude really let Scott get down how he likes. Scott seems to be a young, but very confident young man and he certainly knows how to pleasure himself. Gosh, what a sexy boy!His body is just perfect. He's lean but has some nice muscular development and it's easy to see he has such potential for the future. Scott has that special leadership quality and I'm hoping we'll get plenty of opportunities to see him put it to use. Once Scott peels off his Military green t-shirt, his jeans, and his sexy green undies, we get a look at his happy, strong cock. He's already fattening up and as he plays with that tasty dong, he leans back on the couch to fully recline and sprawl out. He's so relaxed and cool! Scott takes the liberty of really using his free hand to touch all over his body. We see the genuine ecstasy on Scott's face as he enjoys every moment of this display for us. Claude tightens in slowly on Scott as he jerks his meat. Check out that tight, bubbly ass. I'm hoping Scott will be willing to take a stiff dick in that tender 18-year-old hole! I know we have plenty of soldiers on the roster who would be champing at the bit!Claude gives us an over-the-shoulder perspective to see what Scott sees. Yumm! Scott's hands are masculine yet gentle, and look incredible manipulating that fat cock. Claude gets down, right underneath Scott's dick to show us how delicious it would look if we were waiting for Scott to pop a healthy blast onto our face. I really enjoyed watching Scott's taint here. His so well put together!And the view of Scott on his feel from a wider perspective is just magic. Tight abs, strong legs, and lean, thick arms. Yes, please!Then it's back to the couch where Scott is sure to use plenty of oil to finish the job. I also enjoyed that he kept his socks on for this session. They're a nice looking, athletic pair. As Scott works up to that final moment, his intensity builds and crescendos in an eruption of passionate release. What an amazing debut from this young hunk! Let's all hope he's back soon, maybe mixing things up next time with a new acquaintance.
CLICK HERE TO GO TO HIS ACTIVE DUTY DETAILS