Spanish Nasty Daddy Gay Porn Star, Santi Noguera
Years Active: 2015
TWITTER @santinogueraxx
MEAT MEN – AT EASE: ALEX BRANDO FUCKS SANTI NOGUERA
Alex and Santi are two old friends, who like to get together from time to time and compare their muscles. Santi is stripped of his shorts and Alex moves in on his already stiff cock and begins to swallow him whole. The pleasure is driving both men crazy with desire and Santi is eager to get his lips wrapped around Alex's perfect muscle cock. Santi takes his muscle buddies cock whole while Alex takes Santi's head into his hands and forces him deeper. Alex turns Santi around and spreads his firm, round buttocks apart and dives in tongue first. After eating Santi's ass, Alex decides that it is wet enough and no spit is necessary for his cock as he rams it deep and raw into Santi's hungry ass. Alex positions Santi on his shoulders and plunges his cock in his ass so that Santi gets to watch Alex's ass pumping his cock in and out of his own ass. Alex turns around and goes balls to the wall deep in Santi's open hole. Alex is giving Santi the fuck of a lifetime and Santi shows his pleasure as he erupts with a huge, creamy load of cum as Alex continues to fuck him until he has spent every last drop of his load. Watching Santi blow his load and feeling his ass grip his cock tighter and tighter, Alex shoots his huge load of cum all over Santi's abs and smooth balls. Get together with your hot friend and compare your gains at the gym together!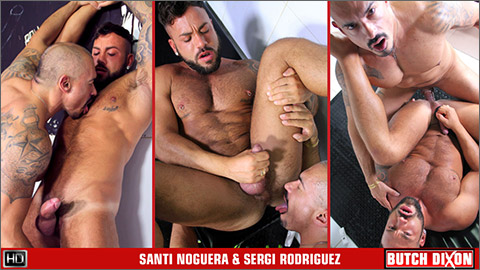 SANTI NOGUERA FUCKS SERGI RODRIGUEZ
One of our favourite furry pups is back – Sergi Rodriguez, and when we gave him his pick of the stable he couldn't wait to get his hands, tongue and sweaty hole onto Santi Noguera, a mean thug of a Spanish fucker with a gristle dick and a nasty streak (YUM!). Sergi's filling out beautifully, and still as hairy and horny as ever with a great rug of a hairy chest and those flickable, lickable, peachy white bits (oh those buns!). Santi's as horny as hades and can't wait to get to work reducing Sergi to an aching, moaning, sopping wreck. Sergio slurps on Santi's dark dick until its fully erect and lubed with spit, but just to make sure the jobs done properly Santi bends his cock-slut over and eats out his sweaty hole, pushing spit up it with his hot, probing tongue as Sergi moans and begs for that rigid length deep inside him – Santi never disappoints and pounds Sergi's butt-hole as he plays with his boys stiff, uncut dick until both our gents are ready to blow!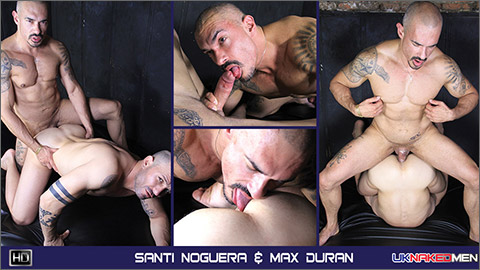 SANTI NOGUERA FUCKS MAX DURAN
Hold onto whats left of your arse Santi is cumming to town and this big, mean boy fucker is taking no prisoners. Luckily we've pitted him against the insatiable Guapo – Max Duran. Sexy Max will do anything to please his oversexed papi, and if that means standing on his head while Santi does a number on his hole – so be it. Max couldn't wait to get down and suck that dark, gristle dick and get it good and stiff to fuck his hungry hole, once Santi's revved up there's no stopping him. The top bloke spreads max's butt for us to have a good look as he slobbers all over it like a rabid hound. Max takes the full force of this big buggers furious fucking, as Santi slams relentlessly hip to hip, sliding his hot meat right up to the aching bollocks in max's tight, but increasingly sloppy fuck hole. the guys slam and pound until they're ready to blow ! Get ready gents Santi is cumming to town and this time its the bad boys who get presents !
KRISTEN BJORN
UK NAKED MEN
BUTCH DIXON
SANTI NOGUERA FUCKS MAX DURAN
SANTI NOGUERA & SERGI RODRIGUEZ