Thick Dicked Handsome Next Door Studios Gay Porn Star, Samuel O'Toole
Known Aliases / aka:
Years Active: 2010 – 2012
NEXT DOOR STUDIOS INFO:
Meet Samuel O'Toole. This young buck has it all. A killer smile, a great body and a fat cock! On top of that, he's got a great, laid back attitude. We're really happy to have him on our sets, as we're sure you'll be too, once his clothes come off!
   For this scene, Mr. O'Toole will be demonstrating the art of masturbation, and the lovely orgasm. Samuel begins by admiring himself in the mirror, gazing over his toned body and large muscles. Once in the buff, Samuel grabs a hold of his fat hog and gives it a slow, sensual stroking until his balls tighten up and he unloads his massive load all over a nearby mirror. Anyone want to lick it up? We bet!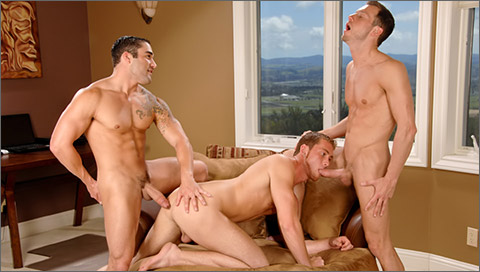 DICK BY THE FOOT
Samuel O'Toole has a pretty extensive collection of shoes. However, he pays a price for looking so well coordinated. Namely, some of those great looking pairs of shoes hurt his feet something silly. Luckily Samuel also has an extensive collection of friends willing to rub his feet at the end of a long day. Of course, his feet aren't the only parts they're willing to rub. Kyle Quinn is ready and willing to rub whatever Samuel can slide his way, and the only thing better than two cocks is three, so Samuel calls Connor Maguire and asks him if he wants any part of it. Which, of course, he does. Before you know it, Samuel's feet aren't hurting anymore, but his dick is about to bust and rock fucking hard. Guess that's what friends are for…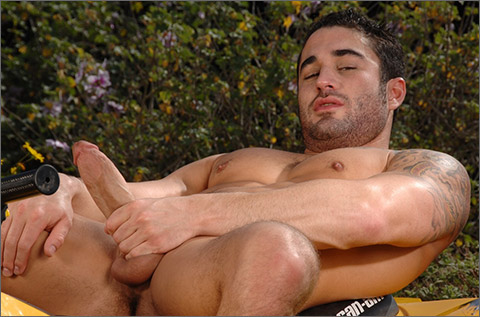 DICKIN' AROUND
Samuel O'Toole is killing time on a lazy Saturday. He had intentions on taking the ATV out and exploring, but as at the first clearing he found, he decided to just do donuts for about an hour and call it a day. After returning home from his arduous ride, Samuel surveys the majestic hues of the scenic hillside landscape, then decides to jack his meat. Why not? From dicking around on the four wheeler to jacking his dick on all fours.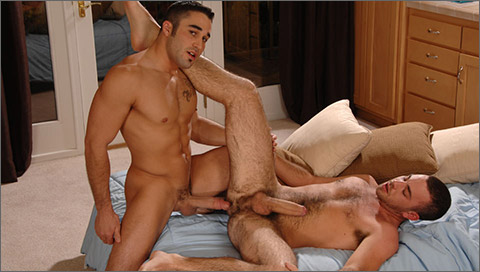 THE BIG WET PAYBACK
Parker Perry is starting trouble. While Samuel O'Toole casually surveys a scenic rural sunset, Parker decides to play a pretty wet trick on him, splashing him with a bucket of cold water. As retribution, Samuel decides that Parker owes him, and decides to take out the punishment all over Parker's sweet mouth. Well, in no time at all, Samuel is warmed up and ready to move on to coital payback, working Parker's ass in several different positions before finally splashing Parker with something a little thicker than water.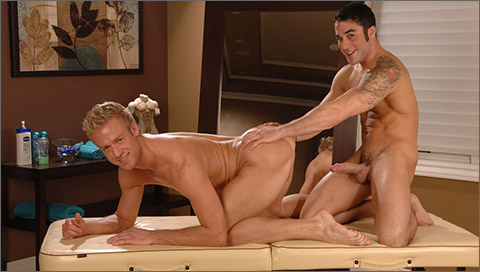 THE SOOTHING TOUCH
Samuel O'Toole knows the only way to relax after a week of hitting the gym. That's why he's visiting Christopher Daniels, a tall, muscular man well known for his magic rub-down technique. Samuel has heard very good things about this handsome masseur. He wants to find out if Christopher really has what it takes to help him blow off some steam.
   Christopher's method is rather unique. He always starts by finding out where his clients' tension centers are most tight. Samuel has had some trouble in his ass muscles lately, an area in which Christopher is an expert. He's handling Sammy's tender cheeks with care, working his skilled hands over Sammy's meaty ass and around his crack. When Samuel turns over, Christopher is not surprised to see Samuel's fat cock has become erect and quite hard. He assures Samuel 'It happens all the time.' Christopher's special massage includes a portion of gentle dick stroking, followed by soothing fellatio. Samuel opts for the deluxe package, which means Christopher will be receiving a hard pounding in the ass from Samuel and his massive hard-on. This is really the way to go if you need to relieve a substantial amount of tension.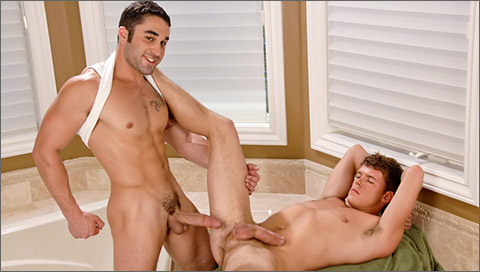 PLUMBER'S CRACK
Samuel O'Toole is no plumber, but he plays one on tv… sometimes. But how hard could it be? I mean, it's all just unclogging holes with a long snake anyway, right? And he's been doing that for years. So when Jackson Klein figures out that Sammy doesn't know dick about plumbing, he seeks to find out what he does know dick about… and it turns out, Sammy know dick about dick. Seems as if Jackson is going to get his hole unclogged after all.
NEXT DOOR STUDIOS
FALCON STUDIOS
HOT HOUSE ENTERTAINMENT
JAKE CRUISE'S COCK SURE MEN
KRISTOFER WESTON'S BOUND JOCKS
CLICK HERE TO GO TO HIS NEXT DOOR STUDIOS DETAILS
VIDEO ON-DEMAND: Samuel O'Toole @ AEBN SMUTJUNKIES THEATER
DVDs & ON-DEMAND: Samuel O'Toole @ TLA VIDEO