Tattooed Irish Gay Porn Star, Samba
Years Active: 2015 – 2016
TWITTER @SamSyron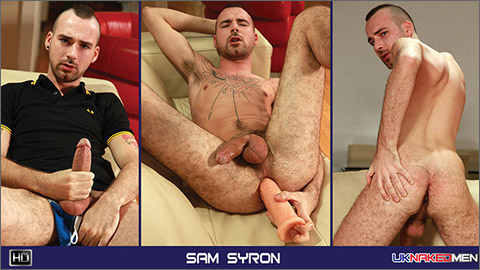 SAM SYRON SOLO
Hubba Hubba, this handsome, sexy, very hung, Irish guy is just smouldering, oozing sex. Sam Syron is a slender, taut, toned lad with a handsome face, a big cock, heavy, cum-laden balls, hairy legs and the cherry on this delicious cake is that Irish accent, talk dirty you sexy stud! We couldn't wait for him to show off that hungry, hairy hole and see it in action with a sphincter stretching dildo. He's smooth on top and hairy from the waist down, all natural, unshaved and unplucked. He's a tasty piece of rough with a hairy arse that I could spend an afternoon eating out, once he's bashed that G-spot with the dildo we watch him whacking out a creamy, steamy load of cum all over his perfect, flat, hard stomach. And of course with a lot of uncut cock you get a LOT of foreskin, tongues at the ready gents, double likkerty splits and a creamy YUM!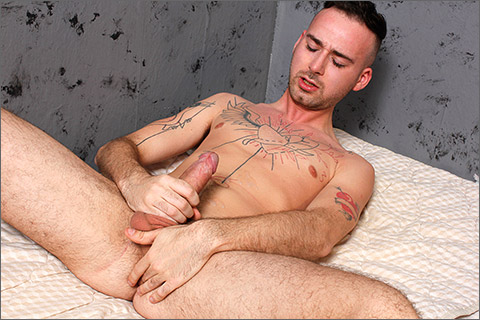 INKED INMATE SAMBA SOLO
Forgotten in the cells, sexy Irish bad boy Samba is awoken by breaking glass, disturbed from a sexy dream his hard-on gives away and after calling out for attention, Samba realises he really is all alone in the dark, locked in for the night. Sporting a big stiffy and with nothing else to do, he pokes it through the bars for us, almost beckoning any cock hungry copper, but to no avail, they're all too busy fucking each other in the office! Working his long shaft himself, the tattooed criminal gives himself the pleasure he craves and soon shoots a load over himself before trying to get some more shut-eye, dreaming of those handsome officers just around the corner!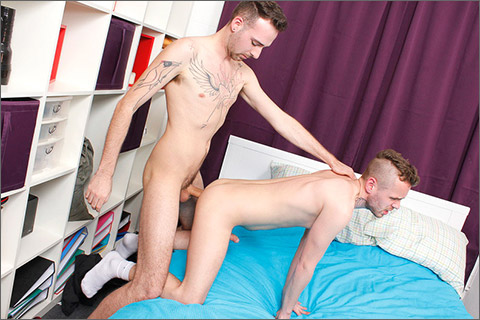 BOYFRIENDS DO IT RAW: SAMBA FUCKS SKIKES
Irish boyfriends Skikes and Samba invite us to join them on a hot raw fuck, letting us in on their personal lives in a quick interview to camera before they get underway. The Irish are known for their charm and they should add a sexual appetite to that too! Cute young Skikes is our bottom boy for today and loves nothing more than a big dick being fucked into him and it's even better when it's completely bareback, letting him feel every inch skin on skin. Lucky for him and for us that Samba sports a good thick dick for us all to enjoy and when he plunges it inside, he proves he's a hard fucker and takes no prisoners! Opening Skikes' ass wide for us, that dick is soon disappearing inside his boy, sliding in and out so we see just how much he loves bare dick inside! The ball slapping action only gets faster and faster as Samba builds to a big spurt all over the freshly opened hole, plunging again inside, getting that cum as deep inside as possible before lapping it up and feeding it to his boy, there's nothing like sharing spunk!
CLICK HERE TO GO TO HIS BULLDOG DETAILS