Hung American Twink Gay Porn Star, Sam Truitt
Years Active: 2013 – 2015
TWITTER
NEXT DOOR TWINK:
Meet a very handsome, sexy Twink named Sam Truitt. He's an easy going guy who loves turning on all who care to feast their eyes. He's introducing himself and sharing a few fun facts. Sam is a huge Batman fan, evidenced by the large, realistic looking tattoo, and hopes to one day appear in a big, Hollywood Batman blockbuster. Sam also loves spending time with his real-life boyfriend and fellow Next Door Twink, Trent Ferris. Sam is explaining a little bit about the couple's sexual habits, including some interesting info about ass eating! Like Sam says, his gorgeous eyes make him stand out, but there's something else that's people find even more impressive…his massive cock! Watch Sam get comfortable before pulling out his big, hard dick for some nice sensual stroking. Then see him slide a dildo into his tight, warm ass and work it in and out while continuing to jerk his thick meat. Sam is an amazing specimen you won't soon forget.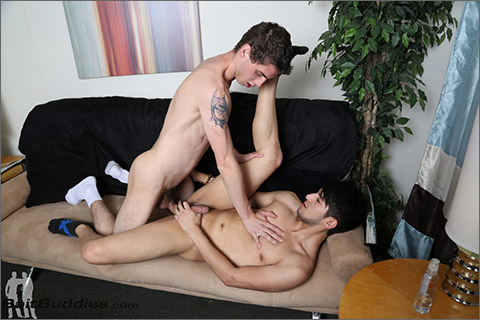 ETHAN TRAVIS BAITS SAM TRUITT
We ask the question 'who's who?' directed to Caruso. Just back from his cruise not long ago, he wound up in bed with some sort of mystery flu. This is his first shoot since getting back to work and he seems just a bit confused as to who is who in this scene. He can't seem to keeps things 'Straight' and mixes the guys up several times. He finds it pretty amusing himself. You guys sure won't mix up the returning Straight boy Sam, you just can't miss his big, thick 9.5" cock, plus he towers over his newbie Salvadorian co-star, Bait Buddy, Ethan, a cutie with hot, compact but very fit body and a sexy bubble butt. Sam is back for the money and is ready to push himself in this scene. Ethan is here for his first ever porn shoot – his main reason he tells us "I'm addicted to porn" and has been for quite a while. [READ MORE]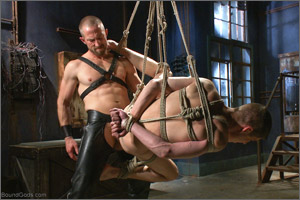 BOY, IT'S NOT A COSTUME… IT'S LEATHER!
Leather dom Adam Herst walks into the bathroom to take a piss at the stall, when the boy next to him, Sam Truitt, notices his leather. After examining Sam, the muscled dom decides to take him prisoner. With a chain around his neck, Sam awaits with his hands cuffed as Mr Herst comes in with the crop and orders the boy to get his cock hard. Adam gets a good taste of Sam's huge cock before pulling him to his knees. The boy's mouth is pried open as Adam shoves his hard, throbbing cock down Sam's throat. Suspended in the air, the poor boy is mercilessly fucked by his captor before he's brought to his feet for an intense flogging, his cock swinging in the air as his master beats him to a pulp. Mr Herst gives his boy one final fuck before giving him a face full of cum.
NEXT DOOR STUDIOS
GUYS IN SWEATPANTS
PRIDE STUDIOS
BAIT BUDDIES
COLLEGE DUDES
KINK.COM / MEN ON EDGE
KINK.COM / BOUND GODS
KINK.COM / BOUND IN PUBLIC