ChaosMen Amateur Guy, Sam
Years Active: 2015
BRIAN OCKERT / CHAOS MEN INFO:
Start Age: 26
Debuted: November 24, 2015
Height: 5'11"
Weight: 170 lbs
Cock: 6.5″ Cut
Sam is a muscle dude with a Swedish, Irish and German background. He has alabaster skin with freckles!
   He is straight, and all this was new to him. Sam is into MILF type ladies, with their average age being around 40. I bet the cougars love him!
   Sam works in business and finance, but clearly spends a lot of time at the gym. He is a smart guy, politically aware, and likely can hold his own in a conversation with any women twice his age on a wide array of topics.
   His jerk-off motion is very expressive. He has puts a lot of energy into it, and his cock is clearly giving him a lot of pleasure!
   I queued up a hot MILF video for him to stroke to, and he busts a huge load while watching it!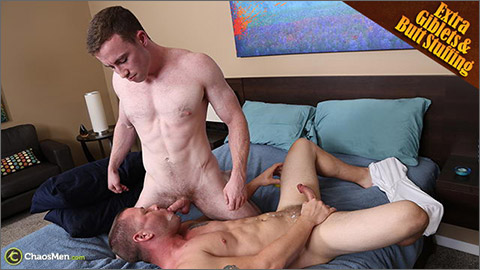 SERVICED: RANSOM & SAM
Sam said he had never had any contact from a guy before, and I tend to believe him.
   He was pretty nervous to get started. Ransom dives in and works hard at keeping him erect. Sam is one of the most expressive models I have had in a good long while. Whatever Ransom is doing, he seems to enjoy it!
   It is touch-and-go with Sam. He wilts a couple times, but each time Ransom brings him back to hard. Normally Ransom uses his hands, but it seems that all Sam needed was good old-fashion sucking action.
   Sam watches himself get his ass eaten, and I do believe he liked it!
   Because Sam was so expressive, Ransom got turned on by sucking on him. He wanted to do a facial and try timing his own cum shot with Sam, so he gets on his back so Sam can feed him his load.
   Sam busts a huge nut into Ransom's mouth. Cum oozes out of his mouth and Ransom starts to suck on Sam's spent cock. With cum drooling from his face, Ransom busts his own nut!
CLICK HERE TO GO TO HIS CHAOSMEN BIO PAGE