Sexy ChaosMen Amateur Gay Porn Guy, Rylan
Years Active: 2015 – 2016
BRIAN OCKERT / CHAOS MEN INFO:
Start Age: 25
Debuted: November 16, 2015
Height: 6′
Weight: 185 lbs
Cock: 8″ Cut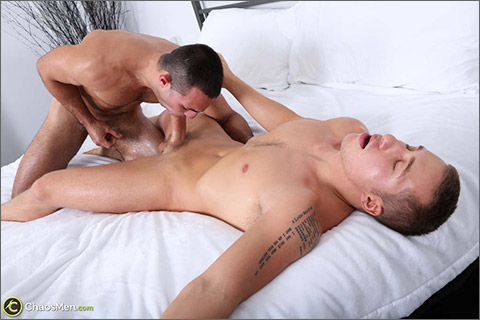 PURE: RYLAN & ULYSSES
I knew Rylan could do passion, while Ulysses certainly has proven he is a passionate performer. That sexual energy is the key ingredient to a Pure video, so for Rylan's inaugural raw scene, I knew they could pull it off.
   Rylan was super eager to work with Ulysses. The nerves he had before doing his solo and serviced video were totally gone this time out.
   Both guys are charged-up and trying to out passion the other. Ulysses cums twice, the first time while Rylan is fucking his face and sucking on his cock!
   Rylan was not sure he could stay hard enough to top, so he opted to bottom his first time out. Ulysses was a little relieved he would be only be topping after he realized how thick and long Rylan's cock was! If you have been waiting to see Rylan's cock plunging in a dude's hole, just wait for his next video. After this video he got a lot more confident and will be a totally versatile player.
   This is a top notch Pure video, with lots of body, cock, and ass worship!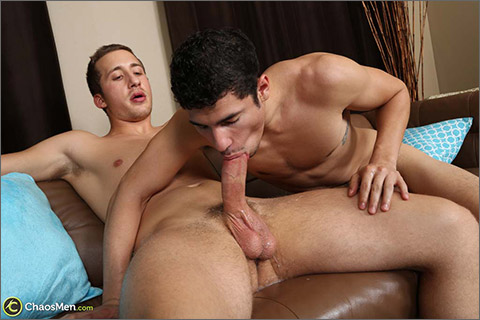 SERVICED: RYLAN & TROI
Rylan knew he would be down to swap oral, so I suggested a few models before he headed to the studio. Of the options I had, he picked Troi. This worked out great, because the holidays were starting and Troi needed to start making some extra money. Troi has become a great cocksucker and this video really shows how much his skills have progressed.
   They start by watching each other stroke their cocks. Troi gets hard first, so Rylan slides on over and sucks his uncut knob. Looks like Ryan's got some oral skills too!
   Troi returns the favor, getting Rylan's cock huge and hard. He slides in between his legs and really goes to town on his cock.
   He stands up and face fucks Rylan, who continues to stroke his whopper-sized cock. Rylan then rims his hole, and like a true Top, you can tell he is eager to lick his hole.
   Troi spins around and starts to suck on Rylan again. This is some great cock sucking as Troi really gets Rylan's cock pretty far down his throat practically having to dive open-mouthed onto Rylan's dick!
   They take a break from sucking while Troi revs up his cock. Rylan slides in at the final moment to take a facial and lick up his cum.
   Troi then gets to work and makes Rylan blow his load!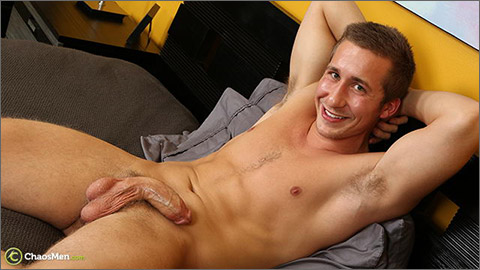 SOLO: RYLAN
I thought I would reintroduce you to Rylan.
   He did an amazing Peep video for us way back in November. I got a lot of great feedback on him, with requests to get him in the studio. As soon as he filmed his Peep video, I immediately scheduled him to come in and do more.
   We were days from shooting when he broke his foot, and was in a boot cast for several months. About the time his video aired he was ready to come in, so it wasn't until December that I could get him in.
   He is an Italian guy with blond hair. He says his siblings all have very black hair, but he got his blond hair from his mom's side of his family. Even his pubes are pretty much blond.
   Italians have that stereotype that they are hung, and with his 8″ cock, he certainly is contributing to that opinion! It is long and thick!
   He was more comfortable shooting in his house, and I think the studio and all the cameras threw him a bit.
   The first half of solo, he was pretty wobbly. Though, every time I got near him, his cock would wake-up a bit more.
   Finally I just reach up and stroke his cock, and that's all it took for him to get him fully hard. I even got a little oral in there. Yum!
   Like in his Peep video, he cums on his knees, which is apparently his easiest position to nut in. He dumps a huge load on the blanket, and with more than one camera angle, we get to see that huge cock spitting up globs of DNA!
   He will be back next week to swap some oral!
CLICK HERE TO GO TO HIS CHAOSMEN BIO PAGE