Danny Ray Gay Porn Star Twink, Roy Merrick
Known Aliases / aka: Roy McTurk, Bartolomej Hrosik, Cley Ozzborn, James Clay Osborne, Janny Moris, Janny Morris, Janny Osborne
Years Active: 2009 ?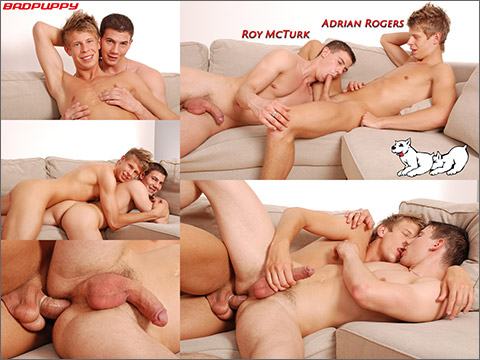 ADRIAN ROGERS FUCKS ROY McTURK
Roy McTurk ran into Adrian Rogers; a guy he went to high school with, at a local gay pride event. Back in gym class Roy had a secret crush on Adrian; but, Roy always thought Adrian was straight so he never said anything. They finally hooked up and quickly begin shedding their clothes and shoving each other's tongues down each other's throats. Roy is the first on his knees worshiping Adrian's rock hard cock before swallowing every last inch of it. Roy literally bathes every last inch of Adrian's shaft with his tongue and Adrian just smiles and leans back to enjoy the blowjob. Adrian wants in on the action and motions for Roy to sit up on the back of the sofa. He goes to work sucking Roy's cock while jerking his own, keeping both rock hard. Roy waited long enough for Adrian's cock. He has Adrian sit down on the sofa and then he sits right down on Adrian's dick and begins riding it up and down; his cock and balls bouncing in rhythm. Roy shifts over on the sofa with Adrian coming up behind him; he pushes his cock deep into Roy's freshly plowed ass. As he's pounding Roy's hole, he grabs Roy's cock and start jerking. It does not take long for the excitement to get to Roy and he starts squirting jizz all over himself and the sofa. It's all Adrian can do to hold it back, he pulls his cock out of Roy's butt and almost the second his hand touches it, he starts gushing cum all over Roy's asshole and balls.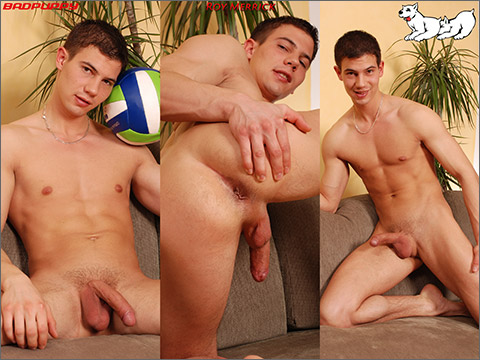 ROY MERRICK SOLO
Lean and tight Roy Merrick is truly an exhibitionist and we know from his interview that he has had car sex in the parking lot of a store while customers walked all around them. So, for him to come in, get naked and put on a show of us was nothing. Roy strips down and the first thing you will notice is how lean and muscular he is. Yes, he's got a nice, thick cock; but, that body of his is just to die for. After a brief posing session Roy grabs his thick dick with one hand and begins jerking it as he caresses his body with the other hand. Roy lies back on the sofa, continues to work his cock and balls while periodically his hand drifts down to his sweet, tight ass-hole which he fingers quite eagerly. He gets up on his knees, bends over the sofa and sticks his fingers in his hole. He continues to work his hole and cock at the same time, working that ass like an old pro. As Roy continues jerking his dick you can tell he's close as his body tightens up. With an intense thrust forward Roy squirts a thick, creamy load of man juice all over the sofa and floor below.
BADPUPPY'S DANNY RAY COLLECTION