William Higgins Czech Gay Porn Star, Romi Zuska
Known Aliases: Diego Canales, Aldo Belucci, Nick Vargas
Years Active: 2014 – 2016
Romi Zuska is aged 23 and lives in Zbiroh. He is unemployed and likes soccer, jogging and sports generally. He is the third Zuska brother to come and see us, following Rado and Filip. He, like them, looks very good indeed, with a lovely smile. He has such a handsome face and a great body, which he just loves to show off. He is quickly down to just his underwear, that allows us to appreciate that hot body. Then Romi turns, lowering his underwear to show off a very sexy ass too. Leaning forward allows the ass cheeks to open slightly, giving a nice glimpse of his tight hole. When he turns again Romi shows his hard cock, poking out the top of his underwear. Then he releases the cock completely, and what a beauty it is. Rock hard and pointing upwards that cock looks so good as Romi poses, flexing his biceps. He then lays down and lifts his legs to show off his ass hole. The cheeks are spread wide apart and that hot hole is on full view. Romi does a great job of showing it all, giving us more of his fabulous cock before his finishes his shoot.
William Higgins Model Name: Romi Zuska
Age: 23
Home Town: Zbiroh
Height: 175cm/5'8″
Weight: 61kg/134.2lb
Foot Size: EU42/US8.5/UK8
Penis Size: 17cm/6.69″
Profession/Student of: Unemployed
Hobbies: Sport
Favorite Sports: Soccer
Active Sports: Jogging
Movie/Music/Sport Stars: Billy Bob Thornton
Visited Coutries: Croatia
Want to Visit Coutries: England
Dream of My Life: I don't know.
Zodiac Sign: Libra (September 23 – October 22)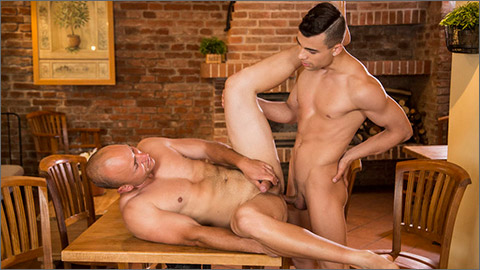 HOT MUSCLE DADDY DIRK TURNER GETS FUCKED RAW FROM EUROPEAN STUD DIEGO FALCO
Diego Falco is a little trouble maker. He has that dark hair and piercing eyes and a body that literally has zero body fat. He is pure muscle. As he touches his hard pecs and abs, he smirks into the camera. Oh fuck, you know he is not going to take it easy on Dirk Turner. Dirk is also pure muscle, but dirk is older and this bisexual hot daddy loves to have a hot younger man take control. Diego calls Dirk over. Dirk approaches and they start to touch each other's muscled frames. Then they begin to make out. The make out leads to some hot blow jobs and 69 action. Then Dirk lays back and spreads his legs. Diego takes his long uncut cock and shoves it deep into Dirk's hole. Then hot bareback fucking begins. Dirk gets railed hard by the enthusiastic Diego. Finally Dirk is bent over and Diego fucks him so hard, he has to pull out and cum all over his hot hole. Be sure to check out the free gay porn trailer of the hot bareback action here at Randy Blue Universe.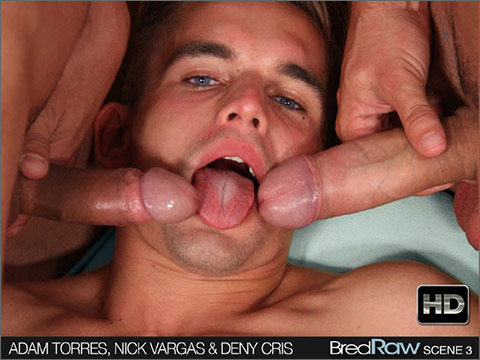 BRED RAW: Adam Torres, Deny Cris, Nick Vargas
Three-way cock sluts Adam Torres, Nick Vargas, and Deny Cris fuck raw and let the juice and cum flow wherever.


AT EASE: NICK VARGAS HUNTS DOWN HIS GUY – THEN FUCKS & CREAMS HIM!
There's no need to be concerned, folks. There may indeed be a very rough-and-tumble start to this scene, but we can assure you can no models were harmed in its production! All the same, there's simply no denying the breathless drama that marks the first few minutes of action; with Nick Vargas (gun in hand) chasing new boy, Calvin Rose, across a field of long grass. With dramatic music pounding in the background, you could almost be forgiven for forgetting (albeit momentarily) that this is actually porn you're watching; until Vargas finally catches up with his mark just outside a farmhouse and the raw man-on-man action finally begins.
   By this point, of course, there's a very good chance that you'll be totally captivated by Vargas's Jason Bourne persona – and it's likely to get a whole lot more intense when the fellow exacts his dominance over Rose by first forcing the lad against a tree and then (very quickly) inserting his finger into his ass. Before the boy knows it, Vargas's dick has promptly followed in the digit's wake, signalling the start of a sweaty, breathless outdoor fuck that will almost certainly have you unzipping and jerking off in no time.
   Vargas is the dominant force, no question – quite literally pounding his target down to the ground! But don't assume that Rose's performance here is in some way inferior. Despite his rookie status, he takes every thrust like a pro; and tops his act off by riding the cock cowboy-style, creaming himself in the process, before taking Vargas's wad on the face. Army games have rarely if ever looked so fucking hot!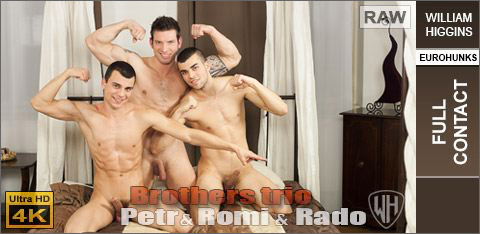 FULL CONTACT: RADO ZUSKA & PETR ZUSKA & ROMI ZUSKA – BROTHERS SHOOT RAW
We loved Rado Zuska when he first came to us, and he gave us some really great scenes. Then he did us a very big favor, sending his younger brothers, Petr and Romi,to us too. They too showed us just how good they are and now we have brought all three together for a great scene. It all starts with Petr taking a shower. As he washes himself Rado arrives and joins him. Pete lets the water wash over Rado and then Romi joins them too. All three sexy brothers showering together and they start to soap each others hot bodies. Rado is in the middle and he grabs at Petr's and Romi's cocks. Then he turns around so that Romi can wash his back and his ass. Then it is Romi's turn to be washed by his brothers. As they wash they get playful, with their cocks, having a lot of fun. Shower over we find the three of them laying on the bed and they decide to compare cocks. So they all start wanking and soon get nice and hard. Rado's dick looks so good and Romi suggests that he and Petr should suck it. Romi is quick to take the cock in his mouth sucking it before both he and Petr lick up and down the thick shaft. Then Petr sucks on the stiff cock as Romi licks Rado's balls.With all three guys rock hard Rado lays back so his brothers can suck him, kissing each other as they do so. Then Rado has to return the favor, so he kneels between them and takes turns sucking on each of those hard cocks. He does a great job on those dicks and then lays back with his legs up and ass in the air. That looks so inviting and Romi and Petr take turns in rimming the hot hole. Rado loves that feeling and soon is bending over, offering his ass up for some cock. Petr's throbbing cock soon slips into the eager hole, fucking it nice and deep. Then he makes way for Romi to fuck that hot ass too. Rado takes cock real well and moves onto his back so they can fuck him in missionary position. His ass gets a real good workout from his brothers, with both Romi and Petr taking turns again. Romi lays down on the bed so that Rado can climb on and ride his throbbing cock. Then he holds his ass in place so that Romi can pump his dick up into that hot ass. He fucks hard and fast and dumps his hot load deep in that ass. Rado spreads his ass and releases that cum. Then Petr and Rado kneel over Romi, wanking themselves. Rado soon dumps his cum over Romi's face. Petr keeps up his wanking and is soon rewarded with his own cumshot to end a really great scene, with Romi sucking on spent cock.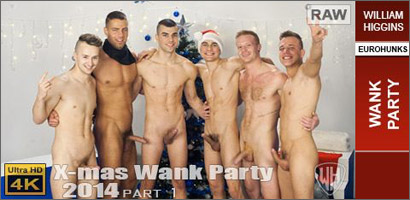 WANK PARTY 2014 XMAS
For our CHRISTMAS 2014 WANK PARTY we have a stellar cast, Hugo Antonin,Tomas Hozman,Tom Vojak,Arny Donan,Petr Zuska and Romi Zuska. In this first part we find the guy as they begin their celebrations with some wine, enjoying a chat as they do so. They sing and laugh a little before deciding to play some games. Spin the bottle seems to be the popular choice. Sitting in a circle the bottle is given its first spin, which results in Tomas having to remove his shirt. He is followed by Hugo, then Petr. Tom is next. When he spins the bottle it rests again, pointing at Tomas who has to remove his pants. Then Arny has to take off his shirt, and his spin results in Tom getting completely naked.Last off with his shirt is Romi. He spins the bottle and has Arny remove his pants. Then Arny has his revenge, with Romi taking off his. Only Petr and Hugo remain. It is Hugo who is next to get naked and lastly Petr does the same. The spinning resumes and settles on Tom and then Peter. So Tom has to give a little suck on Petr's cock. Romi is the next to be chosen by the bottle, and he has to suck Hugo. Then Arny decides to change the game. The bottle spinning will decide who will be active and who will be passive. Arny spins and is quickly chosen as one passive guy, then it seems that Hugo and Tomas are also chosen. But before they move onto that the guys decide on some hardcore sucking. Petr, Arny and Tom sit down, with Romi, Tomas and Hugo between their legs, to suck some cock. Those mouths quickly get to work on the cocks as Peter and Arny kiss each other. Then Arny turns and kisses Tom as well. The cocks quickly get very hard indeed , with Romi sucking Petr, Tomas working on Arny's meat and Hugo giving some hot mouth to Tom's massive dick. Then Tomas and Romi change places so they get to taste a differentn cock. Tomas really works Petr's throbbing cock well. He sucks and licks at it as Romi's head bobs up and down on Arny's. Hugo has Tom's big cock rampant and his mouth is wrapped tightly around it as he sucks. Then he swaps places with Tomas, and sucks on Petr for a while. Tomas gets to work on Tom's cock too as Romi is still with Arny. Hugo wanks his own stiff cock as he looks up into Petr's eyes and starts sucking him again. All change has Tom sucking Arny, with Hugo leaning over to suck Tom. Romi is busy on Hugo's cock too and his own is being sucked by Petr. Tomas stands behind them encouraging the all. Then as Petr, Tomas, Arny, Tom and Hugo stand in a sort of circle Romi lays in a revolving chair and is able to take turns on each cock. Romi has a great time as each guy's cock goes into his mouth. Moving again we find Hugo on the chair, with his ass exposed so that Tom can rim his tight hole. Tomas is laying down too and Romi has a great time tonguing his ass. Meanwhile Petr is wanked by Tomas and Arny is able to slide his cock into Hugo's mouth for more sucking. Those holes will soon be ready for some hot cock, as we will see in part two.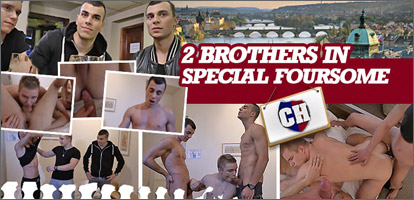 CZECH HUNTER 177
I got a call from a cute sporty hunk who I already fuck in the summer. Asked me out for a beer. So why not, I was actually in a mood to fuck him again. Once we sat down, he told me about two brothers he met in the gym. They spoke about money problems, so he came up with an idea to help them out financially and help me out to get what I always want. 24/7 and 365. But this sneaky little fucker wanted to rip me off and get some commission for this hook up. So I set him straight and told him that only way he can get money of me, is that I would fuck him as well along side with them. He agreed and I finally met those two brothers. They looked almost like twins. Both have well build bodies, cute faces and amazing smile. I was so impatient while they have been finishing their drinks.
RANDY BLUE
STAXUS
WILLIAM HIGGINS
WILLIAM HIGGINS STR8HELL
BEL AMI
CZECH HUNTER