Australian Gay Porn Star Hunk, Rogan Richards
Known Aliases:
Years Active: 2012 – 2016
TWITTER @RoganRichards
WEB SITE
MEN AT PLAY INFO:
Stage Name: Rogan Richards
Country: Australia
Age: 36 Years Old
Body Type: Muscular
Sexuality: Gay
Role: Active
Not all men are created equal and never is this more apparent than when you see the latest addition to the Menatplay stable of men, Rogan Richards. The 37 year old Australian caused waves of excitement when he first arrived at the Menatplay studios and after watching his debut movie you will understand exactly why. Rogan is quite simply jaw-droppingly HOT!!! The handsome face, the flawless muscular physique, the body hair, and not to mention that AMAZING ass! Its the kind off ass you'd want to bury your face in for weeks and weeks. And we haven't even got to his dick yet…. thick, uncut, veiny, delicious…in fact we could go on and on about how amazing he is but its probably best if we just let you see for yourself.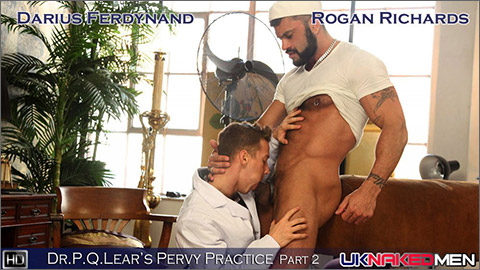 DR. P.Q. LEER'S PERVY PRACTICE – EPISODE 2
Sexy, hairy hottie Rogan Richards is meet smooth, muscular doctor – PQ Leer, whose wandering hands would have him struck off anywhere in the civilised world – but not here. The doctor inspects Rogan's tight foreskin and deciding a bit of spit would loosen it up – he goes the extra mile. Our Doc slurps on that juicy, uncut, joint, deep throating it as far as he can, until hunky Rogan is rock hard, and then the sexy doctor spreads and begs for that uncut tool deep into his hot, fuck-hole. Rogan pumps the lads arse, stuffing him full of dark meat. The camera gets in good and close to see the Docs tight hole ripple and spread around the cock, until Rogan's is up to his nuts and up to the Doc's guts.
http://www.uknakedmen.com/tour/showgal.php?g=content/UKNM/videos/hardcore/UKNM_rogan-richards_darius-ferdynand/10380/31_1&s=148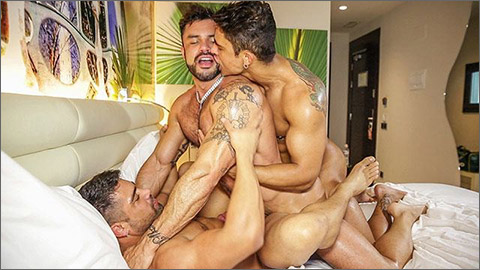 ROGAN RICHARDS FUCKS DIEGO & WAGNER
If you like big muscle guys than this video will fullfill all of your dreams, as we bring you not one or two, we give you 3 big hot muscleguys fucking like crazy in our newest sweaty and hot episode.
   Pornstar Rogan Richards from Australia was in town and wanted to play with some other musclehunks so we got him Diego & Wagner and as you can see in the video, this was the best idea we could have had. The three were a great match, we all had a lot of fun in that afternoon. And we caught everything on camera for you.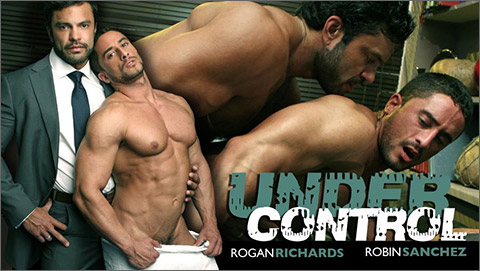 UNDER CONTROL
There's nothing quite like an arrogant man in a suit especially when he's your boss. Rogan Richards takes power abuse to new heights when he humiliates his sexy young PA Robin Sanchez. Robin knows his job depends on following Rogans every request so when he's asked to stand naked infront of his boss he puts up little resistance. Soon Rogan has his office boy sucking on his thick cock and munching at his ass. Rogan then fucks Robin over his desk pounding him hard for as long as the urge takes him. This is one of the hottest parings on Menatplay with two super hard cut naked bodies writhing and sweating and fucking their hearts out.
UK NAKED MEN
MEN AT PLAY
WORLD OF MEN
HARDKINKS
CLICK HERE TO GO TO HIS MEN AT PLAY DETAILS