William Higgins Czech Gay Porn Star, Roco Rita
Known Aliases: Czech Hunter 234, Danny Franklin
Years Active: 2015 – 2016
WILLIAM HIGGINS INFO:
Model Name: Roco Rita
Age: 18
Home Town: Prague
Height: 182cm/5'11"
Weight: 72kg/158.4lb
Foot Size: EU44/US8.9/UK8.4
Penis Size: 16cm/6.3″
Profession/Student of: Cook
Hobbies: Sport
Favorite Sports: Jogging
Active Sports: Fitness
Movie/Music/Sport Stars: Kaley Cuoco
Visited Coutries: Croatia
Want to Visit Coutries: France
Dream of My Life: I don't know.
Zodiac Sign: Scorpio (October 23 – November 21)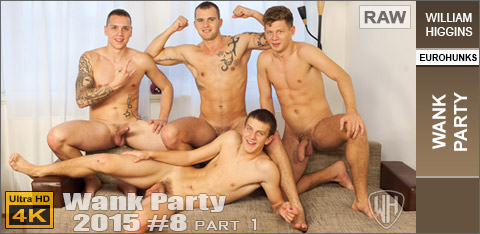 WANK PARTY 2015 #8 RAW
We have a wonderful line-up for WANK PARTY 2015 #8, with Rosta Benecky, Alex Stan, Marion Anel and Roco Rita. In this first part we find them enjoying a video game, but they soon turn their attentions to each other rather than a game. Marion and Roco kiss each other as Rosta and Alex do the same. Alex is the first to get to grips with some cock. What a cock it is too, Rosta has a big fat one and Alex is soon wanking and sucking it. He gets it as far into his mouth as he can manage. Marion soon does the same with Roco's rock hard dick. But very quickly Roco wants to suck and goes down on Marion with is busy sharing Rosta's dick with Alex. Alex sucks on Rosta's balls as well as that big cock. Marion wraps his lips tight around Rosta's cock as Roco continues to suck him. They all take a break to get rid of their clothes, with Alex opening his jeans so that Rosta can suck his stiff cock. As Rosta sucks Alex Marion fucks his cock into Roco's mouth. Then Rosta changes his attention to have a taste of Marion's cock as Alex returns to sucking his. Then he kneels up for Rosta to suck him again. Roco moves over and works on Rosta's dick as Alex leans over and sucks Marion's. Then Roco lays back on the sofa, legs in the air and Marion starts to rim his hot hole. Alex works on Rosta's hole at the same time and both rims and fingers it as Rosta wanks himself. Marion follows that lead and rams a finger deep into Roco's hole and fucks it in and out. Alex's tongue really works hard on Rosta's hole, pulling the cheeks wide apart to gain full access. Those hot, tight holes are all ready for more action in Part two.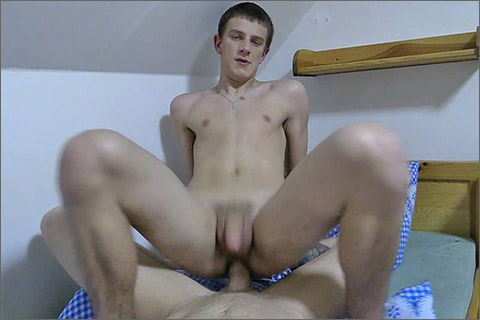 CZECH HUNTER 234
We decided to have a little skiing holidays in Czech mountains. As a proper tourist I filmed everything, the town, the scenery, and even the young boy I met at a bus stop. He was a bit scared of the camera at first but later he proved to be incredibly helpful and nice. A total opposite to the people living in Prague. The boy was local so he had many useful contacts. Thanks to him I got an amazing snowmobile ride to the top of the biggest mountain around. He even arranged a really cheap accommodation for me and showed me my room. He was a nice innocent guy so he didn't respond well to my offer. I almost had to block the door to stop him from leaving. But I knew very well that he is going to agree sooner or later.
WILLIAM HIGGINS
BADPUPPY
CZECH HUNTER
STAXUS