Handsome Blond William Higgins Czech Gay Porn Star, Robin Valej
Known Aliases:
Years Active: 2015
WILLIAM HIGGINS INFO:
Robin Valej is aged 21 and he lives in Brno. He is a student who enjoy playing sports, particularly athletics and volleyball. He is a great looking guy, and is ideally placed in the fitness room for his shoot, given that he has such a great body. Lifting his tee shirt Robin shows off his awesome abs before completely baring his chest. What a great body that is, and he gladly shows it off as he poses for the camera. He works through a series of very good poses, losing his jeans in the process. Then Jonas turns, back to camera, with his underwear pushed down to show off his sexy ass. The underwear comes off and we get more shots of that hot ass as Jonas works through some great poses. Then he turns around to give us a full frontal view of that hot body. He poses some more to fully show off his muscles and then he turns and bends over, so that his sexy ass cheeks part to expose his hole. Then it is time for a hard cock and Robin's gets very hard indeed and looks so good as he shows it off, standing and sitting. He then leans back and lifts his legs in the air, to show off his tight hole again. His cock stays nice and hard as we inspect his hole. What a great looking guy, and a wonderful stills shoot.
Age (2015): 21
Home Town: Brno
Height: 193cm/6'3″
Weight: 91kg/200.2lb
Foot Size: EU46/US9.3/UK8.7
Penis Size: 18cm/7.09″
Profession/Student of: University student
Hobbies: Sport
Favorite Sports: Athletics
Active Sports: Beach Volleyball
Movie/Music/Sport Stars: Colin Farrell
Visited Coutries: Germany
Want to Visit Coutries: Australia
Dream of My Life: I don't know.
Zodiac Sign: Virgo (August 23 – September 22)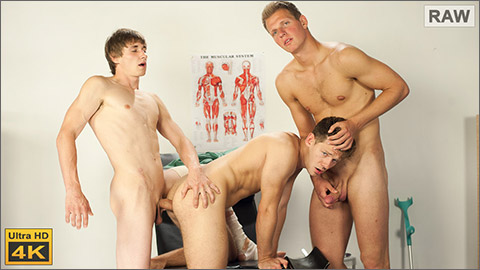 CZECH UP: DR ROBIN VALEJ & NURSE ROSTA BENECKY "CZECH UP" DAVE CARGO RAW
Dave Cargo has arrived for a Czech Up on his injured leg. Dr Robin Valej and nurse Rosta Benecky are on hand to adminster the examination. Dave explains that he still has pain in the leg, which Robin explains is normal after such a short time since the injury. He tells Dave to strip to his underwear, which he does. Then he sits in the examination chair. Robin then decides he needs to do a full exam and Dave takes off his underwear too. He sits back in the chair, resting his injured leg in the stirrup, his big, soft, cock nestling on his big balls. Robin starts to examin the belly and then he takes hold of the cock and wanks it as he also rubs the big balls. Rosta begins to rub Dave's chest too. As Robin wanks Dave's cock it begins to grow in his hand. Soon the big cock is nice and hard. Robin leans over and sucks on it for a few seconds, then he comes off and Rosta sucks it as well. He mouth wraps tight around the big head and he sucks it real well. As Rosta sucks Robin leans in and licks up the shaft and then takes over sucking. Dave's cock is rock hard from all the attention, with the balls tightening at the base of the shaft. Rosta licks Dave's sexy chest as Robin keeps sucking . Then as Robin examines the balls with his hand Rosta takes over sucking again. He then comes off the cock and kisses Robin. Robin holds the balls with one hand as the other begins to probe Dave's hole with a finger. The finger slips into the tight hole as Rosta sucks again. Robin takes a proctoscope and pushes in into Dave's ass removing the centre to show the open hole. The scope is removed and Robin's finger starts to fuck the tight hole again. As Rosta keeps sucking on Dave's massive cock Robin kisses his patient. Then the medics both remove their shirts, followed quickly by their pants. They then takes turns sucking the big cock again. Then they move up to Dave's head and present their cocks for sucking. Dave has a quick suck on Rosta when then moves down to suck again. Then Dave is moved onto his knees, showing off his ass. Then it is all change as Rosta kneels on the chair, showing off his ass. Robin uses two fingers to open up that hot ass and Dave stands and wanks his big dick. Robin then slides his throbbing cock deep into Rosta's sexy ass, fucking him nice and deep. Roast moans as he takes the cock. Then he sucks on Dave's big dick too. Robin keeps fucking his ass, going as deep as he can. Rosta moans as he takes it at both ends. Dave and Robin change places, so that Dave's massive cock can get some of that ass too. He pounds Rosta's hole, his big cock sliding all the way in. He fucks hard and fast, really opening the hole with his fat dick. Then Rosta turns over onto his back and Dave slams his cock back into the ass to fuck it some more. Rosta's dick is nice and hard as he takes the big cock. Robin leans over and wanks Rosta's cock while Dave continues to fuck. Then Rosta takes over his own wanking, so hard and fast, until his shoots his hot cum as Dave fucks his hot hole. His cums flies everywhere as Dave fucks him hard. Robin is wanking himself all the while. Then Dave pulls out of that ass and dumps his hot cum over Rosta's cock and balls. He milks his cock dry as Robin is still wanking. Then Robikn is ready to blow too and shoots his cum all over Rosta's face. Rosta takes Robin's cock in his mouth and sucks it to drain it completely. Then Robin tells Dave to come in for another Czech Up next week.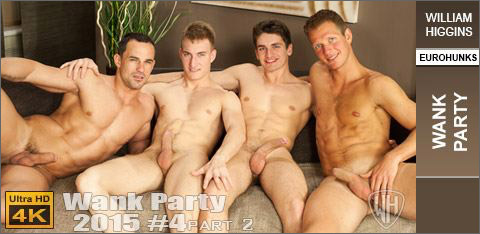 WANK PARTY 2015 RAW #4
We have a stellar line up for WANK PARTY 2015 #4, with Matej Borzik, Martin Porter, Milen Petrof and Robin Valej. In part 1 we find the guys enjoying a drink as they consider the upcoming hockey match. Robin invites the other back to his place to watch the match. As they sit on the sofa chatting the power goes off. Martin and Robin go to investigate, as they return the power comes back on and they find Matej and Milen bare-chested and kissing each other. They invite Robin and Martin to join them. So each guy removes his shirt and sits on the sofa. Martin kisses Matej and Robin joins Milen. Martin quickly has Matej's throbbing cock in his hand, wanking it. Milen pushes his jeans down as Robin takes his off. Then kiss some more as Martin starts to suck Matej. Robin wanks on Milen's big cock as he kisses him. Then they both get naked and wank each other. Martin gets naked too, and his stiff cock is available to Matej, who eagerly sucks on it. Robin kisses his way down Milen's sexy body, wanking his cock as he goes. Then he takes Milen's beautiful cock in his mouth and sucks it. Matej keeps up with his sucking too before coming off Martin's dick, so the favor can be returned. Milen then also return the favor to Robin, getting to work on his stiff cock. His mouth envelopes the cock suck it real good. Matej goes back down on Martin's cock, taking it deep. Then they all change, with Milen sucking on Martin's throbbing cock and Matej happily bobbing his mouth on Robin's. Robin and Matej move to 69 as Martin takes a on Milen's big one. Then they move to 69 too. Matej hot ass is spread nicely as Robin sucks his dick. Then it is all change again, into a chain, with Martin sucking Robin. Matej sucks Martin and Milen works on Matej. What a great start to this latest Wank Party, with a lot more hot action to come in Part 2.
As we rejoin WANK PARTY 2015 #4, featuring Martin Porter, Matej Borzik, Milen Petrof and Robin Valej, for part 2, we see Martin on his back getting fucked hard by Milen. Meanwhile Matej is taking it deep from Robin as well. With Martin on his back he wanks as Milen keeps fucking him. He takes it well, as does Matej who moans all the while. Robin pounds away at Matej's eager hole, his dick going all the way in with every thrust. He grabs Matej around the neck as he fucks even harder. Milen sucks on Martin's toes as he continues to fuck as well. Then Robin joins Martin, fucking him in spoon position as Matej lays on his back to take Milen's cock, as he wanks himself. Martin's wanking speeds up as Robin fucks him deep. HIs hole is stretched wide by Robin's big cock, slamming in and out as hard as it can. Matej keeps up his wanking while Milen dick is deep in his hole. As he wanks Matej shoots his cum up his chest. Martin releases a massive load all over his body too. Then Robin stands over him and shoots his cum too. Milen is last to blown and he dumps his cum over Matej's hot body. Then they all go off to the shower to help each other clean up.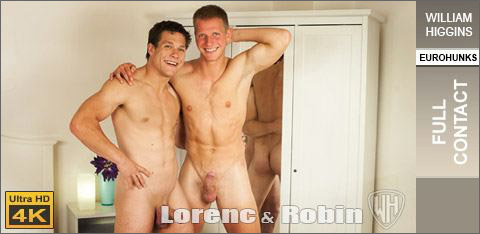 FULL CONTACT: LORENCE BYRO & ROBIN VALEJ
Two hot straight guys, Lorence Byro and Robin Valej are on top form in this duo. It stars with Robin going to the kitchen for a drink and then walking in to wake up Lorenc. Lorenc doesn't want to be disturbed though. Robin decides on another tactic in waking him properly. By indulging in some hot sex. He rubs Lorencs cock through his underwear and begins to kiss him. Lorenc's cock is rock hard in the underwear, which quickly comes off. Robin's mouth goes down to suck on the thtobbing cock as Lorenc's heavy balls hang between his thighs. He starts to fuck his rock hard cock into Robin's eager mouth. Robins lips are tight around the thick shaft and he really sucks well. Robin is rock hard too and after removing his underwear he climbs on top of Lorenc so they can 69. Lorenc quickly shows that he can suck well too. His mouth really works on Robin's dick as it fucks down his throat. They keep sucking on each other's cocks until Lorenc turns over, onto his knees to really work that dick. Robin's hand goes on the back of Lorenc's head as his cock is taken deep into the mouth. As he sucks that cock Lorenc rubs the tight balls too. Then Robin really starts to fuck that hot mouth. Lorenc moves up to kiss Robin who reaches round to grab his sexy ass. Then Lorenc is on his knees with Robin behind him, sliding his throbbing cock deep inside. Lorenc moans as the cock works into his hole and then starts fucking it. He takes Robin's dick real well, as it stretches his hot hole. Lorenc turns over onto his back and Robin fucks him missionary style. Lorenc wanks his thick cock as Robin fucks him hard. They both moan as they enjoy the action, with Robin's cock really pounding the hot hole. Robin needs to cum and pulls out of that sexy ass and dumps his hot cream over Lorenc. Then he leans over and kisses his buddy again.
WILLIAM HIGGINS
STR8HELL
BADPUPPY
CLICK HERE TO GO TO HIS WILLIAM HIGGINS BIO PAGE