Muscles Tall Dark & Handsome Gay Porn Star, Robert Axel
Known Aliases: Robert Christian, Michael Vineland
Years Active: 2010 – 2015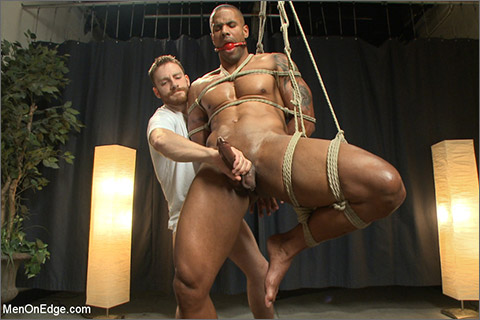 MUSCLE HUNK GETS A FOUR HAND MASSAGE WITH HAPPY AND UNHAPPY ENDINGS
Muscled hunk Robert Axel decides it's time to take a trip down to the massage parlor. The two masseurs oil up his muscles and begin working on every inch of his body. In the midst of Robert's relaxation, he finds himself tied down to the massage table as the two pervs begin teasing his cock. Robert's screams for help are muffled with their handgags while tit suckers are placed on the stud's nipples. They edge Robert's hard cock with the dual hitachi's before tying him up in the center of the room. Robert balances on one leg with a ball gag in his mouth as the masseurs continue to edge his hard cock. The bound hunk is then made to swallow a dildo while another is shoved up his meaty ass. Finally Robert's pushed over the edge as he blows his cum right onto his stomach and is finished off with some post-orgasmic torment.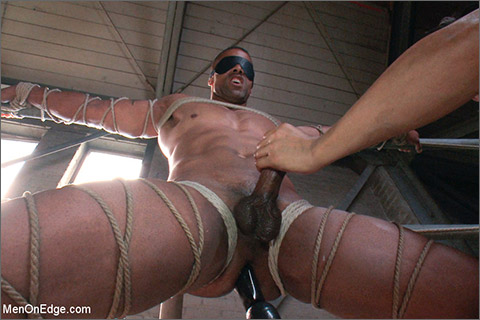 ROBERT AXEL – STRAIGHT MUSCLE GOD
Robert Axel is a straight muscular stud who is willing to try anything once. He's never been tied up before but he's anxious to find out what edging is all about. He's tied to the metal cross and we cut his clothes off from underneath the rope. His cock gets hard and he gets his first edging. Tied to a wooden beam in the middle of the vast Armory he gets his ass fucked and flogged. We suspend him 20 feet in the air and bring him to the brink of orgasm. Up in the bleachers he gets another dildo shoved up his ass that makes him flex his muscles in the tight ropes. Edging him over and over he cums with the dildo up his ass for the first time.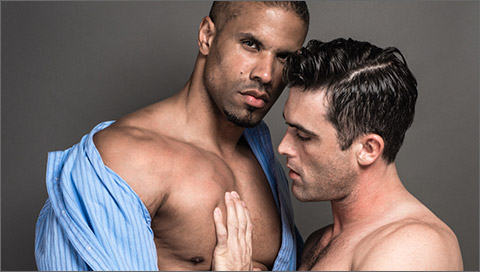 STRAIGHT BOY SEDUCTIONS: Robert Axel fucks Lance Hart
Muscular Robert Axel and his ex have just split up and he's moving out. Lance Hart is helping him pack but as the conversation turns to sex, Robert commenting that he's looking forward to freedom and getting freaky. Lance sees a golden opportunity and tells him about a bi experience he had at a swinger's party, where he had the best blowjob he'd ever had, and surprisingly it was from a man. As he is getting increasingly turned on, he states that he'd even take one of his ex's crappy blowjobs, but with a knowing glance and a hand on his knee, Lance tells him he doesn't need her.
   Convinced, Robert undoes his pants and leans back, letting his buddy reach into his pants and pull out his increasingly thick black dick. He moans as his dick is sucked up and down, before Lance pulls off his pants and gets right back to work he enthusiastically sucks his dick deep into the back of his throat.
   Rubbing Lance's back encouragingly they lean in for kiss, eyes closed. Robert reaches down and grabs his firm cheeks before standing up and letting him worship his dick then reaches over, rubbing Lance's dick. Robert kisses down his arms, and hesitantly takes Lance's dick into his mouth, trying hard to get him nice and stiff before getting behind Lance, and inserting his big dick between his buddy's white cheeks. Pushing into his inexperienced hole, Lance takes Robert's dick and moans louder and louder as the intense pleasure builds. Robert pushes him down onto his stomach and fucks him with long powerful strokes. Lance blows his load while he's being penetrated by the muscular black stallion, and Robert pulls out and, spent, he spews his load onto his ripped body.
KINK MEN
ICONMALE
FALCON STUDIOS
JAKE CRUISE'S COCK SURE MEN
MEN.COM
CLICK HERE TO GO TO HIS KINK MEN INFO PAGE