Mega Hung Tattooed Czech Gay Porn Star, Mojzis Kral / Robbie Kasl / Terry Loo
Known Aliases: Tony Zorta, Ron, Sam Forte
Years Active: 2011 – 2020
WILLIAM HIGGINS INFO:
Age: 26
Home Town: Prague
Height: 177cm/5'9″
Weight: 84kg/184.8lb
Foot Size: EU42/US8.5/UK8
Penis Size: 19cm/7.48″
Profession/Student of: Worker
Hobbies: Sport
Favorite Sports: Bodybuilding
Active Sports: Fitness
Movie/Music/Sport Stars: Idris Elba
Visited Countries: Ireland
Want to Visit Countries: USA
Dream of My Life: I do not know.
Zodiac Sign: Taurus (April 20 – May 20)

MASSAGE: MOJZIS KRAL
Mozjis Kral is ready for a Dreamset massage. He is laying on the table, wearing only his undeerwear, as oiled is dripped onto his hot chest. The hands rub over the sexy chest coating it in oil. Then his legs are oiled and massaged too, running up and down the legs and onto the feet. Mojzis' underwear bulges as the hands work on his. Those hands glide all over and then begin to reach into the underwear as well. The big, swelling, cock and the balls are released from the underwear and oil is applied. The hands rub over the cock and balls and start to wank Mojzis. With that big cock nice and hard the underwear is removed too. The cock is wanked as the balls are cupped too. Then Mojzis turns over and onto his knees. That presents his sexy ass which is rubbed. Mojzis plays with his cock as the hands run all over his hot ass. Then one hand wanks him as the other rubs up and down his ass crack. A finger slips into the hot ass hole as his cock is pulled back between his legs. The tght hole is fingered deeply as the cock is wanked. The hot hole is fingered by different fingers, from both hands before Mojzis lays on his back again. His big dick is wanked hard. Mojzis takes over the wanking and quickly dumps his hot cum onto his body. That stiff cock is milked dry and the cum is rubbed all over his chest to complete a great massage.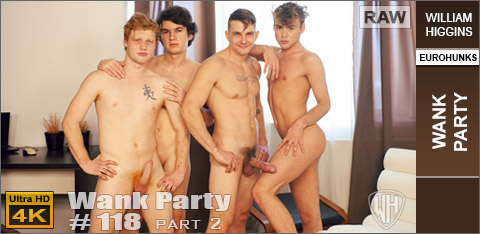 WANK PARTY #118
As part two begins we see Ivan's sexy ass as Karel leans forward to rim the hot hole. We hear some moaning too and soon we see Simon is the guy making the noise as Mojzis' cock is pushed into his ass. Mojzis fucks that ass deep and Simon takes it well. Karel continues to rim Ivan's hole, rubbing a finger over it too. Simon continues his moaning as Mojzis' dock works into his hole. Karel spreads Ivan's ass wide and licks the hole. Then he kneels on the chair and presents his ass to Ivan who is quick to push his rock hard cock into the waiting hole. Mojzis' fucks hard into Simon's ass giving it a few spanks too. Ivan's dick pounds hard into Karel's ass too. Then Mojzis reaches for Ivan and they swap partnets. Karel's hole soon feels Mojzis massive cock fucking hard. Ivan's dick fits neatly into SImon's ass he he fucks as hard as he can. Simona takes it well as the throbbing cock slides and out. Karel's hole is opened wide by Mojzis big dick fucking relentlessly. Ivan grabs Simon's hips and pulls him hard onto the pounding dick. Then Ivan lays down and Simon rides his dick as Karel lays on his back for Mojzis to keep up his fucking too. Karel wanks himself as he takes the big dick in his ass. As that huge cock keeps working his hole hard Karel wanks as fast as he can and keeps going until he shoots his hot load all over his body with that dick so deep in his hole. Karel smiles as he looks down and scoops some cum onto his fingers and then sucks it off. Meanwhile Simon is riding Ivan's cock and wankinghis own. He quickly shoots his cum too with Ivan's dick so deep in his ass. Ivan fucks even harder into that ass, and Simon rides up and down on the cock. Mojzis continues fucking Karel too. Karel turns onto his knees to take that cock again. When he is close to cumming Mojzis pulls out and wanks his cock to release the hot cum. Simon slides off Ivan's cock and kneels down to watch as Ivan wanks and shoots his cum. Simon's tongue licks at the shooting cock, sucking on the head too as Ivan keeps wanking till his dick is spent. The Simon kisses Ivan as Karel turns to kiss Mojzis too.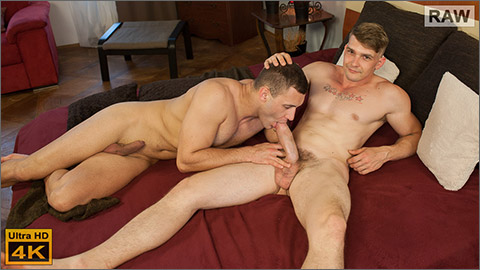 CHERRY BUSTING: MOJZIS KRAL & GERASIM SPARTAK RAW
Mojzis Kral gets his cherry busted, and how, by Gerasim Spartak. These two hot studs sit and chat on the bed before the action starts. Then they begin to kiss and very soon Gerasim is naked and rock hard with Mojzis sucking on his big cock. Mojzis does a great job on that throbbing cock, his hot mouth wrapped tight around it. He takes that dick deep into his mouth. Then he gets naked too and kneels to present his own cock for sucking. Gerasim sucks it well in that position and continues to work on the big cock when Mojzis lays down on the bed. With Mojzis on his back it is easy to lift his legs and fill his virgin hole with cock. That is what Gerasim does. He fucks that hot hole deep with his rock hard dick and Mojzis takes it so well. His tight hole is pounded hard and Mojzis grabs his own cock and wanks it too. His wanking releases some cum before Gerasim pulls out of his hot hole and dumps his own load to end a great cherry busting scene.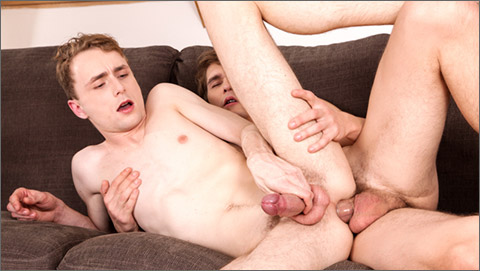 GAY GAPES: Tony fucks David Herman
Denton gets Paul a new massage table and he is thrilled. Denton thinks that Paul should do some practicing on him. Benjamin and Chris are playing a long game of chess. Benjamin gets mad at Chris for taking too long, so he decides to make his own moves. Luke wakes up Adam with a bottle of champagne for his birthday, but that's not the only gift he gives him. Tony is busy watching some gay porn and wishing he could fuck some tight man ass. When David comes into the picture he makes Tony's fantasy come true.
MILE HIGH MEDIA / MALE REALITY
CLICK HERE TO GO TO HIS WILLIAM HIGGINS BIO PAGE
CLICK HERE TO GO TO HIS STR8HELL BIO PAGE
VIDEO ON-DEMAND: WILLIAM HIGGINS @ AEBN SMUTJUNKIES THEATER
ENDLESS STREAMING MEMBERSHIP: WILLIAM HIGGINS @ NAKEDSWORD