Sexy American Gay Porn Star, Rob Stonebridge
Known Aliases: Zack @ Sean Cody, Lieutenent Zach @ All American Heroes, Logan Cruise @ Bromo
Years Active: 2012 – 2016
SEAN CODY INFO:
"I don't really have much of a filter," Zack said. "I kinda just throw it all out there."
   He definitely has a wild side and he's not afraid to share! "I love to experiment and explore," he told us.
   "I've tried it all. I've used anal beads, vibrators, butt plugs, you name it!"
   "Wow!" I said, "How big was the butt plug?" "It was a decent size… it hurt at first, but once I got turned on it kinda just slipped right in!"
   As the day went on, Zack got even more comfortable. He really got into it, and at one point he slipped a finger up his hole.
   "I noticed that you had your fingers in your ass," I mentioned afterward. He had a big grin on his face.
   "Yeah I like to do it… it makes me get really close… it makes me almost cum instantly!"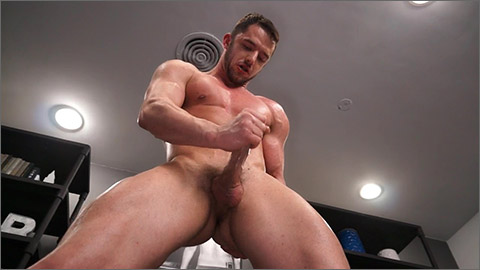 MUSCLED HUNK ROB STONEBRIDGE GIVES HIS HOLE A FINGER FUCK
Rob Stonebridge is a bisexual hunk of man meat. He is rippling with muscled pecs and bulging biceps. He is the gay porn model that you have been dreaming of. He has nice dark features and smooth alabaster skin that will make your dick get hard. He starts off by showing off all of his muscles. He rubs up his arms, then his chest and then starts showing off the ripped muscles in his quads and calves. Then he pulls his dick out of his underwear. Now things start to turn hard core. He strokes his rock hard dick and calls out to us. He wants us to suck it. Then he gets the underwear off and starts to show off his crack. He takes a finger and slides it into his hole. He beings to finger fuck himself into pure ecstasy. Finally he shoot a big load right onto his chest. He quivers at the orgasm he just experienced. This boy is ready for more. Be sure to watch the free gay porn trailer here at Randy Blue.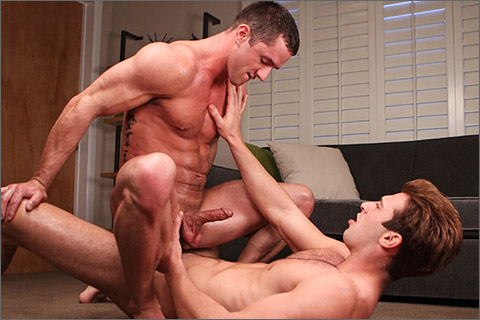 JAREK FUCKS ZACK BAREBACK
"I've never kissed a guy," Zack said like he was confessing something.
"You've never kissed a guy!?" I said, giving him a hard time. "What's up with that?"
"I dunno…" he said. "Just never have…"
I could see that Jarek was instantly intrigued. "Good thing I'm all clean shaven," he said.
They both laughed. Zach said a few random things out of nervousness and then Jarek leaned in and surprised him with a kiss.
"Wow!" Zack said. "He's definitely a good kisser!" He was clearly ready to get things going!
"Wait 'til my tongue is in your ass!" Jarek said without skipping a beat.
That's what I like about Jarek. He always takes charge.
"I've been liking these shoots lately," he mentioned a little later.
"Why's that?"
"Cause you guys have been putting me with some fucking fun guys!"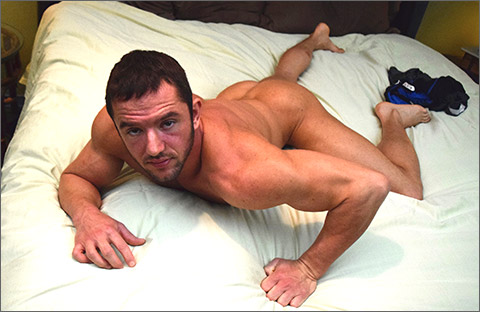 ROB STONEBRIDGE GETS DIRTY
Every once in a while, I have a young stud show up who has all the ingredients I know are going to make my cock happy. When Rob Stonebridge showed up, I knew immediately that he was one of those types that I just had to get my dick in. There's nothing I enjoy more than getting a straight guy to take my dick. And I could tell right away, that the feeling was mutual. His hazel eyes and perfectly toned body were great, of course. But it was his down to earth smile that I wanted to see as I eased in him. Laying there on my bed, it was hard for me to focus on anything else. The fact that he is Bi, only heightened my interest. To make things even more interesting, he had sex with a girl the day before this shoot, so I could give him a good comparison. We made out for a bit, and he definitely had a talent for kissing. But it wasn't long before both our clothes were off in a pile on the floor. He got right to work on my cock, which was almost fully hard already. One thing I liked right off the bat, he likes to use his tongue, and he is very good at it. I could tell at first, he was a bit intimidated at the size of my cock, but he kept at it until slowly, his throat started to open up. I maneuvered him in position and started eating his ass. He was clearly in heaven. I fingered him to loosen him up until I could see he was ready to take a try at my monster. He turned over and set himself up on all fours, and slowly, eased himself down the shaft of my raw cock. Man, what a sight. I was definitely one of the biggest cocks he had ever encountered, so it took him a few strokes to work his way down my shaft until I was all the way inside him. His tight ass wrapped around my cock was a pure slice of heaven. I stayed still as he worked his ass on my cock, fucking himself and enjoying his new limits. Then, when I could see he was ready, I took his hips in my hands and started working myself in to explore. We turned over so he could ride me some more, and worked his perfectly rounded ass on my tool. When an ass is that perfectly fitted, you don't have to do a lot of moving to get a lot out of it. He put his legs in a perfect V so I could start pumping him good. Now I decided it was time to get him on his back so I could get down to some pounding action. My gleaming cock moving in and out faster and faster. He responded perfectly to my moves. We both were edging, I could see it in his eyes. He wanted it. As soon as I picked up the tempo, it tipped him over the edge, His toes curled and he blasted a cum shot that went clear over his shoulder. He turned over to show his beautiful ass cheeks and I hosed his butt crack down with one of the biggest loads I have shot in weeks.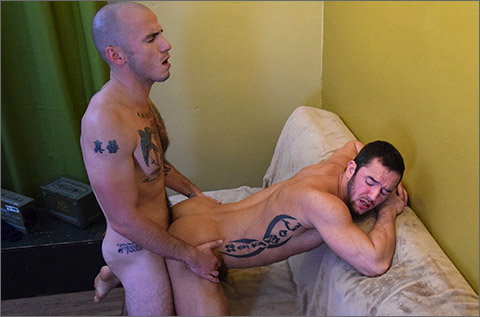 PETTY OFFICER CAM FUCKS LIEUTENENT ZACH
In the military, officers and enlisted are not supposed to hang with each other. And they're definitely not supposed to fuck. But in the real world, they both want to trade roles. Officers are constantly required to be in control of everyone, and on top of everything. Enlisted are supposed to submit and follow. But when they are off duty, officers want to be dominated by hard core enlisted studs, and enlisted guys want nothing more than to fuck their leaders full on. Petty Officer Cam and Lieutenant Zach are no exception. Once they are out of their uniforms, they immediately start scoping each other out. They trade a few workout tips, but Zach has a different tip in mind. They start off with a few modified crunches, but by the time they get to the leg lifts, it's all over. Zach's hands go right down to Cam's crotch, and in seconds the two are lip locked on the floor. The shirts come flying off and the hands start exploring. Soon, Zach works his tongue down to Cam's cock and starts throating down on it hard. He strips Cam down so he has no obstructions, works his way up hairy inner thighs and then flips Cam over to munch on his ass. Then Zach drops his pants and offers up his cock for some full service attention. If Zach's moans are any indication, he likes what he is getting. But Cam is just getting started. He flips Zach around and eats his hot crack before diving his hot raw enlisted cock right into Zach's tight officer hole. In moments, Cam is pounding his hot leader's ass hard. Zach decides it's time for him to straddle his buddy's cock and practice his squats. He arches his back and bounces on Cam's cock while he strokes off. Cam takes control and grabs Zachs hips to unleash a hard pounding that both studs will remember. Soon, both are edging closer. With a palm full of spit, Cam flips Zack over, lubes his hole and dives his raw cock right back in for a balls deep session. In a few moments, both studs are back on the edge of blowing. The only question is which one will lose it first. Cam nails Zach's prostate real good a few times and practically launches the cum load out of Zach's cock. Then Cam pulls out and blasts a cum load over Zach's right shoulder. In a few moments, Zach is fully glazed in gleaming cum.
RANDY BLUE
RANDY BLUE LIVE CHAT & PRIVATE SHOWS
BROMO / JUICY BOYS
DIRTY TONY
ALL AMERICAN HEROES
SEAN CODY