Corbin Fisher Amateur College Guy, Riley
Years Active: 2012 – 2016
CORBIN FISHER INFO:
Age: 20
Waist: 30
Eyes: Green
Height: 5′ 10″
Weight: 165 lbs
Hair: Brown
Build: Athletic
Cock: 6.0″ cut
Shoe: 10
Riley is a handsome young football player with a great smile and a sexy, easy-going manner. He likes to travel, and this is his first trip to Vegas. I'll have to make sure he has a good time so he wants to come back!
   Riley is a muscular running back who's been playing for three years. He's also been bulking up at the gym. He goes steadily 5 days a week and has been dedicated to that for the last year and a half. It shows.
   He first had sex when he was around 14. Riley is into guys and he went to sleep over at his friend's house. They watched a movie and were inspired to get naked and suck each other off.
   Riley went back over a few weeks later and the guys decided to go all the way. Normally Riley prefers to top, but since his favorite type of guy is the clean-cut, All-American type (I wonder where I can find some of those :)) he admits he's open to bottoming.
   The first time Riley jacked off, he was pretty young. These days, he likes to fantasize about kissing and rimming guys while he strokes. And he likes to jerk off a lot – sometimes up to three times a day!
   Riley has a great build, and when he's not checking out guys at the gym, his other favorite exercise is bicep curls. Good thing, since he likes to jack off so much! Riley shows off his assets – his wide back and the luscious ass he gets from biking. He likes to wear and see guys in jock straps. Riley's also a little ticklish.
   Riley lays back and starts jerking. He tells Pete he is a little nervous. But once he starts stroking, his dick is hard instantly. He rubs his tight abs and chest as he rubs his balls and the shaft of his cock.
   Riley pours some lube on his cock, watching his hand go and down rhythmically. He has a great mushroom head that would look great in anyone's mouth! He pinches his nipple and pulls on his hard cock.
   Riley blasts a thick load that splashes all the way up to his face and over his shoulder! He keeps stroking his dick to make sure he gets every drop out. He says he was thinking about one of his past exes – lucky guy!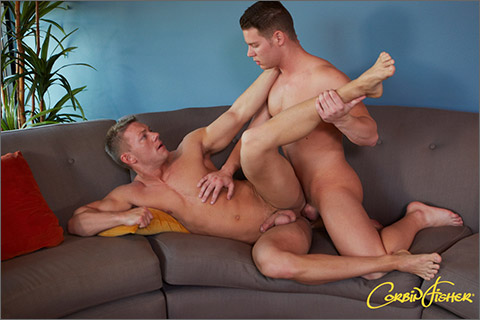 FEEDING RILEY A LOAD
Dawson is showing Riley some pictures of him and the other CF guys in a book about the history of porn stars. Not surprisingly, seeing the hot guys gets Riley turned on. With one of the studliest porn stars alive right next to him, Riley's going to have his fantasy leap right of the page!
   Dawson and Riley make out and quickly start their own porn scene! Dawson worships Riley's toes with his tongue, then sucks and rims him before plunging his cock deep into Riley's ass. Dawson pounds him until Riley blows a load, then Dawson pulls out to feed Riley his load.
   Today's lesson? Reading IS fundamental- especially about porn!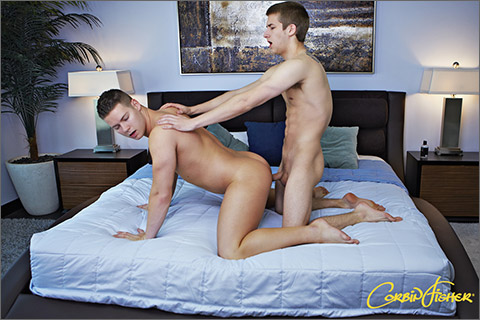 BRANT POUNDS RILEY
Ever since Brant got here, he's been tearing things up! He's proven more and more eager to branch out and try new things. Now that he's had a taste of guy/guy action, he's craving even more – and Riley helps him out!
   Riley is also more enthusiastic than ever, and he was totally turned on by Brant's lean-muscled body and his thick cock. As Brant strokes his cock, Riley plays with his ass, ready to take Brant inside him.
   Brant pounds Riley hard and fast and Riley arches his ass up to take every inch of Brant's cock. Riley blows his load and Brant follows up, drenching Riley in cum!