Scruffy & Hung Gay Porn Star, Ricky Larkin
Known Aliases: Larkin
Years Active: 2009 – 2020
TWINKS.COM INFO:
Star Sign: Gemini
Nationality: American
Height: 6'0″
Weight: 165lbs/75kgs
Dick Size: 8.5″/uncut
Occupation/job: Student
Newcummer Larkin has a sexy, lightly furry bod with some extremely chiseled abs to boot! His massive cock seems so out of proportion to the rest of his cut, slender body that it's surprising he doesn't have to cover the front of his pants at all times. This is one bronzed twink tripod that has to be seen to be believed.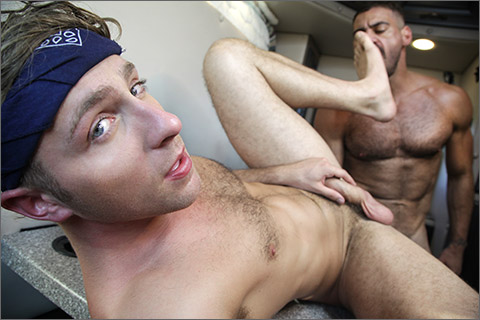 THE GAY SIMPLE LIFE: DAY 1: BIG RIG DRIVING CHALLENGE: Ricky Larkin fucks Calvin Banks
Josh Moore and Calvin Banks are sound asleep in their shared country bedroom when the camera crew and sexy, nearly naked, porn star Ricky Larkin wake them for the first day's task, the Big Rig Driving Challenge! The boys 'gay-up' the drab overalls they were given and hit the road to a red-neck nudist campground in Sparks, Oklahoma. The owner Robert, his mutt, and truck driver Cowboy Clay show the guys the lay of the land. After some heavy petting with the donkeys and a not-so-friendly emu, they come face-to-face with an 18-wheeler big-rig truck. Calvin, having the worst driving record in the history of porn, and Josh, being from the UK where they drive on the opposite side of the road, accept the challenge! While Josh is taking his stab at the wheel, Calvin cozies up to guest star Ricky and demands cocktails. Josh and cowboy Clay head out of the cab on the search for margaritas while Calvin seduces Ricky into pounding his hot, ass bareback in the sleeper cabin. Fully aware of Ricky's foot fetish, Calvin offers up his size 13 feet for some licking and toe sucking which makes Ricky's cock rock hard. Calvin goes down on Ricky then surrenders his hot hole. Finding every way possible to drill his huge cock into Calvin's eager hole in the confined space, Ricky bangs Calvin raw until they're both glistening with sweat. Ricky sprays a hefty load onto Calvin's back before fucking the jizz back in is butt, until Calvin can't hold back any longer and unleashes a cum bath from his massive dick all over Ricky's face. Driving a big rig might be scary as fuck, but taking Ricky's big cock and hot load… not a problem at all for Calvin! Day 1 is complete and somehow everyone is still alive, wondering what will be the challenge for day 2?

OUTTA THE PARK: Ricky Larkin, Sharok & Wade Wolfgar fuck around
Bat boy, Sharok, is cleaning up the locker room when players Ricky Larkin and Wade Wolfgar enter from the showers after losing a game. They pick on Sharok for being their bat boy but Sharok knows that they really need to blow off some steam after their loss. Sharok gets on his knees and opens his mouth wide for Ricky and Wade to take turns fucking his eager face. Sharok gets the guys rock hard and bends over to let them get a taste of his hairy hole. Wade is the first to suck on Sharok's hairy crack and gets him nice and opened up for his buddy, Ricky, to fill up with his big raw bat. Ricky slides inside and pounds away as Wade fills Sharok's face with his thick cock. Wade wants his bareback turn now inside Sharok's dugout and takes up the rear with his fat bat. It's almost too big to fit in Sharok's hole but Sharok is determined to take it balls deep and rolls onto his back with his legs in the air. Wade stretches the hole in front of him as Ricky fucks Sharok's face. The guys take turns railing both of Sharok's holes from each end until Wade wants his turn as the catcher. As a last-minute pinch-hitter, Wade goes from pitcher to catcher and lies back to let Ricky pound his ass. Ricky plunges Wade's open hole until he pulls out and sprays Wade's hairy balls with thick jizz. Next up, Sharok steps off deck and up to the plate to fuck Wade until both spent studs blast all over Wade's furry body.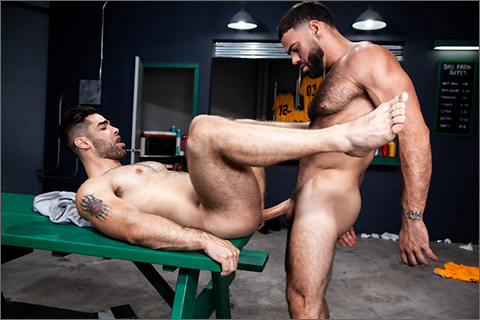 OUTTA THE PARK: Ricky Larkin fucks Lucas Leon
Baseball player Ricky Larkin is trying to buy food at the concession stand from worker, Lucas Leon. When Ricky orders up a 'nice big juicy wiener', Lucas takes the hint and gets on his knees in front of the concession stand to service the star player's big hairy cock. Lucas' mouth gets Ricky revved up and soon Lucas is naked and bent over a picnic table with Ricky's face planted firmly in his scruffy ass. Ricky eats Lucas until neither stud can take the anticipation any longer. Ricky stands up and slowly slides his big raw dick, deep inside Lucas, stretching his hole to the limits as he picks up the pace and fucks the wiener-slinger harder. Ricky wants maximum, bareback penetration and gets Lucas on the floor to pile-drive the horny hunk. It feels amazing for both guys, but Ricky wants to see the look on Lucas' face as hiss extra-thick dick stretches Lucas out. Ricky gets Lucas onto his back and fucks him hard until he blasts his creamy load all over Lucas' spent ass. Ricky fucks his jizz deep into Lucas' hole and keeps pumping until Lucas lets loose and covers himself with his load.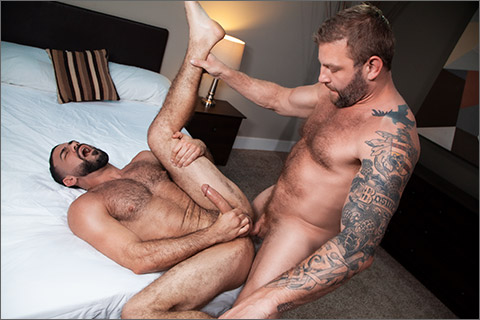 HOT, RAW AND READY!: Colby Jansen fucks Ricky Larkin
Ricky Larkin & Colby Jansen take their time exploring each other's bodies until Colby is ready to suck some dick. He works his way down Ricky's hard, hairy body until he gets Ricky's stiff cock in his mouth. He services the hung stud with ease until Ricky is ready for some cock of his own. The two switch it up and Ricky gets on the floor to taste the monster dangling between Colby's legs. Ricky's mouth is all Colby needs to take it to the next level. He bends Ricky over to open him up with his tongue before sliding his dick deep into Ricky's hole for his bareback bottoming debut. Colby pounds the new raw bottom hard, making Ricky grunt and groan with every plunge from his extra thick cock. Ricky wants to watch Colby fucking him and shifts onto his back as Colby keeps up the pounding. After a nice hard session, Ricky is ready to blow. With Colby still deep inside his hole, Ricky gives a final guttural moan and blasts a load onto his hairy and heaving abs. That gives Colby the permission he needs and he pulls out to slather Ricky's hairy balls and busted hole with a massive load of cream.

AT LARGE: Ricky Larkin fucks Logan Moore & Dillon Diaz
When Ricky Larkin faces death, he has a vision of an old friend, Dillon Diaz. Dillon isn't in the realm of the living anymore and now Ricky has a chance to fuck him one last time. "Get up!" Dillon keeps coaxing to the living Ricky, but ethereal Ricky wants Dillon to himself. Dillon knows that time is tight so he cuts to the chase and sucks Ricky's hard cock. Dillon can sense that Ricky is ready to fuck and hops on the detective's dick to ride it. As Dillon is getting fucked by Ricky, Logan Moore appears to Dillon and shoves him off Ricky to take his rightful place on Ricky's giant cock. There's a tension between Dillon and Logan but the studs work through it to get all the pleasure they can. Logan bends over to take Ricky's dick up his ass as he sucks Dillon's cock. Logan loves the feeling of all the dick he can get and rolls over onto his back to take Ricky even deeper. As Dillon tries to get Ricky to wake up to the land of the living, he relents and bends over to let Ricky fuck his tight hole one last time. With Ricky pounding his ass, Dillon lets loose and dumps his load. The sight of Dillon's jizz is all it takes for Logan to give himself permission to do the same. Ricky is the center of attention now! As he jacks his massive cock, he's torn between kissing Logan and Dillon. Will kissing Logan keep him from living? If he chooses Dillon is he choosing life? Just as he's ready to cum, Ricky faces a tough decision. Will he stay with Dillon and Logan for eternal bliss in death, or will he live and wrap up the case that could haunt him even on the other side of life?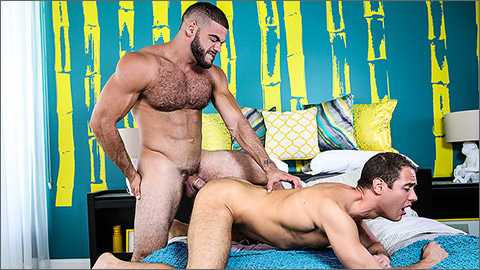 MIAMI BEAT – PART 1
Brendan Phillips has just arrived to Miami and he is determined to land the hottest guy on the beach. When he spots hairy hunk Ricky Larkin, he comes up with the perfect plan to draw his attention to his sweet ass.
CLICK HERE TO GO TO HIS MEN.COM DETAILS