Slovakian BelAmi Gay Porn Star, Rhys Jagger
Years Active: 2014 – 2016
BEL AMI INFO:
Eye Color: Blue-Grey
Zodiac: Libra
Dick Type: Thick
Dick Size: 18
Hair Color: Brown dark
Height: 184
Weight: 86
Rhys Jagger first came to us in the summer of 2011 and we made a photo session with us. He was brought into our office first by Phillipe Gaudin as they were friends from the same hometown. We wanted to take him with us to Cape Town in 2011/12 but at the time he didn't want to shoot porn, and continued not wanting to for another 18 months, so we missed out on his 'young and crunchy' period. He finally came to us in late 2012 and started shooting in earnest in 2013, although by then 2 years older he still had his charming smile and personality which made it worthwhile in the first place.
   He is a Slovak boy but lives most of the time in London.
   You may remember when we first showed him to you we mentioned that when he came for his casting he brought a friend to keep him company during the 5 hour drive. That friend was Dylan Maguire who on the spot also decided to do a casting and may end up being a more popular model than Rhys.
DOUBLE DIPPING: HOYT KOGAN & RHYS JAGGER & MARCEL GASSION
Today marks the beginning of our 'DOUBLE DIP' series of, you guessed it, double penetration scenes.
   In this 2 part special, our opening salvo has Marcel topping both Rhys and Hoyt before he gets double penetrated in PART 2.
   We have all heard of Marcel's goal of taking as many of the biggest dicks he can find, and now he gets to double his rate, taking both Rhys and Hoyt at the same time.
   We do have a few boys at the moment capable of being double fucked, as you will see over the upcoming season, but there is no doubt that Marcel is the most eager of them all!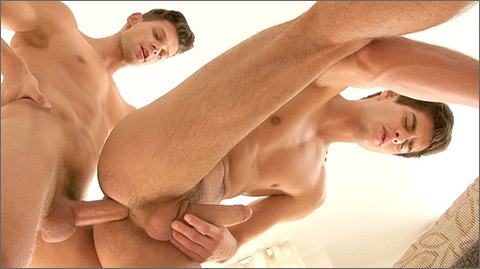 SPICING UP YOUR SEX LIFE with ROCCO ALFIERI & RHYS JAGGER
Rhys and Rocco's plan was to meet at home and cook dinner together. But apparently Rhys has another menu in mind: Rocco's smooth lips as starter, Rocco's long thick cock for the main course and Rocco's great hairy butt as desert. A real connoisseur would say: Boccato di cardinale!


ALL STAR FOURWAY: KRIS, JULIEN, JEAN & RHYS
Jean-Daniel, Kris Evans, Rhys Jagger and Julien Hussey team up for a group session as our main 2 part update this week. The scene starts with some innocent outdoor fun before moving inside for the main action. This two part scene is full of great looking guys having exploring all possible positions and combinations in their quest for pIeasure. As all 4 guys are big shooters you can expect there to be lots of flying loads around at the end of each part… and none of the boys disappoint, but Kris' dominance as our strongest shooter is definitely being challenged these days by Rhys Jagger, and in this scene also by Jean Daniel.
SEX GAMES: ANDREI KARENIN & RHYS JAGGER
SUMMERTIME SEX: TOM POLLOCK AND RHYS JAGGER
ADAM ARCHULETA BREAKS IN ANOTHER BELAMI FRESHMAN, RHYS JAGGER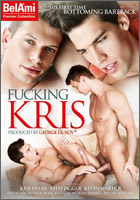 FUCKING KRIS
BEL AMI LIVE CHAT & PRIVATE SHOWS @ FLIRT 4 FREE