American Muscle Gay Porn Star & Model, Rex Cameron
Years Active: 2015 – 2017
TWITTER @RexCameronX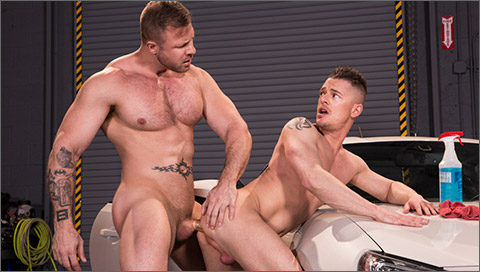 OVERPOWERED: Austin Wolf fucks Rex Cameron
While washing the windshield on a client's car, lustful apprentice Rex Cameron gets 'Overpowered' by muscle mechanic Austin Wolf, who quickly takes control of the situation. Working together on the car, testosterone in the air is making for a steamy setup. The burly mechanic walks straight over to his co-worker and pushes him down on the cars hood and pulls Rex's jeans to his ankles. Rex lifts one leg up on the spotless sports car to give Austin total access to his willing ass. With his tongue as his tool, Austin lathers up Rex's hole with thick spit. Austin drives the action and takes a break from probing Rex's hole with his tongue to get Rex on his knees to service his fat fuck stick. More than willing to service his superior's cock, Rex takes Austin's cock down his throat to the base until he gags on it. When Austin has had enough of Rex's warm mouth, they move to a sliding workbench and Rex slams his ass on Austin's dick. With his cock deep inside Rex, Austin reaches back and stuffs a finger in his hole to give Rex the ultimate stretch. They move it back to the car and Rex continues to take a rough pounding while on top of the car. As Austin keeps drilling his fuck hole, Rex shoots a thick load onto his smooth abs. Austin unloads on Rex's thigh and wipes it up to give Rex a taste and finish with a cum drenched kiss.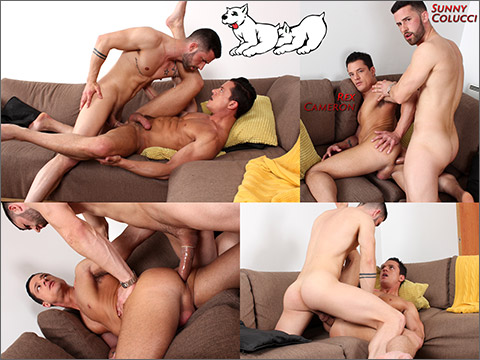 SUNNY COLUCCI FUCKS REX CAMERON
We fade in on Spanish stud, Sunny Colucci and Rex Cameron chatting on the sofa. The chatting does not last too long as these two studs start passionately kissing each other. They slowly strip off each other shirts revealing their much chiseled features. Rex climbs up onto Sunny's lap and the face kissing continues between the two of them. Sliding down to the floor, Rex reaches up and loosens Sunny's pants, pulling them down just enough to allow his thick dick, which is already standing at attention, to jump up and slap his stomach once released from the confines of his jeans. Rex wastes no time in swallowing Sunny's cock all the way to his balls, gagging most of the time due to Sunny's size. Sunny motions for Rex to join him on the sofa and Sunny helps Rex loosen his jeans freeing Rex's cock from its confines and Sunny swallows it all. As he is sucking Rex's cock, Sunny is also using his fingers to loosen up that ass he plans on filling. Rex leans over the sofa pillows offering his ass which Sunny fills with his thick cock and once inside he begins fucking Rex's ass like there is no tomorrow. These two studs find four different ways to fuck each other before Rex, who is now covered in sweat, grabs his cock and with a few strokes blows his thick creamy load of cum all over his six-pack chest. Of course this puts Sunny over the edge; he pulls out, and while jerking his cock, shoots a stream of jizz all over Rex's cock, stomach and chest.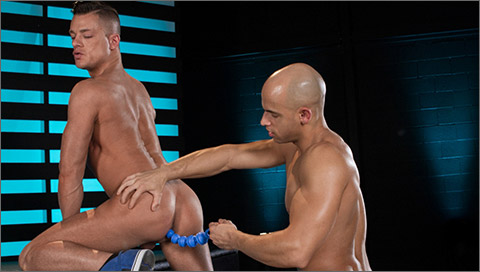 PUSHING LIMITS: SEAN ZEVRAN FUCKS REX CAMERON
Ripped muscle-hunks Sean Zevran and Rex Cameron sport tight blue jockstraps as they swap spit. The intensity builds as Sean feeds Rex his long, uncut cock pounding the back of his throat. To warm up Rex's eager ass, Sean uses multiple toys to dilate Rex's smooth hole. 'Pushing Limits' Sean replaces the dildo with huge, hard cock, and Rex takes every inch of Sean's doggie-style. Switching positions, Rex lays back to get plowed by Sean until he shoots his load onto his washboard abs. Sean whips out his hole-crushing cock and spews his load onto Rex.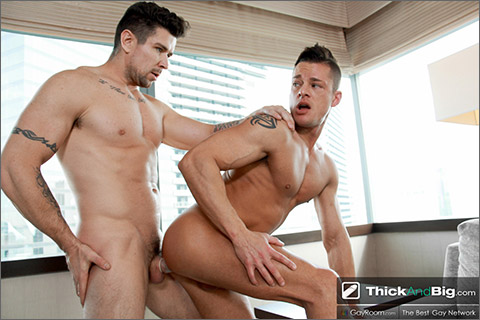 CHEATING TRENTON
Will taking a break from his wife, Trenton calls his FB Rex over for some thick muscle cock.