Hung Uncut Handsome Muscle Stud Sean Cody Amateur, Randy
Years Active: 2013 – 2016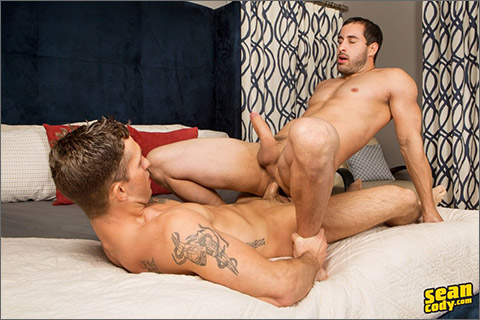 PARKER & RANDY BAREBACK
Guess who's back and excited to fuck some more Sean Cody ass! That's right, the adorable Parker. And the willing bottom? That'll be Randy. "I'm gonna go meet up with Randy in a little bit and fuck the shit out of him! I'm excited about that. He's a big dude, but I'm gonna be the dominant one…" Oh, and that he was! After throwing a football around to warm up for the real thing, they went back to the house to get to business. Big-dicked Randy took it like a champ, moans and groans and all! Parker definitely missed us…
RANDY & SEAN FLIP-FUCK BAREBACK
We all know that both Sean and Randy have huge dicks, but we wanted to see what would happen if they were put together for a film. The result was not disappointing. Randy was up first for taking the dick and right off the bat you could see how overwhelmed he was. "Holy fuck. That's one of the most intense things ever!" Needless to say, Randy was fuck drunk. "I'm really impressed you were able to take the whole thing." Sean chimed in. "A lot of people cant." Sean pounded him out for a while until it was Randy's turn to repay the favor. "At first it was a little rough, until it was time to cum and it was fucking amazing…. I would do it again!" Sean smiled.
JESS TOPS RANDY BAREBACK
"I wasn't kidding when I said I missed this place." Jess let us know after he jumped on the couch with big dicked Randy. Randy right off the bat knew he was in for a workout. "Since I proved I can take a big dick you guys are just going to keep giving me huge cocks. I think you might be trying to break me!" Randy joked. "I'll try to break you for sure!" Jess chimed in. These two went at it for a while and it ended up being a cum-filled film. "I just like to bust a nut! Who doesn't?" Damn its good to have Jess back.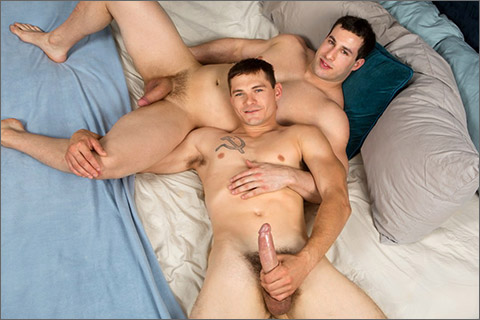 LIEV FUCKS RANDY BAREBACK
Since his last film, Liev has been begging to come back to fuck some ass. Liev has a reputation of being a little aggressive and dirty so we had to find him someone he wasn't going to break. Randy was the perfect choice. "Holy fuck he's a big dude!" Liev was a little surprised at how big Randy was in person. "This is gonna be fun!" We packed up our bags and headed up into the woods for the day to explore and cause some trouble. Randy and Liev took off and the rest was history. These two worked out, and goofed off the whole day…until Liev got a boner. Back at the studio the sexual tension was thick and these two were ready to fuck. Liev and Randy really deliver and pull off a very impressive cum-filled scene. Keep an eye out for Liev shooting a huge load deep into Randy…Its impressive!
CLICK HERE TO GO TO HIS SEAN CODY DETAILS
RUSTY & RANDY: BAREBACK
CURTIS & RANDY: BAREBACK
RANDY & MATT FLIP-FUCK
RANDY FUCKS BRYCE
RANDY FUCKS BLAKE
CHASE FUCKS RANDY