Next Door Studios Cute Twink American Gay Porn Star, Preston Burgess
Years Active: 2013 – 2015
TWITTER @Preston_Burgess
TWITTER INFO:
Fun, Sex… Music. Like a little bud having fun living life… HMU if you want to see anything… AT ALL I love to Share HMU for personal info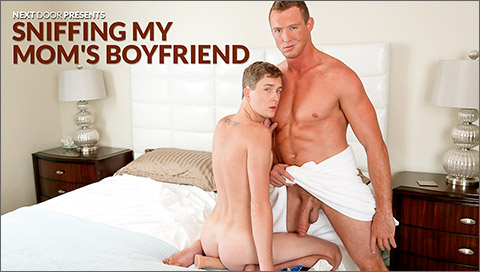 SNIFFING MY MOM'S BOYFRIEND
Preston Burgess is so tired of hearing his mom and her boyfriend fuck! Her room is right next to his and their amorous, nocturnal activities have been keeping him up lately. But it's not only the fact that he can't sleep. You see, Preston has become jealous of his mom. Her boyfriend, Pierce Hartman, is one of the hottest guys Preston has ever seen. He wishes he could get the kind of hard pounding he hears his mom taking every night!
   When Preston wakes up on a weekend morning, he's surprised to happen upon a nude Pierce making coffee in the kitchen. Pierce doesn't see him, so Preston watches quietly, from behind a cracked door. When Pierce finishes and heads off to the master bathroom for a shower, Preston follows. He continues his morning of peeping by watching Pierce in the shower for a little while.
   While Pierce is occupied, Preston takes the opportunity to sneak into his mom's bedroom and sniff all up on Pierce's underwear. Oh, they smell just like he expected! While poking around in there, he also sees a dildo under the bed.
   When Pierce returns to the room, he finds Preston with the underwear on his face and the dildo deep in his ass. As Preston strokes his cock, Pierce hears him saying how he wants Pierce to fuck him. Preston realizes Pierce has returned and is quite startled. 'I didn't hear the shower turn off!' is all he can blurt out.
   Pierce tells him to relax, because he won't tell Preston's mom. Instead, he takes a cue from Preston and gingerly takes Preston's cock in one hand and cautiously continues the dildo banging with the other. Preston can't believe what's happening! But he's not about to stop it, that's for sure.
   From there, the two become engaged in passionate kissing. It's not long before Pierce is sucking on Preston's happy, stiff cock. He goes from enjoying that dick, to licking Preston's tight, Twink hole. After a while, Preston returns the favor by slurping on Pierce's fat dong, the same one he's fantasized about for months!
   Then Pierce has Preston turn around and take Pierce's big dick, right in his tender ass. What happens next is even more than Preston could've dreamed. Check out this cock-hungry Twink getting just what he wished for when his mom's incredibly hot boyfriend decides to take advantage of the perfect situation. It's the good, hard fucking he deserves for putting up with all the late-night noise!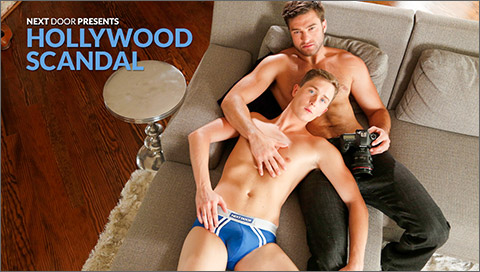 HOLLYWOOD SCANDAL
He's new in Hollywood, but he's determined to make it. With a yearning hunger for fame, Preston Burgess is contacting every talent agent he can, taking every opportunity he sees to be seen. Today, he's made a call to a casting director named Abel Archer. Preston received Abel's simple, plain-looking business card from a friend. This is his 6th call of the day.
   Abel is surprisingly friendly on the phone, making Preston feel at ease from the start. And to his great surprise and chagrin, Abel is casting AND has an opening to see Preston today! Preston cannot believe his luck.
   Preston arrives at his comfortable-but-professional office and Abel invites him right in. Being from Montana, Preston isn't used to big-city buildings, nor is he accustomed to meeting with influential men like Mr. Abel Archer. Preston only tells Abel a little bit about himself before Abel tells him that he's quite impressed. He asks Preston for any headshots, but he hasn't had any taken and wouldn't be able to afford having them done. But it's OK. Abel is a professional and seems to have such confidence in Preston, he's willing to take them for him himself, right now. During the photoshoot, Abel explains to Preston that in Hollywood, he needs to expect to be doing things he wouldn't normally do. This is how anyone ever makes it in the entertainment biz. Preston is curious about this. When he asks Abel what he means exactly, Abel reaches down and begins rubbing Preston's cock from outside his pants. At this point, Preston has already taken his shirt off for the photos. And by Abel's actions, he now understands just what he had meant. He decides to allow Abel to continue making sexual advances without stopping him.
   The rubbing lead to Abel pushing down Preston's pants and underwear, and taking out Preston's penis. Here, with Preston laying on his side on a couch, Abel goes to his knees, leans in, and wraps his mouth around Preston's member. That's when the sucking begins. Abel bobs his head up and down, back and forth while sucking Preston's meat. Preston can't stop his penis from becoming increasingly swollen while enduring Abel's treatment. Preston realizes that it does, in fact, feel very good, so he decides to just relax and enjoy it. If this is what it takes to become famous, this ain't bad at all!
   Next, Abel positions Preston on the couch so he can spread his butt cheeks apart. Preston continues rolling with the punches. Abel, now shirtless, grips Preston's penis tightly and jerks it a bit. While doing this, Preston feels Abel's face in his ass, with Abel's tongue flicking around near his sensitive hole. 'Wow,' Preston thinks. This is a sensation he never even could've imagined. 'Only in Hollywood!' Preston remarks to himself. Abel stands up and pulls his pants down, then pushes Preston's face into his own cock. Preston does what he thinks is expected and sucks on the dick. It gets harder and harder while he works it. After doing this for a while, Abel sets him back on the couch and sticks his stiff cock into Preston's tight hole. From there, Abel fucks Preston's ass hard and good for a while. Halfway through, Abel flips Preston around and pounds him while Preston is on his back. It was sure a learning experience for Preston, and hopefully it will land him his first role!
JUST BETWEEN FRIENDS
HOLLYWOOD SCANDAL
SNIFFING MY MOM'S BOYFRIEND