Black Staxus Gay Porn Star, Pinky
Years Active: 2015
STAXUS INFO:
You might think it to look at him, but Pinky has a bit of a soft side for poetry and has even written one or two verses himself! When he's not being lyrical, he loves nothing better than to settle down to a hard fuck with some horny white boy – who, according to this horny top, never cease to go wild for his big, black dick! Who'd have thought it??
Date of birth: 20th June, 1990
Height: 6'0″ (182cm)
Cock size: 8″ (20cm)
Ethnicity: British
Role: Top
Interesting Fact:
Pinky was one of the so-called "Games Makers" at the London 2012 Olympics!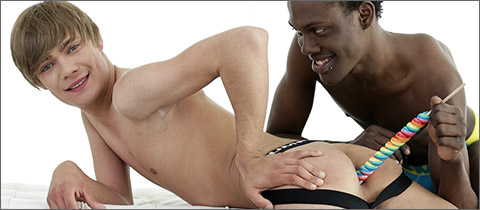 TWINKS DESTROYED 4: HARD BLACK STUD TAKES HIS YOUNG MASSEUR FOR A HOT, HORNY FUCK!
Let's be perfectly honest here, if you were presented with a fine specimen like Pinky to rub down in a massage, wouldn't you find it hard to concentrate on the job at hand? To be fair, the ever-gorgeous Noah Matous does his level best to keep to the script in the opening stages. Trouble is, with that fine black butt on full display and the knowledge that there's an even more appetising black cock pressed up against the massage-table beneath Pinky's muscular frame, it's nigh on impossible for a horny young fellow like Matous not to be totally distracted.
   As a result, what starts off as a professional masseur display very quickly descends – or ascends, depending on your point of view! – into a full-on, no-holds-barred encounter between a black stud and his eager white bitch! Indeed, there's simply no denying the enthusiasm that Matous displays once he's been given total access to his buddy's thick, uncut shaft! Why, the boy's quite literally like a slut on heat as he grinds his own oiled knob against Pinky's crotch; before the black dude responds by tossing him over on his front and engaging in a full-on exploration of his cute, white ass!
   Clearly one to add a little kink into the mix, however, Pinky's soon using a lollipop to work that tight little button; giving Matous to chance to suck on it between insertions, before finally fitting his own oversized butt-stretcher into the young twink's fuck-hole. From that point on, of course, there's just no going back. Matous quite simply receives the banging of a lifetime; culminating in him creaming-off mid-fuck, before Pinky underlines his mastery of the pairing by squirting his own wad on the lad's arse!
CLICK HERE TO GO TO HIS STAXUS DETAILS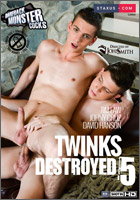 TWINKS DESTROYED 4
TWINKS DESTROYED 5