British Gay Porn Star, Philip Tiger
Years Active: 2009, 2015
TWITTER @Philip121Tiger
UK HOT JOCKS INFO:
Location: Crawley, England
Age: 28
Height: 6ft 0ins
Weight: 70kg
Hair: Dark Brown, Cropped
Eyes: Brown
Cock: 8ins, Uncut
Role: Top
Orientation: Gay
If you like a bit of rough, cheeky and chavvy Philip is for you. Tall and lean, this guys body definition is insane! He's got abdominals like we've never seen before, creases and serratus muscles Where we didn't even know you could get them. He's very sporty, spends a lot of time in the gym as well as playing tennis, a keen badminton player and swimmer he's a real Brit jock. Top and hung is also just how we like them! Packing over 8 thick inches in his pants, when hard it stands upright and girthy next to his mega lean stomach, we're surprised the guy hasn't got back ache from the weight. Welcome Philip!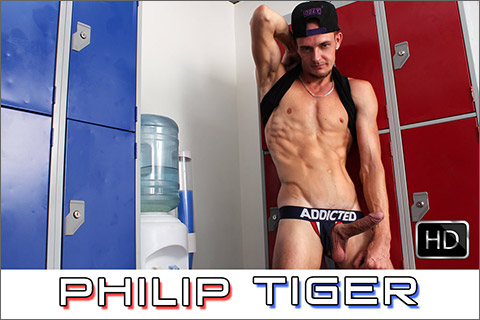 LOCKER JOCK: PHILIP TIGER
Colourful, interesting and very enthusiastic Philip Tiger sits on the locker room bench and tells us a little about his life. Massively into sports he plays tennis, badminton and swims as well as spending loads of time in the gym he's very active which explains his extremely lean and toned body, abs for absolute days!
   Backwards cap, chain, vest, shorts and high-tops he's a modern chavvy lad, horny, dirty and up for anything. Pulling his black vest over his head and behind his neck, showing of that tight and uber defined torso. He gropes from the outside and sticks his hands down the inside of his shorts, staring down the camera with a cheeky blue eyed squint. Standing up and teasing the shorts down, the front and centre gets a bit stuck on his bulging jock clad crotch on the way down. Navy and white with thick red butt straps, this jock could have been made for Philip, though his hard cock is impossible to contain. Getting out his mega thick and long dick, veiny and skyward pointing, he's already rock solid before he's even touched it. Leaning up against the cold lockers he works himself into a hot wanking frenzy. Taking his discarded jock strap with him he sits back down, stretches out, pulls the crotch of his used underwear up to his face and takes a long hard sniff… He beats off. He's having fun with this, using the jock to wank with and occasionally inhaling his own scents from it, filthy and we love it! Placing it on the bench he builds up the tension and blows his load all over his used jock. Quite a horny display!
UK HOT JOCKS
BLAKE MASON
BULLDOG PIT
CLICK HERE TO GO TO HIS UK HOT JOCKS DETAILS