Blond Cute William Higgins Czech Gay Porn Star, Petr Courek
Known Aliases / aka:
Years Active: 2016
WILLIAM HIGGINS INFO:
Age (2016): 18
Home Town: Brno
Height: 179cm/5'10"
Weight: 80kg/176lb
Foot Size: EU42/US8.5/UK8
Penis Size: 15cm/5.91″
Profession/Student of: Cook
Hobbies: Sport
Favorite Sports: Soccer
Active Sports: Fitness
Movie/Music/Sport Stars: Tom Hanks
Visited Coutries: Croatia
Want to Visit Coutries: Italy
Dream of My Life: I don't know.
Zodiac Sign: Taurus (April 20 – May 20)
Petr Courek is a good looking straight guy aged 18. He lives in Brno and works as cook. In his spare time Petr enjoys sports, soccer and fitness. From the start of his shoot Petr has a lovely smile on his face, as he lifts his tee shirt to show off his hot body. He takes off his tee shirt so that his sexy chest is exposed. He poses, hands behind his head, so that we can enjoy the chest and then he is naked, giving a great view of his soft cock too. The smile doesn't leave his face as he displays his wares, changing positions to let us fully take in his beauty. He lays on the bed and takes hold of his cock to get it hard. Then he stands, with his stiff dick poking out in front of him. That is a big and beautiful cock and Petr proudly shows it off. He lays back on the bed, cock in hand and pushed up to let us appreciate the full length. Then he kneels on the bed, hands on hips with his erection so proudly displayed. He moves, turning to show off his sexy ass as he traps his dick between his legs using the bedframe to hold it in place. Then it is back onto the bed, on his back, with his legs in the air giving a great view of his sexy ass. He spreads his cheeks to expose his tight hole. Turning onto his side his legs close, trapping his cock and balls between his thighs as he pulls the ass cheeks wide apart.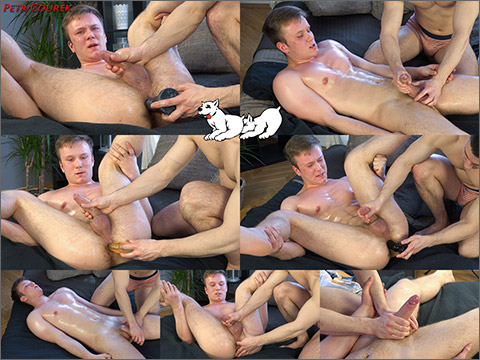 PETR COUREK MASSAGE
It has been a long week for Petr Courek. He has been flying around the world, trying to seal the deal on a contract for his company. All that time in the plane has left him very sore and stiff, so it was only fitting to call the Badpuppy Masseur first thing when he got home. Petr lies down on the bed and the Masseur gets to work, rubbing oil all over his toned, fit body. It does not take the Masseur long to reach under Petr's boxers and grab hold of Petr's uncut cock. He pulls it out and drops oil on to the growing member. Soon, the boxers come off and more oil is dropped onto Petr's almost fully engorged cock. The Masseur decides to concentrate on moving the action further south and has Petr raise his legs up. Petr is starting to breathe harder while the Masseur adds more oil to his nice hole, and before you know it has two fingers in there. Petr rolls his head back as the pleasure ensues. The Masseur than grabs the dildo and proceeds to lube it up to get it ready for Petr. He slowly inserts it into Petr, and again, Petr's head goes straight back. After a few minutes of this, the Masseur pulls out the black plug! We can see his hole is tight, but the Masseur finds a way to get it in there. Before long, we see that the Masseur is not done yet; he pulls out yet another dildo, even bigger than the last. Petr was a bit nervous I think, as his hole was still pretty tight! The masseur continues to work the tight hole for a bit, as Petr is now consumed in pleasure. Finally, he grabs hold of Petr's rock hard cock, and brings him to a very happy ending!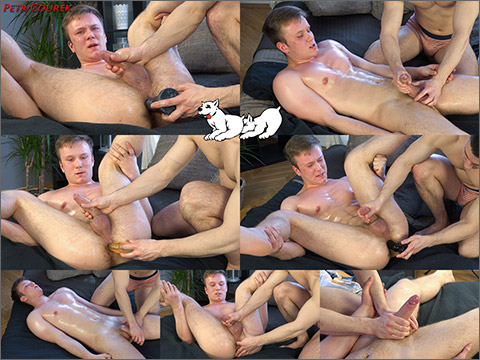 LORENC FUCKS PETR
Petr Courek was sleeping on the bed when Lorenc Byro walked in, came over to the bed and placed a kiss directly on Petr's lips. Petr awoke to find Lorenc staring deep into his eyes and he knew immediately that Lorenc was in the mood to play. Our young studs start off with some passionate kissing; but, that soon progresses to Lorenc helping Petr slide around on the bed allowing Lorenc to kneel beside Petr. Lorenc discovers that Petr has a large rip in his jeans and ironically, wearing no underwear and Petr's already erect cock springs free from the jeans; Lorenc swallows it whole. Petr grabs Lorenc's hands, stands him up on the bed, yanks off his jeans and begins sucking Lorenc's cock like he will never get to suck another one. These two studs heat up very quickly and after each stud give each other a blow job they jump on top of each other for a sixty-nine session that is definitely getting Petr primed for Lorenc's thick cock. Pulling his legs back, Petr exposes his sweet asshole and Lorenc goes in with his fingers and tongue prepping Petr's ass for the penetration that's about to happen. Lorenc spits on his cock and Petr's hole and slowly he pushes his bare cock deep inside Petr's waiting hole. Three hot and steamy positions later, Lorenc is still pounding Petr like a maniac and Petr has his cock in one hand stroking feverishly. As Lorenc continues to pound Petr can't hold it anymore squirts his thick load of jizz all over his hand and cock. All this stimulation sends Lorenc over the edge. He pulls out just in time to squirt his load all over Petr's chest and when he's finished; Petr is more than happy to lick the remaining drops of sweet jizz off of Lorenc's cock.
WILLIAM HIGGINS
STR8HELL
BADPUPPY
CLICK HERE TO GO TO HIS WILLIAM HIGGINS BIO PAGE