Handsome Hunk William Higgins Czech Gay Porn Star, Peter Van Don
Known Aliases: Madden Lawrence (BelAmi)
Years Active: 2013 – 2016
WILLIAM HIGGINS INFO:
Peter Van Don is from Michalova, Slovakia and is aged 19. He works as a mechanic and likes travelling, martial arts and Thai boxing. He is one very beautiful guy. The face is just so handsome and he adopts some nice poses as he starts his stills shoot. Smartly dressed, and with a nice smile he starts to show everything. He lifts the sweater, showing off his well developed abs. Then he strips off to the waist and we can see that his chest is just awesome. Peter removes his jeans and poses in only the underwear, flexing his biceps. He lowers the underwear some, teasing with his cock before turning around and showing off his hot ass. With the underwear off Peter turns again and we get a full view of his cock and balls. He looks so good as he reclines on the end of the bed. Then he lifts his legs in the air to show off his ass hole as well. That hole, framed by some hair looks very inviting indeed. But Peter has more to show and next he stands up, with his cock big and hard. That is one rock hard cock and quite long too. Peter again flexes his biceps as he stands with that cock at full attention. He finishes off his stills shoot with more great shots of his beautiful ass and his magnificent, hard cock.
Model Name: Peter Van Don
Age: 19
Home Town: Michalova, Slovakia
Height: 185cm/6'0″
Weight: 80kg/176lb
Foot Size: EU44/US8.9/UK8.4
Penis Size: 18cm/7.09″
Profession/Student of: Mechanic
Hobbies: Traveling
Favorite Sports: Martial Arts
Active Sports: Thai Boxing
Movie/Music/Sport Stars: Robert Pattinson
Visited Coutries: Ireland
Want to Visit Coutries: USA
Dream of My Life: Visit NYC
Zodiac Sign: Aquarius (January 20 – February 18)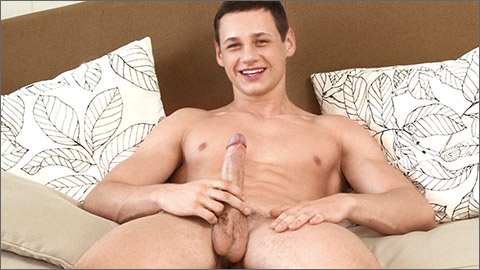 CASTING: MADDEN LAWRENCE
Today's casting boy Madden is a bit of an avid amateur boxer and has the body to show for it (and luckily not yet a boxers ears). Madden is quite at ease chatting with Marty and then showing us what he's got under the boxing shorts.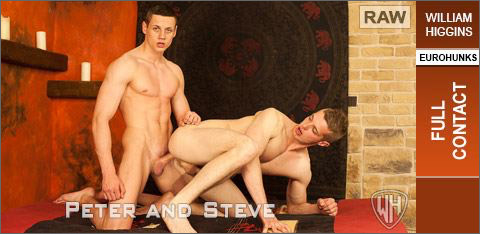 FULL CONTACT: PETER VAN DON & STEVE PERYOUX RAW
Peter Van Don and Steve Peryoux make a great couple. Steven joins Peter on his bed, ostensibly to watch something on his tablet. But that pretense is soon dropped as Steve starts running his hands over Peter's hot body. He kiss him too, groping his underwear at the same time. Steve then removes his shirt and Peter helps him open his jeans. Steve then pulls Peter's underwear down and is soon sucking on a big, rock hard cock. He is naked himself, his own dick hard as well. Peter takes a turn at sucking, his lips tightly wrapped around Steve's cock. His head bobs on the throbbing cock as his own massive dick sticks out. The two of them look fantastic, with their fit, muscled bodies. Steve bends, presenting his ass to Peter, so we know what he is after. But before that they move to 69, Steve on top and working his mouth all over Peter's huge erection. He loves that cock and continues sucking it as Peter moves onto his knees. Then, after kissing some more Peter goes back down on Steve's dick, taking it deep in his throat. Steve presents that ass again and this time Peter gets his tongue deep in the eager hole, rimming it real good. Steve wanks on his throbbing cock as Peter continues lapping at his hot hole. Then Peter is ready and slides his big cock deep into that ass. He fucks it so well, his hips thrusting hard and fast to fill that ass so well. His big cock really works that ass, stretching it wide and poking it deep. Steve loves being fucked and takes it well, reaching back to pull the ass wider. Peter reaches for Steve's face, gagging his moaning mouth with his face. Then he pulls on the hair, for leverage as his continues to pound that sexy ass. When Peter lays on his back Steve is quick to slide his hot ass down over that cock, and ride it as he wanks himself. His ass works up and down on Peter's stiff shaft, going all the way down to the base. He holds onto Peter's hands to steady himself as he rides on that massive pole. Then Peter grabs Steve's cock and wanks it for him too. Peter wants to fuck that ass even harder and moves to missionary postion. He slams his dick deep into the hole repeatedly as Steve wanks himself. His ass feels so good as that cock stretches it, that Steve soon blows a big creamy load right up his body. Peter continues to pound that ass, until he cant hold back either and pulls out to dump his hot, creamy cum over Steve. Steve grabs the cock and milks it completely until Peter leans forward and kisses him. After all that hot sex they go off to the shower and wash each other, their cocks staying hard all the while.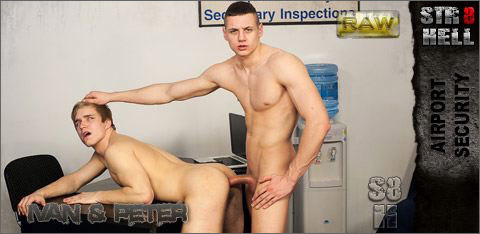 AIRPORT SECURITY: PETER VAN DON & IVAN MRAZ RAW
Peter Van Don is working in Airport Security. Ivan Mraz is sent to see him, for some potential infraction. It seems his luggage didn't get through the scanners successfully. Peter starts checking the luggage, and finds a number of porn dvds. He informs Ivan that he must personally check up and makes him remove his tee-shirt. Peter pats Ivan down, and makes him lower his pants. Ivan is then pushed, making him bend over, so that Peter can check his ass. He spread Ivan's cheeks and slides a finger into his ass. Ivan is then pushed to his knees and Peter again takes the dvds, waving them at Ivan. He grabs Ivan's head and pull it into his groin. He makes Ivan open his belt. Peter then unzips his uniform, allowing his big dick to flop out. He forces Ivan's head onto that massive cock, as he lowers his uniform. Ivan sucks on Peter's big, hard cock. Peter the slaps him and fucks his face as well. That dick slams deep into Ivan's mouth. Peter then pushes Ivan onto the desk and goes down on his cock. He sucks it voraciously, showing just how much he loves it. Then he stands and pulls Ivan's legs up, so that he can ram his big cock deep into his ass. He fucks that tight ass as he holds Ivan's legs aloft. His cock stretches that hole and goes in all the way as Ivan moans. That cock looks so good as it pounds away. Ivan is turned to lay over the desk as Peter fucks him hard. The Peter moves and sits down, so that Ivan can ride his throbbing cock. Ivan's dick is rock hard too as he fucks his ass onto Peter's big, hard member. Ivan rides that dick and wanks himself, really working hard until his shoots a very nice load of cum. Peter fucks some more and then pulls out and stands in front of Ivan, wanking himself until his cum shoots into Ivan's mouth. Ivan sucks on the sticky cock to drain it completely.
WILLIAM HIGGINS
STR8HELL
BADPUPPY
BEL AMI
CLICK HERE TO GO TO HIS WILLIAM HIGGINS BIO PAGE