Handsome Uncut Muscle Hunk Czech Gay Porn Star, Peter Stallion
Known Aliases / aka:
Years Active: 2004 – 2015
PARAGON MEN INFO:
November's to remember at Paragon Men – where it's ALWAYS Thanksgiving. We've got a new, expanded viewing feature that amplifies all the goods – and they are legion. Warning: objects at Paragon are just as big as they appear! Let's give it up for Peter – international man of mystery and fan of gym, food, beach and orgies. Not in that order…
   Not to sound superficial, but who can help wanting to dive into those crystalline eyes, pale ass cheeks and penetrate all the hair-free hotness of a Prague superstar? Peter is 28, 6′, and 185, but numbers cannot quantify this extraordinary proof of peak physique. Peter's giving the golden glossy a return to XXX glory.
   Peter has a nanny-fantasy (Schwarzenegger's baby-mama nearly ruined that), a gift for porn producing, and a foreskin big enough to hood that Czech masterpiece. Make it your mantelpiece because we've got Peter right back before the camera where he was born to be. Fast, furious, and full-throttle. Revvvvvvv those engines!
JÉRÔME INFO:
Thank you for your kind words. I think Peter started out in gay porn at some point late in 2004 or early in 2005. That's when he made a number of condom movies for Vlado Iresch/AVI Productions, released by Man's Best. His name for them was Peter Totti. Remarkably he did not join the bareback craze but chose instead to stick to mostly quality condom projects. His own website (peterstallion.com) lists only one bi film, but there is more and I seem to remember he bottomed quite regularly in those (often for Jiri, aka Higgins' Ivan Bartok). He's also done het porn and can be spotted on various websites and in various DVDs emanating from the Roy Alexandre galaxy. I have no idea what the exact chronology is here, if he did (and is still doing) all this simultaneously or if those were separate stages in his career.
   To go back to the gay work, he did one online episode for Bel Ami (a so-called First Suck session with Liam Phoenix) and claims (again on his website) to have worked for Kristen Bjorn in some as yet unreleased film. He worked twice for Hervé Handsome/Bodilis in 2005 (as Patton Hall), always as a top. He appears as PETER STALLION in 2 leather films by Richie Oldmann for Dream Entertainment, One Night in Alcatraz Club and Boy Fantasy, again as a top I believe. He is also in the just released Gym Jocks from All Worlds Video, where he is for the second time (after Payload (High Octane)) cast in a 3way with Adam Kubick. Finally he was a very attractive and lovable character in last year's Young Men In Shameless Pleasure (Jet Set International) by Robert Boggs where his name was Peter Stevens : he topped his two partners, Chad Driver and Adam Lee. He described himself as bisexual in his behind-the-scenes interview. It seems obvious to me he is going for an international or stateside career in gay porn.
   So as far as bottoming is concerned, except for the early Man's Best films which I haven't seen, it seems it was pretty much confined to his bi films until this scene for Borbély.
This is slightly off topic but I'm picking up on something mentioned earlier, i.e. Czech models appearing in Hungarian porn and branching off into international waters. Lucas Kazan had certainly shown the way here, thanks in particular to his special relation with George Duroy. Kristen Bjorn had followed, with Eric Flower and ultimately Tibor Cernan, aka Tobias Wares (etc..). If I'm not mistaken, there is more to come. The preview of the 2007 Kristen Bjorn calendar available on his website shows that three more Czech players have now worked for him. We'll see if this is confirmed by the next film release from Bjorn. PETER STALLION is one, as he had himself indicated, but he is joined by Devon Donis (aka Viktor Vesely) and Jakub Anderson (we'll see what new monikers they have been given). The latter I could certainly do without, particularly in his recent bloated avatar, but Devon/Viktor/Honza is another story entirely and has constantly been one of the most accomplished models ever since he first appeared. In a way, this was long overdue. I just hope he doesn't turn his back entirely on what good (condom) work is still available in Prague. His luminous presence would be sorely missed there indeed.
PETER STALLION (his chosen name if I understand correctly) seems to be aiming for an international career (and also performs in bi and possibly straight porn). He can be seen these days in Csaba Borbély's The Twin Factor (Pacific Sun) bottoming for his two costars, Julien Veneziano and Fabrizio Mangiatti, one of the Hungarian twins.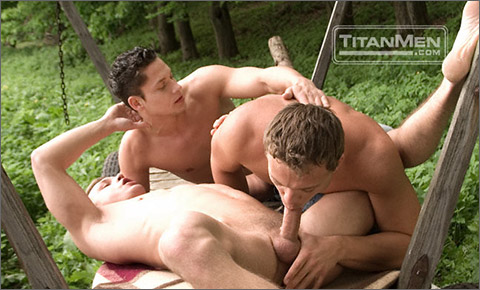 FARM FRESH: Peter Stallion & Samuel Dolce fuck Drago Lembeck
Peter Stallion and Samuel Dolce are taking a meandering walk through the woods, and see Drago Lembeck catching some rays and a quick catnap in a nearby meadow. He looks too damn good to be left alone, though, so Samuel and Peter quickly hop over and start running their hands over his smooth hard body, 'til he wakes up hard and rarin' to go. The young studs rub and suck and lick and kiss every inch of Drago's muscular body, and all three takes turns sucking each other until they're all close to the edge. As Drago's on his knees in front of Samuel, the sight of Drago's chiseled ass drives Peter wild, and he can't resist diving in, burying his tongue into that tight and twitching hole. Quicker than you can say "freshly fucked," Peter's got Drago's legs flying high, sinking that stiff sword into Drago's downy hole, soon pounding away with abandon while Drago sucks Samuel's dripping uncut cock. But Peter's not selfish, and lets Samuel take a turn.
   Peter sheathes his sword with another condom, and Drago takes this as his signal to roll over on his knees so the guys can mount him from behind, driving in deep and hard. It's not long before all three feel the need to shoot, and they perch next to each other to jack off, rock hard muscles tensing with their efforts that soon pay off in loads of spewing spunk – and smiles all around.
TITAN MEN
BEL AMI
KRISTEN BJORN PRODUCTIONS
CSABA BORBELY / DIAMOND VIDEO
HIGH OCTANE PRODUCTIONS / HERVÉ HANDSOME
MILE HIGH MEDIA / MALE REALITY
ELITE MALE AT MALE DIGITAL
EUROCREME
MARK WOLFF ENTERTAINMENT
PARAGON MEN
CLICK HERE TO GO TO HIS TITANMEN FRESH DETAILS
VIDEO ON-DEMAND: Peter Stallion @ AEBN SMUTJUNKIES THEATER
DVDs & ON-DEMAND: Peter Stallion @ TLA VIDEO