Hung Blond American Gay Porn Star, Peter Fields
Years Active: 2015
TWITTER @peterfieldsxxx
FAB SCOUT INFO:
Age: 29
Height: 5'10"
Cock Size: 8.5 Cut
Position: top, versatile, bottom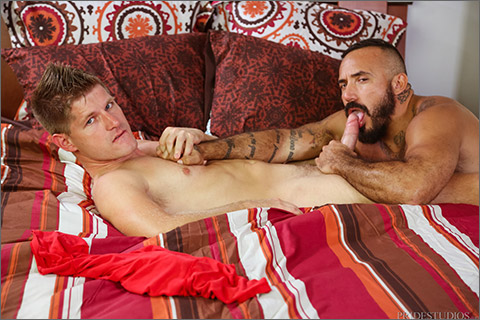 YESTERDAY
Breakups are hard to do and hard to take. Peter isn't taking the breakup so well and Alessio is standing by watching him pack his bags as his moves on to greener pastures. Alessio can't help but ask for one more fuck since that was all they did and never argued during. The sex was always amazing and with a good balance what could go wrong. Peter isn't too happy about it but Alessio grabs him and shoves his tongue down his throat than onto the bed where they rip each other's clothes off and fuck for the last time. Alessio dominate nature over takes Peter as he is held down and slapped around like Alessios bitch which Peter loves and it keeps his cock rock hard with lots of oozing precum. Alessio fucks him hard and deep until Peter's little ass puckers up and he cums all over himself as Alessio keeps thrusting in and out and pulls out to blast his creamy load all over Peter's chest.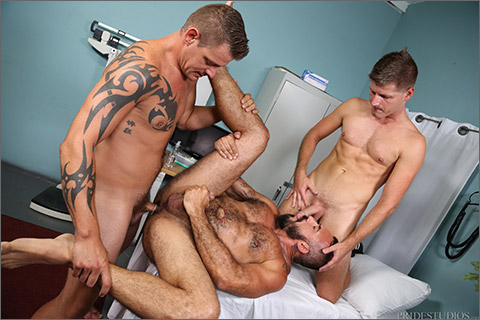 BEDSIDE MANNER – PART 4
Dr. Romero is having a study to find out if big dicks cum more than the average cock and his two specimens have some very nice big cocks for this experiment. Jace and Peter are waiting patiently in the waiting room to find out exactly what this program entails. Dr. Romero arrives and tells them what to expect and to make sure they get their full load in the tiny jar he gives them. They have magazines and lube to assist them while they both masturbate in separate rooms. The nurse comes in and leads them to their rooms. Peter is excited and pulls his pants down as soon as he sees the magazines. He searches for the lube as he pulls on his limp dick making it grow bit by bit. His cock his hard as a rock now and fully lubed so his hand glides along his shaft as he strokes it. All of a sudden Jace comes barging in and scares Peter but he tells him not to worry because it's probably more fun if they are in the same room together. They both grab each other's cocks and give a helping hand. Rubbing their big fat cocks together stroking them with ease and then Dr. Romero comes walking in rather surprised since they are in the same room. Jace tells the doc to join in and with no hesitation the doc is on his knees service the two big juicy cocks. Down on his knees with a cock on each side of him Dr. Romero goes back and forth sucking, stroking and spitting on their sexy dicks. His jaw is getting tired trying to stuff these big dicks in his mouth so he stands up and bends his ass over and waits for Peter to push deep into his ass. Both of the subjects take turns fucking Dr. Romero in a few positions until they blow their loads all over him and then they all realize that they will have to come back again to actually fill the bottles up.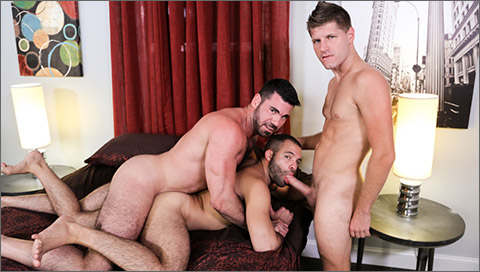 TOMORROW
Peter has fled to his good friends house Billy who was kind of enough to take him in after the break up with Alessio. Billy conveys to Peter that he can stay as long as he wants and no rush. Peter arrived late so Billy and his BF Braxton are tired and have work in the morning. They tell Peter to relax and get some rest while they head back to their bedroom. Braxton already can't wait for Peter to leave but Billy tells him it's just temporary and to console him even more they begin to kiss and get into some sexy late night mischief. Peter who is restless and still dealing with the break up can hear the moaning pleasures coming out from the room. Peter begins to get horny as his cock is rock hard. He creeps up to the bedroom door while stroking his cock and he slowly pushes the door open and sees Billy fucking Braxton deep and hard. Stroking and watching Peter opens the door more and Billy waves him in. Peter walks right up to Braxton and slides his hard cock into his awaiting mouth. Now we have a nice steamy three-way going as all these sexy men suck rim and fuck their way to satisfaction.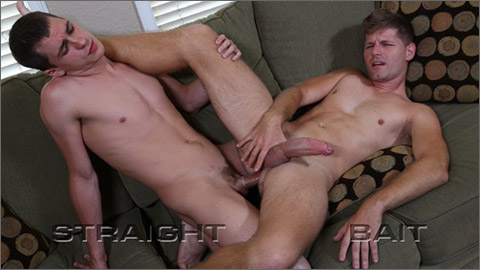 PETER FIELDS BAITS KORY HOUSTON
The scene starts out with Caruso interviewing Peter, a 24 year old, very handsome, all American, brown haired, blue eyed, hunky and muscular jock type with a massive, thick, 10" cock. He's gay and as cocky as they come. He talks about being a fan of BaitBuddies.com and straight guys and let's Caruso know that even straight guys have come on to him – he makes the point more than once – he doesn't haven't to look for sex – it comes looking for him. Well, this hot boy and his very straight buddy, Kory, contacted Caruso because they both needed cash – especially Kory, who is in college. Kory is originally from Texas and these boys have known each other for many years. Kory is currently dating Peter's girlfriend, in the real sense of the word friend, and it's a strange scene, because Peter has hit on Kory many times over the years and Kory's girlfriend knows about it. Kory is 23, stands 5'7" with hazel eyes and brown hair and has a pretty big cock himself at almost 8 inches. He's cute, slender and HOT! He loves tall girls, up to about six feet, just like his current girlfriend. And, today he's going to grant his longtime buddy a fantasy, first time gay sex with him. Peter is really excited, he's been waiting a long, long time to get his hands on his best friend. Caruso says to Kory, "you'll probably like it", "I don't think so" was his reply. So, Caruso dispenses with the interview and just says "Peter, take control!" Can you say 'awkward'? It was like two inexperienced teens going at it for the first time. Both guys have had more sex than they can even remember, but it's a little uncomfortable to start since they were buddies for so long, and Kory had never done a gay thing in his life. Even in "After the Shoot", Caruso has to explain the terms 'top' and 'bottom' … [READ MORE]
PRIDE STUDIOS
GIO CARUSO'S BAIT BUDDIES
CLICK HERE TO GO TO HIS PRIDE STUDIOS DETAILS