William Higgins Czech Gay Porn Star, Pavel Bohan
Known Aliases / aka:
Years Active: 2014
WILLIAM HIGGINS INFO:
Pavel Bohan is aged 19 and lives in Brno. He is self-employed and enjoys sports, soccer and boxing. He is a good looking guy with a nice, slim build. As he removes his shirt we see his hairy belly and, with the underwear lowered some, a lovely bush too. Lowering the jeans and turning around Pavel shows off his sexy ass, covered with soft, downy hair. Sitting on the sofa he teases with his cock out of one leg of his underwear. Pavel then gets his cock good and hard, showing it off nicely, pulling the underwear down. Leaning back, with his legs up his then shows his ass again, with the cheeks spread to show off his hot hole. He then stands and poses, with that cock rock hard. It looks so good as it pokes out and upwards. We get more of that sexy ass too as Pavel kneels on the sofa and pushes it back towards the camera. He is one very sexy guy.
Model Name: Pavel Bohan
Age: 19
Home Town: Brno
Height: 176cm/5'9″
Weight: 68kg/149.6lb
Foot Size: EU42/US8.5/UK8
Penis Size: 16cm/6.3″
Profession/Student of: Self-emloyed
Hobbies: Sport
Favorite Sports: Soccer
Active Sports: Boxing
Movie/Music/Sport Stars: George Clooney
Visited Coutries: Italy
Want to Visit Coutries: USA
Dream of My Life: I don't know.
Zodiac Sign: Aquarius (January 20 – February 18)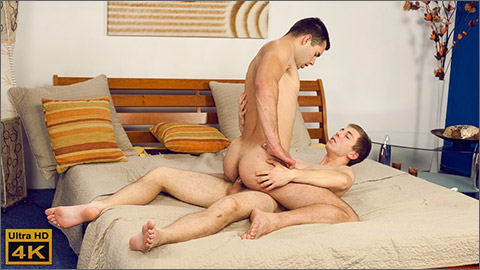 FULL CONTACT: ALAN CARLY & PAVEL BOHAN
In this lovely screentest we have Alan Carly, who is introducing Pavel Bohan to his very first time having sex with another guy. We already did a massage with Pavel, but this is his first time for full on sex with guy. It starts with Alan and Pavel relaxing on the bed, as they chat. Then the kissing starts, with Alan leaning over to initiate the first contact. As they kiss they also begin to grope each other, hands inside shorts. As they fondle each other's cocks they get hard and Alan pulls Pavel's underwear off, removing his own as well. Two big, hard, cocks are revealed as Alan gets to work sucking on Pavel's. Pavel's hand goes to Alan's head, pushing him down on that throbbing cock. He also grabs Alan's dick and wanks it as he feels the hot mouth wrapped tight around his. Pavel loves the feeling of his cock being sucked, and lays on the bed, so Alan can climb over him to 69. Pavel's mouth is soon open and taking Alan;s hard dick. He sucks on the cock and licks the head as Alan works his mouth over cock too. Alan loves to have his ass played with, and he new sex buddy obliges, sucking his cock and fingering his hot hole. That hairy hole opens up nicely as Pavel's finger works in and out. Alan's big cock is so hard too, as Pavel keeps sucking on it. Then two fingers work into that hole, stretching it wide. Pavel fucks the finger in and out, going nice and deep, as he wanks and sucks Alan too. With his ass opened up Alan turns over and presents it to Pavel, who shoves his rock hard cock deep inside. His first time putting his cock in a guys has turns him on and he fucks it in and out, as deep as he can. His fucking speeds up and then Pavel lays on the bed, so that Alan can ride his big cock. As he rides it Alan wanks his own cock and soon delivers a big, creamy cumhsot, all over Pavel's belly. Pavel isn't done yet, though, and keeps fucking Alan's hot hole. With Alan laying on his belly Pavel really pounds his dick in and out of that ass. He stretches it wide and rams his cock in all the way. When he is ready to cum Pavel pulls out and wanks himself, as he kneels over Alan, until he shoots his load. Then he leans over and kisses Alan, to end a wonderful first time session.
WILLIAM HIGGINS
STR8HELL
BADPUPPY
CLICK HERE TO GO TO HIS WILLIAM HIGGINS BIO PAGE