Furry Sexy American Gay Porn Star, Paul Wagner
Known Aliases: Barry (Sean Cody)
Years Active: 2009 – 2014
MEN AT PLAY INFO:
"My very first scene has just come out for MenAtPlay! I'm very excited, and I'm surprised its out already since I was only just there filming a couple weeks ago! Talk about a quick turn around.
It's a solo scene. I've been really excited for this scene since I think it was such great set/concept, plus I loved wearing the suit! Felt like a powerful rancher wearing the suit laying around on the saddle and cowhides. It was HOT. I don't get many instances where I get to dress up in great well fitting suits like that, so it was definitely a hot experience since I have that attraction to the suit fetish myself. You cant help but feel sexy when your in clothes like that."
HOT HOUSE INFO:
San Francisco, CA (March 2, 2009).  Hot House Entertainment, Inc. announced today that Paul Wagner has been added to the studio's roster of Exclusive stars. The 5′ 11" 200 lb. hairy hunk joins 10 other Exclusives in The Men Of Hot House, one of the gay adult industry's most select roster of stars.
The addition of Paul to The Men Of Hot House seemed to be an act of perfect serendipity. Both Steven Scarborough and Brent Smith (President and VP of Hot House) spotted Paul in a WeHo Starbucks a few months ago and were stunned by his sex appeal. Then just last week, Paul submitted his application to Hot House after talking with fellow Exclusive Johnny Gunn about his interest in getting into the business.
   "We were already fully cast for SKUFF 4," said Scarborough, "but when Paul's pictures came in, we knew his look was perfect for this movie. So we moved fast; we literally booked him and flew him to SF the next day."
   Sexy good looks and a fabulous body aren't the only criteria considered for admission into The Men Of Hot House. "Our exclusives are chosen because they can perform," said Smith, "and Paul's explosive performance with scene mate Josh West proved that he had the goods."
   The day after his shoot, Paul made the decision to sign with Hot House – an easy choice for him saying that "I had already heard great things from Johnny about how friendly and professional the company was; but when I saw how amazing the studio and sets were, I knew I wanted to be part of Hot House."
   Paul will make his first public appearance during the GayVN Awards Weekend, March 27-28 in San Francisco. Fans eager to get a first glimpse of Paul can meet him Friday night at the Hot House GayVN Pre-party at the Lookout, part of the GayVN pub crawl in the Castro. The event features a different studio and their exclusives at several bars throughout the historic gay neighborhood. Hot House will have Paul along with Vince Ferelli, Ross Hurston, Johnny Gunn, Kyle King, Luke Cassidy, Ethan Wolfe, and Evan Matthews on hand to meet and greet fans.
   Paul will make his debut in SKUFF 4, the award-winning leather series from Hot House Video, slated for an April release online in the Backroom. The site, which Cybersocket recently named Best Video Company Website for the second year in a row, features first-run movies not yet available on DVD or anywhere else. Skuff 4 is slated for DVD release in June.
   The Men Of Hot House now include Paul Wagner, Vince Ferelli, Alex Collack, Tony Mecelli, Ross Hurston, Ty LeBeouf, Johnny Gunn, Kyle King, Luke Cassidy, Ethan Wolfe, and Evan Matthews.
One morning in a West Hollywood Starbucks Paul Wagner's all-American football player good looks, boyish dimpled grin, and big bubble-butt caught our attention. About two weeks later we signed him as our newest Exclusive and cast him in Skuff 4: Downright Fierce. Check out Paul in his Hot House debut and don't miss his XXX gallery, shot on the amazing set of Skuff 4, live now exclusively in the Hot House Backroom!

TUXDUP
Menatplay welcomes the New Year in style with two of our favourite men Rogan Richards and Paul Wagner – who makes his long awaited return to Menatplay. We follow Paul as he takes a break from a New Year's party and heads to the mensroom, were he comes across a dark, handsome man standing at the urinal next to him. Paul steals quick glimpse down at the stranger's dick as he takes a piss and notices that he's gently stroking it. While Paul tries hard not to stare he just can't help getting completely turned on by the situation and watches Rogan as he proudly strokes his now rock-hard boner. And soon enough Paul is on his knees sucking his delicious looking dick. Rogan then turns Paul around and like the big, dominant top that he is starts working on his muscular, hairy ass – enjoying the taste of his sweet hole before giving him a good, hard pounding against the Mensroom wall. Rogan then finishes himself off by pushing Paul to his knees and shooting his hot, sticky cum all over his face and chest, before returning to the party.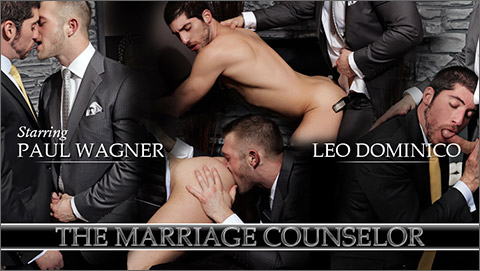 THE MARRIAGE COUNSELLOR
When Leo and Emma realize they have issues with their marriage, they take a visit to a Marriage Counselor to get to the bottom of the problem. Their counselor, suave suited Paul Wagner , gets Leo's juices pumping and the bulge in his crotch and uncontrollable stares at Mr. Wagner make it obvious what the issue is with Leo's marriage. Just in case there was any doubt Paul probes further with his cock being taken eagerly by Leo's throat and ass. This one on one session will hopefully help Leo decide what to do about his marriage once and for all – either that or completely fuck him up – begging to come back for more.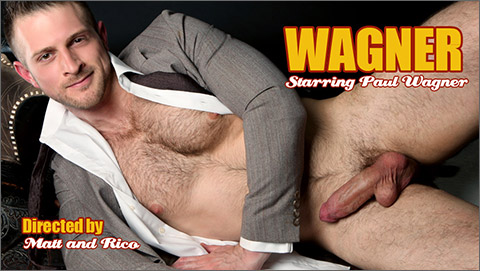 PAUL WAGNER
We're feeling the Wagner Love at Menatplay this week. Decked out in his retro tight fitting 70s suit and a pair of cowboy boots Paul Wagner gives us one of our hottest solo performances to date. His bulky physique looked so good in that suit, especially the way his ass filled out those trousers till they were busting. And watching him stroke his thick cock out of his suit flies while hes all suited and booted is just the perfect package for Menatplay. But the best is to come when he reveals those full pecs, covered in the sexiest hair . And when he looks up at the camera god you just want to jump in and touch him. Paul Wagner is going to be a very significant member of the Menatplay stable of studs.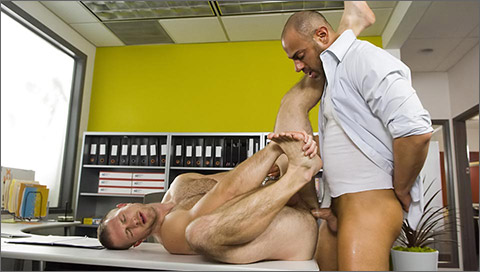 HEAD HUNTERS TWO: C.J. MADISON FUCKS PAUL WAGNER
C.J. Madison mistakenly thinks his boss Paul Wagner has left for lunch so he goes online for his afternoon porn fix. Mr. Wagner comes out of his office to find C.J. stroking his huge cock and decides to get down on his knees and suck. Wagner pulls out his own cock and stands up so Madison can suck him off. Next the ass-hungry Madison flips his boss over and eats his hole, getting it lose and wet for his huge cock. Madison towers over Wagner as he shoves his huge tool in his ass. Madison drills Wagner long and hard until they both blow their loads on the desk!
NEXT DOOR STUDIOS
RANDY BLUE
SEAN CODY
KINK MEN
CLICK HERE TO GO TO HIS MEN AT PLAY DETAILS
VIDEO ON-DEMAND: Paul Wagner @ AEBN SMUTJUNKIES THEATER
DVDs & ON-DEMAND: Paul Wagner @ TLA VIDEO
[Total:

136

Average:

4.8

]