Handsome Slovakian Gay Porn Star, Paul Hunter
Known Aliases: Czech Hunter 188, Kyle Willis
Years Active: 2015
WILLIAM HIGGINS INFO:
Model Name: Paul Hunter
Age: 23
Home Town: Roznava, Slovakia
Height: 175cm/5'8″
Weight: 80kg/176lb
Foot Size: EU42/US8.5/UK8
Penis Size: 16cm/6.3″
Profession/Student of: Music Club Manager
Hobbies: Music
Favorite Sports: Jogging
Active Sports: Fitness
Movie/Music/Sport Stars: Vincent Cassel
Visited Coutries: USA
Want to Visit Coutries: Norway
Dream of My Life: I don't know.
Zodiac Sign: Sagittarius (November 22 – December 21)
Paul Hunter is aged 23 and lives in Roznava, Slovakia. He works as a music club manager and enjoys music, fitness and jogging. What a great looking guy he is, such a handsome face. As he bares his chest, and poses for the camera we see that his time in the gym has worked very well. Paul's body looks very good indeed. To show that body off to full effect Paul flexes his big biceps. Removing his jeans Paul turns and lowers his underwear to reveal a very sexy ass. Then as he kneels on the sofa, pushing his ass back his cheeks part to expose the tight hole. Then it is off with the underwear and we get a nice full frontal view, of that hot body and a soft cock. He then sits on the sofa and makes some wood for us, that hot cock getting very hard indeed. Paul stands to show off that lovely, erect cock as it stands proud. He does a series of nice poses with the dick hard and then goes back to the sofa, lifting his legs in the air to spread that sexy ass again. Paul then lays, full-length along the sofa,looking magnificent, before working through another series of poses, to show more of his hot body, sexy ass and beautiful cock.


AT EASE: SMOKING HOT SOLDIERS SNEAK OUTDOORS FOR A SUCK-&-FUCK FRENZY!
We're not totally convinced that cigars come as standard issue for enlisters in the Czech army, but they're clearly one little luxury that young recruits, Joel Vargas, and new boy, Kyle Willis, are determined to make the very most of. Not that anyone could possibly blame them for taking a break from a life of fighting and killing; and, finding a quiet corner of the woods to relax, these two horny fighters take a chance to enjoy the simple pleasures that only long, hard phallic objects can give a man.
   And (obviously!) we're not just talking cigars here. In fact, the smoking session is very quickly abandoned once both fellows begin to realise that there's much more fun to be had with the contents of each other's khaki trousers – at which point Vargas immediately makes a bee-line for Willis's dick, like a hunter pouncing on his prey! You could almost feel sorry for the new boy were it not for the look on his cute little face that tells you that he's more than made-up by the move – a sentiment that's only underlined by the manner with which he returns the favour shortly afterwards.
   Indeed, you don't need to be too much of a sexual expert to realise that this is one young fellow who won't be truly happy until he's got his compatriot's shaft pushing into his guts in order to give his inexperienced ass-hole the stretching it's always dreamed of! Not that he has to wait too long for that fantasy to become reality. Soon he's being given a good old-fashioned Vargas workout, taking every inch of solid man-meat and spewing the contents of his nads in the process. All nicely topped off by Vargas collecting his pay-cheque by blasting his goo all over the lad's pucker!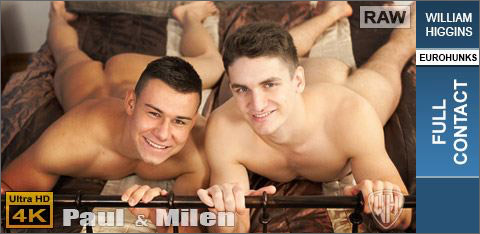 FULL CONTACT: MILEN PETROF & PAUL HUNTER RAW
Milen Petrof and Paul Hunter are a couple of very hot straight guys who get right into some hot sex, kissing each other as they kneel on the bed. Paul grabs Milen's dick through his underwear, rubbing it. It is clear that Milen is already rock hard in the underwear as Paul leans over to kiss his chest and niipples. As they kiss more Milen reaches round to grab at Paul's sexy ass. Then he moves to sit on the bedframe as Paul rubs his face over his groin. He pulls the underwear down, releasing Milen's big cock. He grabs it and wanks it as he starts sucking. That big cock is good and hard as Paul's mouth closes around the head. He keeps wanking and licking at it and then sucking it into his mouth. That cock looks so good as Paul pulls the underwear off and then takes his own off and the two guys lay down. Milen sucks on Paul's throbbing cock as the hips thrust upwards, fucking the cock into the eager mouth. He fucks Milen's hot mouth as the lips are closed tight around that cock. Moving to a 69, with Milen on top they suck each other for a while. Then they kneel again, with Paul wanking both cocks together. Paul then turns around and bends over, offering up his ass to Milen's big dick. Milen shoves his cock into the eager hole and Paul fucks his ass onto it. He then turns over, inot missionary position for Milen to fuck him deep. Paul moans as the big cock rams into his hot hole. He takes it all the way. Then as Milen lays on the bed Paul sits on his big cock, riding it hard and fast. He really can take cock so well. When they go back to mission position Paul wanks himself as he gets fucked hard and fast. Soon his cock releases its' creamy load and Milen keeps fucking him deep, until his load is ready too. He pulls and and shoots his hot cum all over Paul's belly. Then he leans over to kiss him again before taking him to the shower to clean up.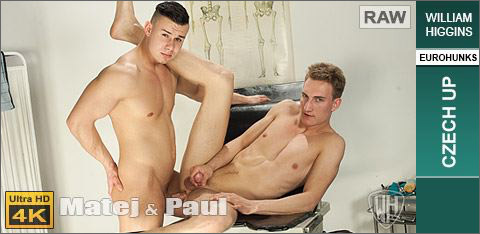 CZECH UP: MATEJ BORZIK & DR PAUL HUNTER
Matej Borzik has come to the doctor's office for a check up. It seems that he couldn't get hard when having sexy with his girlfriend. Dr Paul Hunter decides on a full examination and tells Matej to strip off, which he does, putting on a gown. Then Matej sits on the examination chair so that Paul can begin his work. Matej puts his legs into the stirrups and raises the robe for Paul to start checking him out. As Paul presses his fingers around Matej's groin it seems that there is no pain, but Paul thinks and operation can be avoided with some massage. He takes some oil and starts rubbing around Matej's soft cock. His hands rub over the cock too and soon Paul is pulling on the swelling cock. It grows big and hard under his touch, with the balls tightening. Paul leans over and takes the cock in his mouth. He is an expert sucker and really works the cock well. Paul's cock gets stiff in his pants as he sucks and he moves up so that Matej can suck him for a while. Matej works on that cock, as he wanks his own. Paul then decides that he needs to check Matej's ass as well and has him move onto his knees. He starts to finger Matej's tight hole, as he also wanks him. That hole feels good to Paul and he decides his cock needs to check it out too. So he positions himself behind Matej and slides his throbbing cock deep inside. He fuck Matej's hot ass as Matej moans with each thrust. Matej wanks himself as he takes Paul's throbbing dick. Paul keeps fucking that hot hole, turning Matej over onto his back. Matej wanks himself as Paul pounds his tight hole. As he takes the cock and wanks himself Matej dumps his creamy juice all over his left leg. Paul keeps fucking, going harder and fast before pulling out to shoot his hot load over Matej's balls. He milks his cock to drain it as he leans forward to kiss Matej after a very good fuck.
WILLIAM HIGGINS
WILLIAM HIGGINS STR8HELL
CZECH HUNTER
STAXUS
CLICK HERE TO GO TO HIS WILLIAM HIGGINS BIO PAGE
CLICK HERE TO GO TO HIS STAXUS DETAILS