MormonBoyz Handsome DILF, Patriarch Smith
Years Active: 2013 – 2015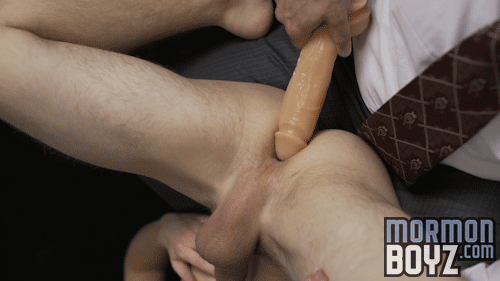 DISCIPLINARY ACTION: ELDER STEWART
All young mormon men who enter into the order are subjected to corporal punishment to atone for any past transgressions that are not in line with the standards of the order. This is also called, "Mandated Disciplinary Action."
   By the time a young Mormon man is old enough to be a missionary, even the purest of them has committed more transgressions than he can possibly remember. Every lustful thought, every lingering glance at a naked guy in the locker room, every sexual fantasy is considered a "sin."
   And then on top of the evil thoughts, there are all the sinful acts: every time he masturbates, every time he looks at porn, and (for many, if not all Mormon missionaries) every covert sexual encounter with another boy.
   These are acts so sinful that they must be confessed to a priesthood authority before a boy can serve a mission. And it is up to the discretion of that particular priesthood leader how to proceed.
   Priesthood leaders are encouraged to ask for as many humiliating details as possible. And many priesthood leaders who oversee them go a step further and demand that the anxious young men demonstrate their transgressions.
   But many of these boys have committed so many sexual sins that they can't remember and therefore can't repent for all of them. And then there are all the times the missionaries break the law of chastity while on their missions.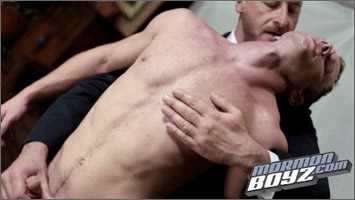 ELDER ROBERTS & PATRIARCH SMITH
Elder Roberts has been in the mission field a while now. About a year into his mission he was called as a branch president in a new city. Being isolated from the rest of the mission had advantages. Things were a little more relaxed under his leadership. He worked hard, but always made sure to organize activities that would build camaraderie among the missionaries. And when possible, he also found the time to fool around with other the Mormon boys serving alongside him. Elder Roberts is a man of few words who has a hot body, a square jaw, a dick that's always hard and a love of mischief that has made him popular with the other missionaries…but also attracted the attention of his priesthood leaders.
   Unsurprisingly, has been summoned back to the mission home by the mission president. Patriarch Smith is waiting for him and without a doubt he has been looking forward to this part of the boy's repentance process. Boys will be boys and elders are always breaking the rules, which means that the patriarch has plenty of opportunity to discipline their hard young naked Mormon bodies.
   "Elder Roberts," he says sternly, "you're here for your disciplinary action."
   Elder Roberts mumbles "I know" without looking up. Now that he has been caught breaking the law of chastity, he's embarrassed and he's afraid of the consequences. But he can't help but be turned on by the handsome older man, and even by the unknown punishment that awaits him.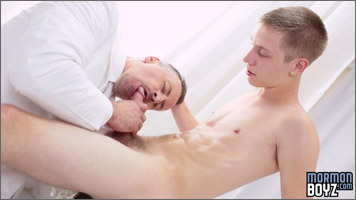 ELDER STEWART & PATRIARCH SMITH: INITIATION
ELDER TITOV & PATRIARCH SMITH
ELDER TITOV & PATRIARCH SMITH
ELDER ROBERTS & PATRIARCH SMITH
ELDER ROBERTS & PATRIARCH SMITH
ELDER TITOV: TIME WITH DADDY 2
ELDER TITOV: TIME WITH DADDY 1
ELDER ROBERTS
ELDER BUCKLEY & ELDER RILEY
EPISODE 109: ELDER MILLER DISCIPLINARY ACTION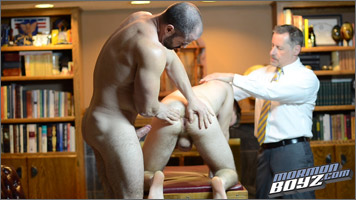 EPISODE 108: ELDER KENSINGTON INSPECTION
ELDER KENSINGTON – INITIATION
ELDER HADDOCK – INITIATION
ELDER HARDT – INSPECTION PART 2
ELDER GONZALEZ – PRIESTHOOD PREP
ELDER HARWARD – EVALUATION
ELDER HARWARD – DISCIPLINARY ACTION
ELDER PRATT – REPATRIATION RITES
ELDER PRATT – ORDINATION
ELDER NELSON – INSPECTION
ELDER MARTINEZ – DISCIPLINARY ACTION PART 2
ELDER MARTINEZ – DISCIPLINARY ACTION PART 1
ELDER MARTINEZ – INSPECTION
ELDER ALLEN – DISCIPLINARY ACTION
CLICK HERE TO GO TO HIS MORMON BOYZ DETAILS