Handsome Ripped Muscle Bodybuilder American Gay Porn Star, P.J. Dixon
Known Aliases / aka: PJ Dixon
Years Active: 2003 – 2004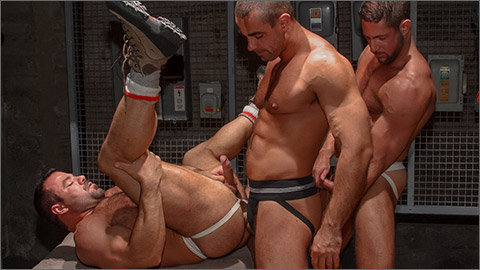 DRILL: TO THE POINT – THE SHOP:
Todd Maxwell and Matthieu Costa (top and bottom) and PJ Dixon (bottom)
Coffee break is almost over. Carpenter PJ Dixon has fallen asleep, leaving him prey to his trickster buddies Todd Maxwell (the husky, gym-toned American in the blue t-shirt) and Matthieu Costa (the handsome, and, as you'll soon see, huge-nippled and uncut Frenchman in the green t-shirt). Trapping Dixon inside a packing crate, they use their hole saw to core a couple of glory holes through its side, and Dixon eagerly power sucks two loads out of the overheated guys. Then they throw the hairy-chested studbottom across the crate, lube up his furry buttcrack with probing tongues, and fuck his brains out. Costa's plowing pushes Dixon over the brink, and as he's kissing the contented bottom, Maxwell rams his cock up the Frenchman's ass. With Dixon sucking his uncut meat and Maxwell screwing his tight ass, Costa can't keep from blasting out his balls, and the men collapse in a three-way kiss.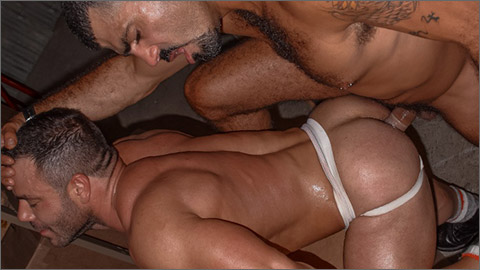 PACKERS: Asoka packs his uncut meat into PJ Dixon musclebutt and mouth
Brad's crate is wheeled into the shipping room for packing, but it's clear his order isn't going to get filled too quickly. Asoka has wrapped himself around mountain-of-muscle PJ, beating the stud's face with his wicked, uncut cock, and cramming it into his spit-slopped mouth. Asoka then pries open PJ's deep ass, and finds burrowed in the shadowy canyon that splits his granite cheeks, the bodybuilder's pink hole blossoming irresistibly. Asoka's massive meat attack blasts a white mega-load outta PJ's cock. Then, in a turnabout, PJ clamps his continental cheeks over Asoka's face, and lets loose gushes of creamy jizz that swarm up and over the snarling stud's pulsating cock.
CLICK HERE TO GO TO HIS TITAN MEN DETAILS

MEN MAGAZINE PRESENTS: TITAN MEN