Randy Blue American College Jock Gay Porn Star, Owen Hudson
Years Active: 2015
RANDY BLUE INFO:
Owen Hudson is a 24 year old with a hot 18 year old body. This twink is starting to work out and get his way to hunk. He is straight acting, but is all gay. He came from a small town and when he finally got to the big city, he began sucking cock and never looked back. He has this nice dirty blondish hair, a smooth body, a bubble butt and a nice thick dick. It didn't take him long to realize that he was a bottom. That first dick that slid into him, he knew that he was hooked. He was ready to get fucked, and he always dreamed of doing it on camera. Now we get to make his dreams come true. Watch him get barebacked and have hot loads shot up his tight hole here at Randy Blue.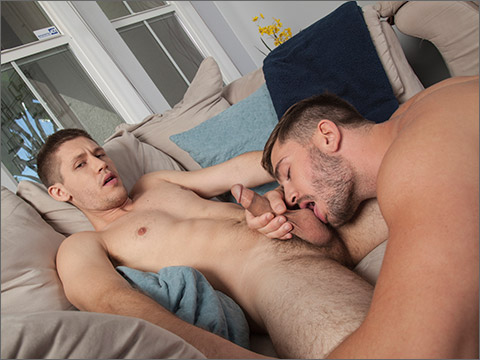 PRESTON COLE CUMS INSIDE OWEN HUDSON
Owen Hudson is a musician. He's also a big card carrying homo. And when Preston comes over to suck on his cock. He sprang to attention. Owen tried to keep it casual and keep on playing, but with this muscle hunk down on his knees servicing him, it was too much for Owen to bear. He threw the guitar aside and asked to suck on Preston. He took his long cock down to the base. Then Preston rimmed his fuzzy little hole, getting it ready for his raw dick. Skin to skin, Owen lowered down on Preston and yelled out as the huge cock opened up his insides. Preston barebacked him every which way he could until finally he begged to cum in him. He never came in someone before and now was his chance to finally do it. Owen begged for his cum and when Preston creampied his tight hole, he had a big smile on his face. Preston wanted a facial and Owen then busted a nut right into Preston's mouth. Hot stuff. Be sure to check out he free gay porn pics of the hot action here at Randy Blue.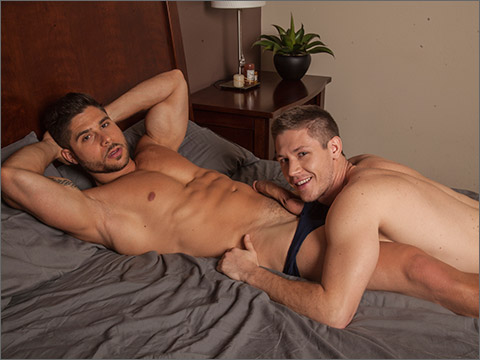 FRESH MEAT OWEN HUDSON MAKES HIS BAREBACK DEBUT WITH FABIO ACCONI
Owen Hudson is our new fresh meat. I showed him a picture of his future scene partner Fabio and he said, "I've never been with a man that muscular before." I asked him if he was going to be okay with that. He exclaimed, "Hell yeah!". I got them together and Fabio warned Owen that he likes to fuck rough and hard. Owen was okay with that. A mesmerized Owen then began to remove Fabio's clothing. He got the shirt off and started to touch his glistening muscles. Then he got his pants off and went straight for his dick. Owen sucked him off and then Fabio got Owen a naked and returned the favor. As Fabio slid his mouth down Owen's dick, he begged for more. He wanted to get fucked. And Fabio was happy to oblige. He shoved his raw dick in him and barebacked him. He pounded him harder and harder. Owen's dick got rigid as Fabio's cock touched his prostate. Then after trying some doggie style, and riding, Owen shot ropes of white cum all over Fabio's chest. Then Fabio pulled out while Owen begged for him to shove his cum in Owen's hole. Fabio squirted the white hot jizz and cream pied Owen. For his first time out, Owen sure had a blast. Be sure to check out the free gay porn trailer in full HD right here at Randy Blue.
CLICK HERE TO GO TO HIS RANDY BLUE DETAILS