ChaosMen Amateur Gay Porn Guy, Oscar
Years Active: 2016
BRIAN OCKERT / CHAOS MEN INFO:
Start Age: 19
Debuted: January 18, 2016
Height: 5'9″
Weight: 150 lbs
Cock: 7.5″ Cut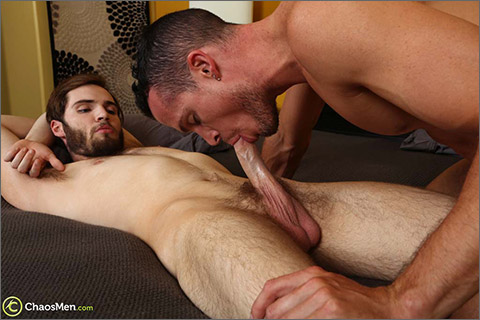 SERVICED: LUCA ROSSO & OSCAR
Oscar showed up a little sad this day. His girl had just broke-up with him, and they were furiously texting each other before the shoot. I was a little worried he would be distracted when it came to do the video. He put the phone up, took a shower, and was ready to play. Even still, he seems very serious in this video.
   Despite being able to lick his own cock, he was not ready to suck another guy's cock. I thought that if I had Luca there, with his cock out, that he may actually take the leap and suck him off. But he only stroked Luca's cock for a short period. Though he did show a lot of interest in watching Luca jerk his own cock.
   Again, Oscar's cock is hard in seconds, tormenting himself by aggressively rubbing his cock head.
   Luca sees how hard he is, so slides down to stroke and suck on Oscar's rod. If you like OutTakes, stay for the ending to see a moment where Luca was sucking a little too well!
   Oscar does some dirty talking, and Luca seems to be into it. He gets super hard while Oscar is fucking his face.
   Since we had a moment when Oscar might accidently cum to soon, we set Luca up to pull the load out of Oscar. Clearly Luca was going to be able to make Oscar cum. With Oscar coaching him the entire time, it only took a couple minutes to make him bust. "Don't stop! Don't Stop!"
   His load spills out of his cock. Luca of course lost his own hard-on while trying so hard to make Oscar cum, so we had to give him a moment to get hard. He bust his load all over Oscar's stomach, adding his own spunk to Oscar's load!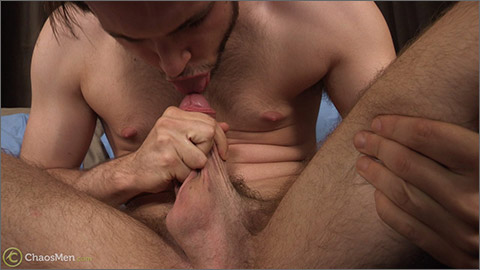 SOLO: OSCAR
Oscar has piercing blue eyes, and a skill I have not seen in a long while!
   He arrived at the studio, and while showing him around the place, he mentioned that he could lick and sometimes suck his cock. I asked him if he would do that for his solo. He said sure, but he did want to qualify it by saying he could only lick and suck for a couple seconds.
   We started doing the photos, and near the end I asked him to do the self-lick/suck thing and he was incredibly flexible! So we a got a few nice images of that and I was eager to get some of it on film.
   We shot the video, and I swear in all the times I have shot videos I have never seen a cock get hard that fast. I left one camera angle on it, it has be around 30-seconds. And I think it sprung to life so fast because it knew it was going to get sucked!
   Oscar would bend over and spit on it, tempting himself with a self-blowjob.
   His cock is long too. That helps some, but he really can bend over to it quite easily. It is just hard for him to maintain.
   Later in the video, he sits in the position we did his photos in, and he gets a lot more licking and a tiny bit of sucking in. Sorry guys, he didn't think he could cum from doing it, nor do a self-facial, so we had jerk his rod until it shoots.
   He is eager to come back, but, get this, he only wants to start by getting his dick sucked, and is not really keen on sucking another guy. Really?
   We shall see. Normally when a models visits they fly in. I shoot solos on the first day, while the oral on a second day, and then back to airport. Oscar is local, so we don?t have a Serviced video set up.
   He identifies as straight, but I dunno, I am withholding judgement until I see him with another guy.
   For now, enjoy this hot solo with a touch of autofellatio!
CLICK HERE TO GO TO HIS CHAOSMEN BIO PAGE