Blond Czech Hunk Gay Porn Star, Olle Usmev / Tad Harrison
Known Aliases / aka: Joska Kalvoda, Oldrich Smile, Oldrich Smidl, Olda Smidl, Tad Harrison, Tad Harrisson, Rocky Bush, Ashley Adams, Mickey Cabalo, Adrian Rick, Alex, Ashley Adams, Ashley Barnes, Joska Kalvoda, Oliver Smiles, Olle Smiedl, Olle Smile, Paul Worth, Rick Smile
Years Active: 2003 – 2009
WILLIAM HIGGINS INFO:
Model Name: Joska Kalvoda
Age (2003): 23
Zodiac Sign: Leo
Home City: Ostrava
Height: 187cm / 6'2″
Foot Size: 10 (convert)
Weight: 95kg / 211lbs
Penis Size: 17cm / 6.7″
Profession: Telecom Technician
Hobbies: Sport
Favorite Sports: Fitness
Active Sports: Football
Want To Visit Countries: Thailand
This shoot outdoor shoot with Joska is one of the last, if not the last, of those six shoots we did outdoors one day. That means my huge documentary will be coming soon. Watch for it. You'll have a really good idea about the behind the scenes activity on our shoots. Joska is perennially popular on Prague Buddies. Can anyone doubt why? I think he's great. We were lucky to get him as one of the models for our Thanksgiving Day surprise. He's always great looking. Hopefully, that's insurance you'll like the surprise. I do want to remind everyone: we won't have a Newsletter on the Wednesday before Thanksgiving Day. We'll publish a big on Thanksgiving Day. And we'll publish a second Newsletter on the following Sunday. No one will have to sit around bored during the Thanksgiving Holidays.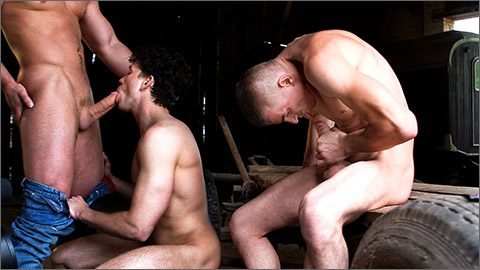 FARM HANDS: Joe Donovan & Pavel Marek fuck Olle Usmev
After a 3-way suck fest, Joe Donovan and Pavel Marek fuck Olle Usmev. Sexy, curly-haired Joe Donovan and massively hung Pavel Marek discover another abandoned barn, where Joe unzips Pavel, wrestles his pants down and starts sucking down his enormous piece of meat, licking the head and paying special attention to his cum-filled balls. Pavel returns the favor, getting down on his knees and energetically sucking down Joe's dick like the sex demon he is.
   Beefy, muscular Olle Usmev discovers the pair and takes a turn on each, licking, stroking and sucking their massive cocks. While Joe plunges on Olle's thick meat, Pavel entertains himself for awhile stroking and licking the head of his own cock. Pavel and Joe both soak Olle's massive pecs with their creamy jizz as he strokes his thick cock, ultimately shooting his own spooge all over the barn floor.
   Olle's got an incredible hunk of a muscle butt that's begging to be probed, fingered and fucked; he climbs on a tractor trailer and offers it up so Pavel can rim and finger his hot hole while Joe hungrily swallows his thick cock. Then Joe 3 stands on the trailer so Olle can swallow his dick while Pavel plows Olle's meaty ass.
   Olle lies on the trailer and pulls his thick thighs back to expose his inviting asshole, and Joe mounts him like a bull as Olle moans and gasps for air with each deliberate stroke of Joe's thick pole. Olle clearly hasn't had enough cock up his ass yet, so Pavel takes a turn banging his butt with his massive tool while Joe shoves his cock into Olle's gaping mouth before spurting his spunk all over Olle's chest. Olle strokes his thick cock and shoots a huge sticky load all over his beefy torso, and after Pavel unloads his thick cream on Olle's abs, the guys share a group kiss and go off to do their chores.
TITANMEN FRESH
KRISTEN BJORN PRODUCTIONS
COLT STUDIO / OLYMPUS
LUCAS ENTERTAINMENT
CLICK HERE TO GO TO HIS TITANMEN FRESH DETAILS
VIDEO ON-DEMAND: Tad Harrison @ AEBN SMUTJUNKIES THEATER
DVDs & ON-DEMAND: Olle Usmev @ TLA VIDEO