William Higgins Czech Gay Porn Star, Oliver Hruby
Known Aliases / aka:
Years Active: 2017
WILLIAM HIGGINS INFO:
Model Name: Oliver Hruby
Age: 19
Home Town: Prague
Height: 183cm/6'0″
Weight: 77kg/169.4lb
Foot Size: EU44/US8.9/UK8.4
Penis Size: 17cm/6.69″
Profession/Student of: Dancer
Hobbies: Sport
Favorite Sports: Athletics
Active Sports: Dancing
Movie/Music/Sport Stars: Darinka Rolincova
Visited Countries: Italy
Want to Visit Countries: Portugal
Dream of My Life: I do not know.
Zodiac Sign: Gemini (May 21 – June 20)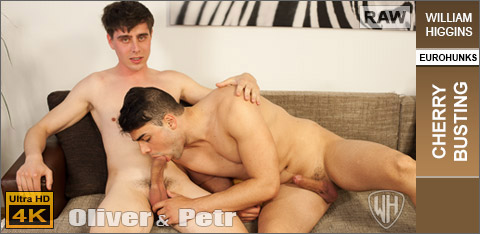 CHERRY BUSTING: OLIVER HRUBY & PETR ZUSKA
Oliver Hruby gets his cherry busted by Petr Zuska. Petr leads him into the room and they sit down for a chat. During the chat about sex. Oliver says that he would probably like to try sex with a guy and that is all Petr needs to know. He starts rubbing Oliver's leg and then kissing him. Soon Petr has Oliver bare-chested and is kissing the sexy body. Petr keeps rubbing Oliver as they kiss and he opens the pants. That releases Oliver's big, stiff, cock which Petr starts to suck. Oliver takes off his pants and Petr sucks on the big cock and the balls. The Petr's pants come off too and Oliver is soon working on the stiff dick that comes out. He shows that he can suck real good, as his lips close tight around the cock. Petr pushes Olivers head down on his cock, making him take all over it in his mouth. Then he moves Oliver onto his knees and starts inspecting the tight ass. Petr laps at the ass as he wanks the big cock down between the legs. Then he slides a finger into the tight hole and starts to fuck it in and out. Oliver moans as he feels his hole being opened up. Petr sucks on Oliver's cock as he keeps finger the hole. Then me move to position his cock against the hole and slides it deep inside. Oliver takes that cock so well as it starts fucking him. The cock comes out and goes back in and fucks deep and hard. Petr spanks the sexy ass as he fucks it. Oliver moans as he takes the stiff cock. The hard cock works Oliver's hole so well. Petr really pounds that ass, climbing up to go in right up to his balls. Then he pulls out and Oliver sucks some more before sitting his ass right down on Petr's throbbing cock. He rides up and down on it as his own cock flops around. Then he dismounts and lays on his back for Petr to fuck him some more. Oliver wanks himself as he takes the dick deep in his ass. It doesn't take long until Oliver's cock releases the hot, squirting, cum up his chest. Petr keeps fucking that hot ass until he is ready to shoot his load too. Then he pulls out and dumps his cum all over Oliver.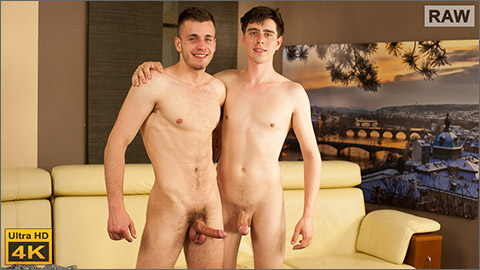 FULL CONTACT SCREEN TEST: NIKOLA DONOVAL & OLIVER HRUBY
Oliver Hruby, having recently had his cherry busted is back for more. This time he is paired with Nikola Donoval who appears in his Screentest. They start by kissing for a while. Then Oliver removes Nikola's tee shirt as he feels over his body. Nikola takes off Oliver's tee shirt too and begins to kiss his chest. They continue kissing and then Nikola takes down Oliver's shorts and drops to his knees to suck on the stiff cock. He works well on Oliver's cock, sucking it deep into his mouth, and licking on the shaft too as he gently wanks it. Oliver rubs Nikola's head as he fucks his cock into the waiting mouth. Oliver then sits and lands back for Nikola to suck him some more. Oliver then lays on his back, lifting his legs in the air for Nikola to rim his hot hole. He wanks himself as Oliver's tongue works his hole. Nikola slips a finger into the hot hole too and starts to fuck it in and out. He turns Oliver over, onto his knees, and slides his big, hard, cock into that tight hole. That cock looks a tight fit and Nikola begins to fuck Oliver, with long, deep, strokes. The fucking speeds up with Nikola grabbing Oliver's hips and pounding his hole. Oliver takes it well and is soon sitting on that dick, riding up and down on it. His own cock is rock hard as he takes the dick right down to the balls. Nikola thrusts his cock deep into the hole and fucks hard as he reaches for, and wanks, Oliver's cock. Oliver is moved again, onto his back and that massive dick goes back into his hole to work it hard. He grabs his own cock and wanks it as Nikola fucks him. All the fucking brings Oliver to the brink and he dumps his cum all over his sexy body. Nikola conitinues fucking the tight ass until he is ready to cum to. He pulls out and wanks his cock to shoot the creamy cum over Oliver. He milks his cock dry and leans over to kiss Oliver once more.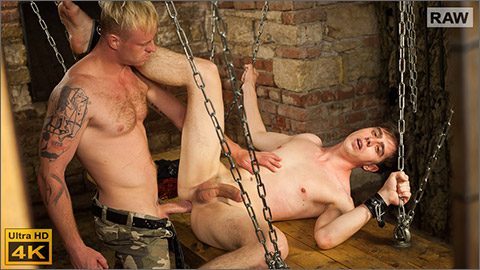 DUTY BOUND: OLIVER HRUBY & TOM VOJAK
Oliver Hruby is bound and shackled, as well as gagged, wearing only underwear. His cock is poking out of the underwear and he is struggling, as if to release himself. Tom Vojak arrives and starts to torment him, with a whip and his hands. Oliver moans all the while and Tom releases the stiff cock from the underwear. Then he pins the nipples too and returns to whipping Oliver. Oliver's moans continue unabated as he feels everything. His balls are pinned too and then Tom wanks and sucks at the throbbing cock. He continues to whip Oliver and then pulls out his own massive cock and shoves it into the waiting mouth. He fucks Oliver's mouth hard before releasing him and making him kneel on the table, presenting his ass. Tom's big cock slams into the ass and fucks it deep. Oliver keeps moaning as he takes the huge cock and feels Tom slapping his ass as well. Tom turns him over onto his back and rams his dick back in for more hard fucking. He grabs Oliver's cock and wanks it as he fucks. Then Oliver wanks himself and dumps his hot cum onto his belly as Tom's dick still works his hole. Tom is ready too and pulls out to drop his creamy cum onto Oliver's still stiff cock.
CLICK HERE TO GO TO HIS WILLIAM HIGGINS BIO PAGE
CLICK HERE TO GO TO HIS STR8HELL BIO PAGE