Next Door Studios Gay Porn Star, Oli Gold
Years Active: 2013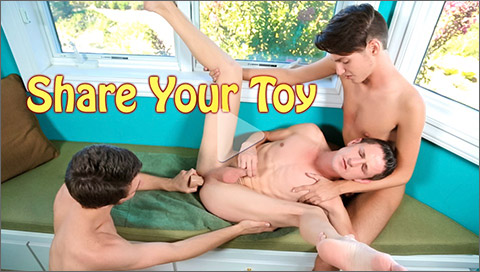 SHARE YOUR TOY
It's about time Oli shared that thing! His little friends at school have been waiting for an invitation ever since they all saw him unwrap the brand new, princely looking dildo at his birthday party.
   Oli's been using the toy everyday. The truth is, he hasn't wanted to invite anyone over because he's been acclimating his tight, Twink hole to the massive thing. But now that he can take the girth fairly easily, Oli's decided to invite over his pals, Asa Shaw and Alexx Thomas for a little pleasure party. The three boys made out at school during lunch once, so Oli figures they're the best invitees for his good-time get-together. They engaged in some pretty amorous activity right from the start. They can't keep their hands off each other. Soon they're naked, playing with and sucking on one another. Alexx slurps, licks, and sucks Asa's fat dick for a while, while Oli takes care of Alexx's thick cock. Then the coveted dildo makes its appearance. Watch each boy take a nice, deep banging before squirting with passionate glee, one at a time. It's a Twink party you definitely want to attend!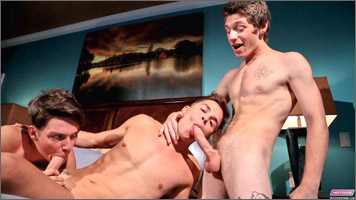 PENAL CODE 3
It's another hard day on patrol for Officer Oli Gold. He's a very by-the-book young cop who's aiming to impress and make a name for himself on the street. The only problem is the beat he's been assigned. It couldn't be a more demeaning assignment. The Chief has ordered Oli to keep an eye on his nephews, Andy Taylor and Alexx Thomas, while they're visiting.
   Oh well…at least Oli gets to relax in a nice, air conditioned bedroom while the Chief's nephews frolic and play. Even though Oli, fresh out of the Academy, is about the same age as Alexx and Andy, he's not letting them get the better of him. When the nephews begin roughhousing a little too hard, Oli intervenes, threatening to use his nightstick. But the boys just laugh! The fun turns out to be contagious. Oli can't help but join in, wrestling and pillow fighting. Before Oli realizes exactly what's going on, all three boys have lost their shirts and pants! Oh well, it's all in the spirit of playfulness. And…oh my goodness! Now they're rubbing each other's dicks! Wow, the Chief's nephews sure do have fat cocks. Oli figures it wouldn't be TOO far outside the rules if he let Andy suck his hard boner while Alexx services Andy. And as long as that's cool, Oli's willing to share Andy's fat dick with Alexx for a double-suck session. And why not let Andy lick Alexx's sweet hole for a bit while Alexx slurps Oli's knob some more? And as long as Alexx is having horny Andy fuck his tender ass, Oli should get some of the action. Watch Officer Gold get banged nice and hard on his very first day on the job. Welcome to the Force!
CLICK HERE TO GO TO HIS NEXT DOOR STUDIOS DETAILS