Handsome Smooth Muscular ChaosMen Amateur Gay Porn Guy, Nolan Stone
Known Aliases:
Years Active: 2016
BRIAN OCKERT / CHAOS MEN INFO:
Start Age: 23
Debuted: October 3, 2016
Height: 5'10"
Weight: 185 lbs
Cock: 7″ Cut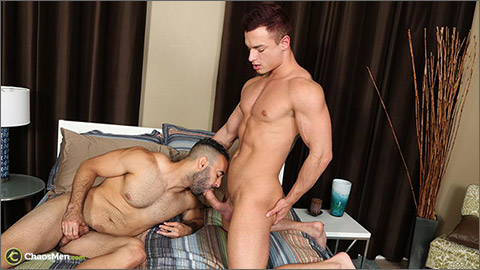 SERVICED: LORENZO & NOLAN STONE
Gulp! Lots of cum eating in this video!
   Nolan turned up the heat immediately after taking one look at Lorenzo!
   I think this is the first time Lorenzo has was set to be the "servicer" in a Serviced video. After working with a handful of straight guys, it surprised Lorenzo to have someone who would throw as much energy into it as he does.
   There is a lot of making out and plenty of cock sucking. Nolan had mentioned that guys are often surprised at how thick his cock is, and when you see Lorenzo sucking it, you finally get to see it in scale. It is indeed THICK!
   Nolan gets on his back and Lorenzo delivers his load right into Nolan's open mouth. Nolan needs to ramp up and get himself close, so as soon as he starts cumming Lorenzo jumps on and swallows Nolan's load!
   Protein shakes for everyone!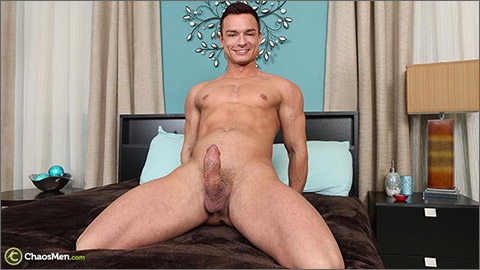 SOLO: NOLAN STONE
Nolan submitted himself with some awesome gym selfies. He told me he was gay and loved to bottom. With so many new guys that only want to top, I was like, "Come on down!"
   He has a hot body, with an impressive back tattoo. His cock is 7 inches, but he is always clear to tell anyone that if he is going to top that it is a THICK 7 inches. And thick it is!
   So he sounds versatile, but mostly into being on bottom.
   We tossed a few anal toys into the shoot, and the dildo he picked out was rather large. He barely squeezes it in and I am impressed by him taking such a big dildo.
   For his cum shot, he switches to a more manageable butt-plug that would stay in place while he busted a huge, white, creamy load!
CLICK HERE TO GO TO HIS CHAOSMEN BIO PAGE