Staxus Gay Porn Star Euro Twink, Noah Matous
Known Aliases: Petr (Gay War Games)
Years Active: 2014 – 2015
STAXUS INFO:
Date of birth: 19th November 1994
Height: 5'11" / 180 cm
Cock size: 7″ / 17.5 cm
Ethnicity: Czech
Role: Bottom
Interesting Fact:
Noah loves to dance and party with his friends and is in love with his new dog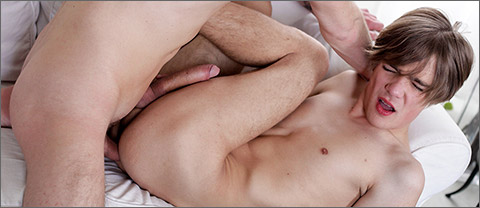 USE ME!: PIZZA BOY GETS FUCKED OVER & CREAMED BIG TIME BY COCKY CLIENT
It's a storyline that's as old as porn itself – the pizza delivery boy getting hit on by his horny, over-sexed customer – but what this terrific scene lacks in terms of originality it more than makes up for by the fact that the guy doing the delivering is none other than Noah Matous! No fucking wonder that Jonny Kingdom is so keen to "pay with his cock", having taken exception to the quality of the pizza that's been presented – let's face it, who wouldn't want to fuck the living daylights out of this floppy-haired bundle of sexual joy?
   Not that Matous appears to be in any way put out by Kingdom's advances. In fact, you can almost hear the boy purr with delight from the very moment that his disgruntled client forces him down onto that thick, veiny cock; and within seconds he's slurping and gobbling his way down to the root like a bitch on heat. Not only that, but he also soon develops a particular penchant for Kingdom's balls, which he sucks and pleasures with such gusto that Kingdom is quite literally left gasping and groaning in delight! Yet there's no disguising the fact that Matous is a lad who never truly happy until his legs are akimbo as far as they'll go and his ass is being stretched to the point of buggery – and believe us, he's come to the exactly the right place!
   Indeed, the older fellow shows little if any mercy on the youngster's fuck-hole, bundling him over a sofa and promptly pummelling the poor pup like a jack-hammer in overdrive! No doubt Matous struggled to put his legs together for a week after this shoot; with an arse load of jizz as a souvenir!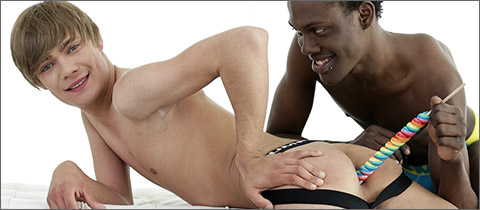 TWINKS DESTROYED 4: HARD BLACK STUD TAKES HIS YOUNG MASSEUR FOR A HOT, HORNY FUCK!
Let's be perfectly honest here, if you were presented with a fine specimen like Pinky to rub down in a massage, wouldn't you find it hard to concentrate on the job at hand? To be fair, the ever-gorgeous Noah Matous does his level best to keep to the script in the opening stages. Trouble is, with that fine black butt on full display and the knowledge that there's an even more appetising black cock pressed up against the massage-table beneath Pinky's muscular frame, it's nigh on impossible for a horny young fellow like Matous not to be totally distracted.
   As a result, what starts off as a professional masseur display very quickly descends – or ascends, depending on your point of view! – into a full-on, no-holds-barred encounter between a black stud and his eager white bitch! Indeed, there's simply no denying the enthusiasm that Matous displays once he's been given total access to his buddy's thick, uncut shaft! Why, the boy's quite literally like a slut on heat as he grinds his own oiled knob against Pinky's crotch; before the black dude responds by tossing him over on his front and engaging in a full-on exploration of his cute, white ass!
   Clearly one to add a little kink into the mix, however, Pinky's soon using a lollipop to work that tight little button; giving Matous to chance to suck on it between insertions, before finally fitting his own oversized butt-stretcher into the young twink's fuck-hole. From that point on, of course, there's just no going back. Matous quite simply receives the banging of a lifetime; culminating in him creaming-off mid-fuck, before Pinky underlines his mastery of the pairing by squirting his own wad on the lad's arse!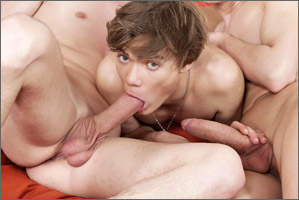 NOAH MATOUS GETS DP'D BY BIG-DICKED PALS, HOME-MOVIE STYLE!
Is it ever a good idea to put the camera into the hands of the models? Well, we'll let you decide the answer to that question; but the action here is a little more "traditional" than you might expect from a POV scene, save for the fact that the models in question – Gabriel Angel, Noah Matous and Jace Reed – take it in turns to hold a hands-held camera, whilst another camera operates from the end of their bed. As a result, all three guys appear fully in-vision through the course of the scene – a fact that surely won't go unnoticed by those who like to see their models "in full".
   And that, of course, is excellent news given that there's really not a part of any of these three beauties that the gay porn fan would want to miss. Be it Matous's seemingly-innocent smile, the rebellious twinkle in Angel's Gallic eye, or (to put it bluntly) Reed's fucking huge cock, we get to see everything there is to see of these three stunners – and who could possibly complain about that? Of course, it probably doesn't even need to be said that it's Reed's oversized organ that serves as the central feature of the whole performance; although the said dick is only half of the requirement for the scene's centrepiece, namely Matous's double-shafting.
   By that point, however, there's every good chance that you will have fallen head-over-heels in lust with the entire trio – and for every good reason. All three of these lads are utterly divine in their own individual way; and the fantastic gooey spews that all produce in turn will only underline that belief. In short, a total must-must-see!
STAXUS
CZECH HUNTER
GAY WAR GAMES
CLICK HERE TO GO TO HIS STAXUS BIO PAGE
NOAH MATOUS GETS DP'D BY BIG-DICKED PALS, HOME-MOVIE STYLE!
BIG DICKED THREE-WAY PILE UP GIVES NOAH MATOUS A CUMMY ARSE!
NOAH MATOUS'S HUNGRY LITTLE ARSE-HOLE GETS BLACKED & CREAMED!
TWO DIVINE CUTIES ENJOY A RAW DINNER DATE WITH A DIFFERENCE!
HIS FIRST DAY