Scruffy American Gay Porn Star, Nico Duvall
Years Active: 2015
TWITTER @NicoDuvall
GUYS IN SWEATPANTS INFO:
5' 8″
155lbs
6.5″
Nico duvall, a twenty year old male with immense blessings is caught up in the motion of life's biggest challenge; what is important? Nico seeks modeling for the immediate pleasures, but is that important to him and his own happiness? He knows he can't say NO to hot guys and big dicks, but would he do it for a klondike bar? Definitely. He's sexy, educated, composed, and strong. Something meets more to the eye when it comes to him. It might be his resilience to be competitive but at the end of each day, Mr. Duvall knows he knows what he wants, and strives to be a go-getter to fill his tight ass cravings. One thing is certain, he is always hungry! Nothing screams "Nico" more than greasy fried food and cold brews with a good crowd.

KYLES FAT VEINY COCK
Kyle normally bottoms, but we wanted to see him lube up his huge cock, and stick it deep inside someone. Nico was definitely up for that challenge of sticking it balls deep in both his mouth AND his ass… and he was a fucking champ at both. Nico took the fat, raw cock and enjoyed every second of it, turning around to watch Kyle slide it in and out of his tight hole with every thrust. There's nothing hotter than watching a bottom ride a big cock until he cums, then taking the top's load in his ass!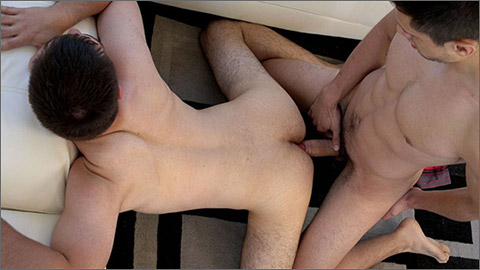 NICO'S FIRST FORESKIN
It's been several months, but Joey is back! He's fucking newcomer Nico Duvall, who apparently has never been with a guy with foreskin?! We found a little private beach to play some football and hang out for a bit. There may have been some nudity there 😉 This is another case of a bottom who loves getting fucked so much that he barely touches his own cock with the fear of cumming instantly. Their chemistry was amazing, which resulted some super hot fucking… and then them cumming at the same time— and Joey's load going deep inside Nico!
GAY ROOM
GAY ROOM / GAY CASTINGS
GAY ROOM / MAN ROYALE
GAY ROOM / MEN POV
CLICK HERE TO GO TO HIS GUYS IN SWEATPANTS DETAILS
CLICK HERE TO GO TO HIS GAYROOM DETAILS