Lean Sexy Stripper Gay Porn Star, Mitch Vaughn
Known Aliases:
Years Active: 2010 – 2015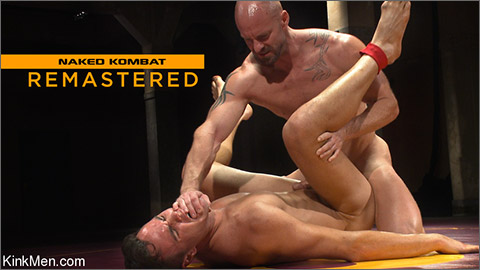 MITCH VAUGHN vs BJ ADIA
With his height and long arms, BJ Adia thinks he can easily take on KinkMen vet Mitch Vaughn in a battle of ripped bods and hard cocks. Shrugging off BJ's threats, Mitch feels more than ready to put BJ Adia in his place. The first round sees a thunderstorm of fast-paced wrestling. The combatants move quick to lock in technical points from brutal holds as their rock-hard bodies tussle on the mat. In the second round, the sexual domination comes to the forefront, with holes fingered and ass cheeks slapped as the wrestlers fight for Top Cock. The winner comes ahead with a clear margin and celebrates his victory with a wet, sloppy blowjob from the loser. He shoves the loser to the mat and jams a heavy metal asshook deep inside the loser's pathetic hole. The hook makes a great harness for pony ride, as the loser takes the winner around the ring before a vicious piledriver dicking. The winner puts the loser on his back and commands the loser to jerk out a load as his hole gets reamed mercilessly. The loser accepts his own jizz before his face gets creamed from winner cum. After receiving the hot loads, he licks the winner's armpit clean in gratitude.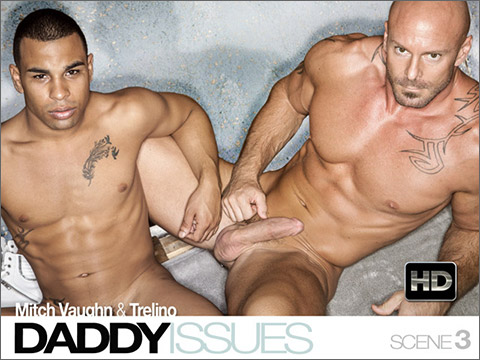 DADDY ISSUES
Trelino is taking a break with an icy cold one as boss man Mitch Vaughn strolls by, catching him in the act. Mitch is going to teach Trelino the meaning of hard labor—and just in time too, as Trelino has some real daddy issues he needs to work out. Big cocks and hot daddy fucking action is on tap.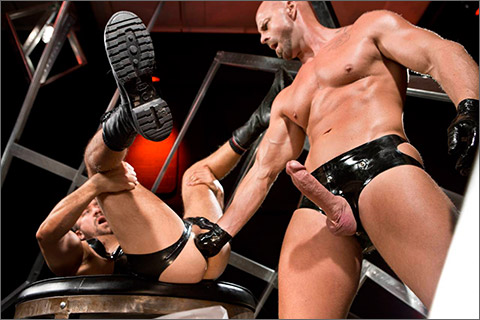 FULL DEPTH: Manuel Olveyra & Mitch Vaughn
Mitch Vaughn dips his hands into a huge, red bucket filled with slick lube. Forearm veins bulging, he penetrates Manuel Olveyra's fuck hole up to the wrist. Mitch is a burly guy with big hands, so you know that Manuel is feeling the stretch in his man chute. When Mitch pulls out, Manuel's rectum bulges out in a mound of clenched flesh. Gripping his rubber jock, Mitch unleashes his massive cock and starts jerking. Mitch's toned muscles flex under his dark, tan skin, and Manuel's back muscles form a solid ridge as he arcs himself to receive Mitch's fist. Flipping Manuel over, Mitch alternates between fisting and fucking Manuel's hole, sticking in as many fingers in with his cock as he can. When he cums, Mitch sprays cum clear across the room in multiple jets. Now that he's done using Manuel's hole, Mitch reminds him of his place by peeling off his black, latex fisting glove and stuffing it up inside Manuel's pig-hole!
CHANNEL 1 / RASCAL
CATALINA VIDEO
RAGING STALLION
HOT HOUSE
HOT HOUSE CLUB INFERNO
COLT STUDIO
NAKEDSWORD
JAKE CRUISE'S COCK SURE MEN
JAKE CRUISE / HOT DADS HOT LADS
NEXT DOOR STUDIOS
DOMINIC FORD
MEN.COM
KINK MEN
KINK.COM / BOUND GODS
KINK.COM / NAKED KOMBAT
KINK.COM / BOUND IN PUBLIC
KINK.COM / MEN ON EDGE
BIG DADDY
BANG BROTHERS / BAIT BUS
SYTYCF III, EPISODE 9: MITCH & DEREK
SYTYCF III FINALE: TOPHER & MITCH
BOYFRIENDS: MITCH VAUGHN & SPENCER WILLIAMS
MITCH VAUGHN FUCKS CHRISTOPHER DANIELS
SYTYCF III, EPISODE 4: MITCH & DUNCAN
SYTYCF III, EPISODE 6: MITCH & LANCE
SYTYCF 2 – EPISODE 2: HEALTH CODE VIOLATION
SYTYCF 2 – EPISODE 4: SEXY STRIPPING, HOT FUCKING, & 4 CUMSHOTS!
SYTYCF 2 – EPISODE 7: UNDERWATER PHOTO SHOOT & POOL FUCK
MITCH VAUGHN FUCKS SCOTT HUNTER
ROUGH TO FUCK with BRADY JENSEN FUCKS MITCH VAUGHN
MITCH VAUGHN & MARC DYLAN FLIP-FUCK
MITCH VAUGHN & PHILLIP AUBREY FLIP-FUCK
MITCH VAUGHN & JIMMY FANZ FLIP-FUCK
ZEB ATLAS FUCKS MITCH VAUGHN
MITCH VAUGHN FUCKS TREVOR PARKS
THE ENGAGEMENT: PART 1 – THE PARTY
THE ENGAGEMENT – PART 2
THE REUNION: MITCH VAUGHN & LOGAN SCOTT
MITCH VAUGHN & ARI SYLVIO
ROBERT AXEL & MITCH VAUGHN
ABS FAB with MITCH VAUGHN & RILEY PRICE
PERSONAL HOTSPOTS with MITCH VAUGHN & DOMINIC SOL
MITCH VAUGHN & SPENCER WILLIAMS
MORGAN BLACK & MITCH VAUGHN
SAMUEL COLT & MITCH VAUGHN FLIP-FUCK
DREW CUTLER FUCKS MITCH VAUGHN
SPENCER REED FUCKS MITCH VAUGHN
JAKE FUCKS MITCH VAUGHN
MITCH VAUGHN & JAKE
MITCH VAUGHN SOLO
AFTER BURN
JOCK STRAP FANTASY
WORKED OVER
MY NEW BROTHER'S DAD – PART 1
ONE BIG HORNY FAMILY
RENT OR BANG
MITCH VAUGHN
MITCH VAUGHN & PARKER WRIGHT
THE BULLY
CUMPENSATION
THE SLAMMER 2
MASKED MEN
RESERVOIR DICKS
QUICKIE
SPENCER REED & MITCH VAUGHN LIVE: OCT 16, 2011
LOCKER ROOM TRYST
BATH HOUSE UNDERWORLD ORGY
BIG GUYS LOVE BIG COCKS
BIG BOYS LIKE TO PLAY
HOT FOR YOU
KYLE'S MASSAGE SURPRISE
LIKE A BOSS
MASTER & APPRENTICE
A SCENE FROM THE UPCOMING "MY HORRIBLE GAY BOSS!"
MITCH VAUGHN FUCKS TYLER BOLT
DON'T SHOOT THE MESSENGER
HOW BADLY DO YOU WANT IT?
MY HORRIBLE GAY BOSS, SCENE TWO
THE NEW GUY GETS HIS REVENGE!
MUSCLE TOP MITCH VAUGHN SLAMS PARKER PERRY
SO MUCH FOR PLAYING GOLF!
DAVID CHASE FUCKS MITCH VAUGHN
3 TWINKS AND A SHARK
LEATHER HOOKUP WITH TRENTON AND MITCH
DUNGEON DATE
DOCTOR MORGAN BLACK'S FANTASY
PERVY HANDYMAN HAS HIS WAY WITH A HOT MUSCLE GOD AT THE GYM
MITCH VAUGHN – THE MUSCLE STUD
IVAN GREGORY vs MITCH VAUGHN
MITCH VAUGHN vs KIP JOHNSON
MITCH VAUGHN vs BJ ADIA
JAY "SLICK-DICK" RISING vs MITCH "THE MACHINE" VAUGHN
OILED MUSCLE: MITCH "THE MACHINE" VAUGHN vs MARCUS "TITAN" RUHL
GOLIATH vs MACHINE – WHICH MUSCLED GOD GETS HIS ASS FUCKED?!
ELI "THE HAMMER" HUNTER VS MITCH "THE MACHINE" VAUGHN
BEAST & HAMMER vs MACHINE & DESTROYER – LIVE TAG TEAM MATCH
NAKED KOMBAT'S SUMMER SMACKDOWN TOURNAMENT – MATCH 3
NAKED KOMBAT'S SUMMER SMACKDOWN TOURNAMENT – QUARTER FINAL MATCH ONE
"RETURN OF THE CHAMPION" – SUMMER SMACKDOWN: 1ST SEMI FINAL MATCH
MITCH VAUGHN, TATUM sv DOUG ACRE, ELI HUNTE
RICH "THE WRECKING-BALL" KELLY vs MITCH "THE MACHINE" VAUGHN
RICH "THE WRECKING-BALL" KELLY vs MITCH "THE MACHINE" VAUGHN
HOT ART THIEF WITH A BIG COCK BEATEN AND FUCKED INTO SUBMISSION
HORNY CROWD MERCILESSLY GANG FUCKS A BOUND HUNG STUD AGAINST HIS WILL
BOUND HUNK PUBLICLY TORMENTED AND GANG FUCKED FOR HIS FIRST DORE ALLEY
PUBLICLY HUMILIATED, ASSHOLE ZAPPED, AND COVERED IN STRANGERS' CUM
HOT ART THIEF WITH A BIG COCK BEATEN AND FUCKED INTO SUBMISSION
MUSCLE STUD MITCH VAUGHN TIED UP AND USED IN A PUBLIC BAR
MUSCLED STUD HAS HAD ENOUGH BUT THE HORNY CROWD SAYS NO
SPENCER'S DAY OUT!
NEW BLOOD
TURN YOU OUT!
BIG BOYS LIKE BIG TOYS
THE PIMP GETS PIMPED
I'M GONNA GET THIS MOFO
MR. CLEAN GETS MEAN
MITCH VAUGHN & DIEGO VENA
THE HOOKUP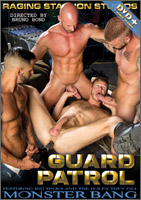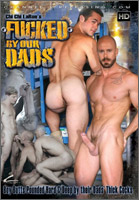 ALLEY CATS
FULL DEPTH
FULL RELEASE
GUARD PATROL
REVVED UP!
DIRTY LIL BROTHER
FUCKED BY OUR DADS
TRUNKS 8
THE DOM
BIG BAD WOLF
FIRE IN THE FOXHOLE
HOLE BUSTERS 8
FUCK ME HARDER
DADDY ISSUES
BATMAN & ROBIN: AN ALL-MALE XXX PARODY