Rock Hard Hung Czech Gay Porn Star, Miro Matejka
Known Aliases / aka:
Years Active: 2016
WILLIAM HIGGINS INFO:
Miro Matejka is from Prague. This sexy, straight, 19 year old is a student who enjoys sports, particularly rugby and fitness. Certainly that gym time is working for Miro as we see when he lifts his top to show off his awesome abs. He poses to let us enjoy the abs and then completely bares that hot chest. He tenses his muscles beautifully and then removes his jeans and poses in just his underwear. He turns, removing his underwear, and shows off his sexy ass as he continues to flex his muscles. Then Miro sits and leans back to give a great view of his soft cock and his balls. He gets the cock rock hard and stands up to pose, hands on hips, to show it off. Proud of his huge erection he flexes his biceps too before sitting again. He leans back and lifts his legs in the air to expose his hot hole. He reaches for his ass cheeks, pulling them wider apart to give an even better view of the hole. Then he turns over onto his knees and gives a different view of the sexy ass, pushing his stiff dick down between his legs. He finishes a great shoot by posing some more, this time on the sofa.
Model Name: Miro Matejka
Age: 19
Home Town: Prague
Height: 178cm/5'10"
Weight: 71kg/156.2lb
Foot Size: EU43/US8.7/UK8.2
Penis Size: 17cm/6.69″
Profession/Student of: University student
Hobbies: Sport
Favorite Sports: Rugby
Active Sports: Fitness
Movie/Music/Sport Stars: Angelina Jolie
Visited Coutries: Greece
Want to Visit Coutries: France
Dream of My Life: I don't know.
Zodiac Sign: Leo (July 23 – August 22)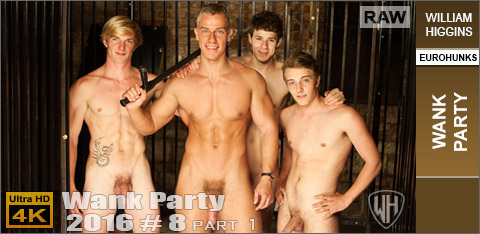 WANK PARTY 2016 #8 RAW
In Wank Party 2016 #8 we have Bradley Cook, Mirek Madl, Libor Lisek and Mire Matejka. This first part see Libor, Miro and Mirek in a cage, wearing only their boxers, with Libor shackled as the others kiss and feel him. Miro pulls down Libor's shorts and sucks on his stiff cock and Mirek sucks on the nipples. Bradley, the guard, arrives and starts calling through the bars. He calls Mirek over and tells him to suck his cock. The cock pokes through the bars and Mirek quickly takes it in his mouth sucking it hard. Miro continues to enjoy Libor's dick too. Bradley's big cock fills Mirek's mouth and he gags some as he sucks on it. Miro moves over to join Mirek and they take turns sucking on Bradley's big cock. Bradely, naked, goes into the cage as Libor is released from his shackles. Libor is soon sucking on Bradley's cock as Mirek works on Miro's. They all enjoy the hot sucking as they build up to part two.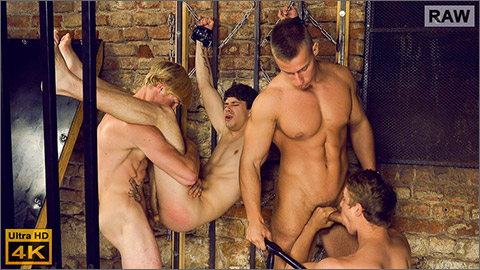 In Wank Party 2016 #8 we join Bradely Cook, Mirek Madle, Libor Lisek and Miro Matejka in part 2 as Libor is shackled to the wall. He complains as his underwear is removed and Miro slides his big, hard, cock deep into the waiting ass. Mirek stands watching, and wanks his cock. Miro fucks Libor's ass and spanks it as his dick ploughs in and out. He fucks hard and fast making Libor moan. Miro pulls out to give Bradley the chance to fuck the waiting hole. Bradley's big cock fills the hot and he fucks it deep and hard. Miro and Mirek wank themselves as they watch. Then Libor's hole is filled by Mirek as he takes a turn at fucking. His dick pumps in and out of the ass as hard as he can. Then as he pulls out his cock is replaced by Miro again. As Miro fucks Libor he also wanks Mirek. Libor is moved, his wrists still shackled with his legs over Miro's shoulders for more fucking as Mirek drops to his knees and sucks Bradley. Then Bradley's big dick takes a turn in Libor's hole as Miro sucks on Mire's throbbing cock. Miro is still hot for ass and Mirek obliges, laying down with his legs up for some hot fucking. He grabs his cock and wanks it as Miro fucks his ass so hard. Mirek keeps wanking as he gets fucked and soon dumps his hot cum all over himself. Miro keeps fucking the hot ass as Mirek milks his cock. Libor is released and stands over Mirek to shoot his hot cream too. Then Miro pulls out of the ass and shoots his hot load as well. Bradley is ready to cum too, and Libor drops to his knees to receive the creamy load over his chest. Libor grabs the big cock and licks and suck the cum from it to end a very hot scene.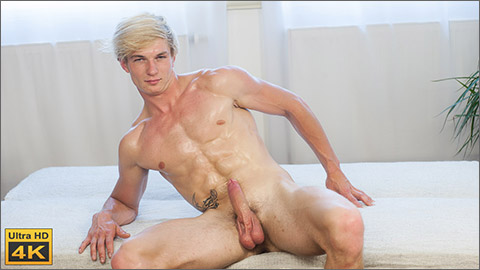 MASSAGE: MIRO MATEJKA
Miro Matejka is in for a massage. He lays on the table, face down with his sexy ass tightly covered by his underwear. Filip Cervenka arrives and takes some oil to massage Miro. His hands work all over Miro's back and up to his neck and shoulders. As he works on the back Filip lets his hand slide under the waistband of Miro's skin-tight underwear. He pushes the underwear down to reveal the hot ass. Filip's hands glide over the butt cheeks, with more oil being applied. The underwear is then removed and Miro's ass cheeks are parted, showing off his hairy hole. As he feels the hand rubbing over his hot hole Miro bucks that sexy ass. He moves onto his knees and the ass cheeks part, giving access to the hole. Filip slides a finger deep into the hole and Miro moans as he feels it. Filip reaches under and takes hold of Miro's throbbing cock, wanking it as he continues to finger the tight hole. Miro enjoys the finger in his hole and he turns over with his legs in the air to get more fingering. Filip wanks on the cock and fingers the hole as Miro runs his hands over his ass. Then Miro drops his legs and oil is applied all over his sexy chest and down to his cock. He takes hold of his cock and starts to wank it,the balls tight against the shaft. Filip bends forward and takes the throbbing cock into his mouth and sucks it as Miro moans loudly. Then Miro grabs his dick again and wanks it hard until he shoots his hot cum.
CLICK HERE TO GO TO HIS WILLIAM HIGGINS BIO PAGE