Sexy Hung William Higgins Czech Gay Porn Star, Miro Dalek
Known Aliases / aka:
Years Active: 2017 – 2018
WILLIAM HIGGINS INFO:
Model Name: Miro Dalek
Age: 19
Home Town: Prague
Height: 180cm/5'10"
Weight: 71kg/156.2lb
Foot Size: EU44/US8.9/UK8.4
Penis Size: 17cm/6.69″
Profession/Student of: Electro mechanic
Hobbies: Sport
Favorite Sports: Fitness
Active Sports: Ice-hockey
Movie/Music/Sport Stars: Ewa Farna
Visited Countries: Slovakia
Want to Visit Countries: Sweden
Dream of My Life: I do not know.
Zodiac Sign: Aries (March 21 – April 19)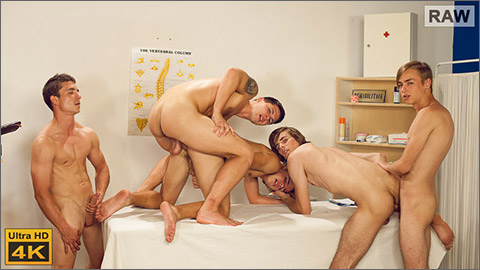 WANK PARTY #88
Part two starts with Kamil fingering Karel as Adam does likewise to Tomas. Kamil is so hot that he says he needs to fuck Karel and climbs up behind him to slide his cock deep into the waiting ass. Meanwhile Tomas presents his ass for Adam to fuck too. Kamil soon makes way for Mirel to fuck Karel too. His big fat cock slides deep into the moaning Karel's hot ass. He fucks him deep before making way for Kamil to fuck some more. Tomas takes Adam's dick deep in his hole as Kamil and Miro continue to change places and take turns in Karel's hole. Karel takes the cocks so well, moaning as each thrust works his eager hole. Tomas wanks himself as Adam continues to fuck him too. Miro's balls swing as he pounds Karel's hole as deep as he can. Karel wanks himself as he feels Miro and Kamil taking turns to fuck him hard. Kamil pounds the hot ass hard and fast and then gives way to Miro for him to do the same. Then Karel tuns over, onto his back for Miro to fuck him some more. He wanks himself as he takes the big dick deep into his ass. As he wanks Karel soon shoots his creamy cum as he gets fucked, with the others standing around him and wanking. Kamil's wanking speeds up and he pulls out and dumps his cum too, shooting it onto Karel's thigh. His place is takes by Tomas who fucks Karel deep, until he is ready to cum. Pulling out he shoots a nice load too. Then Kamil takes his turn again, his dick working in and out of Karel's ass until he shoots his big creamy load up onto Karel's belly. Adam is the last to cum, and he too fucks Karel's hole until his cock is ready to deliver a nice big load. He pulls out of that ass and let's his cum shoot onto Karel. He milks every last drop from his cock as the guys kiss each other to end a great wank party.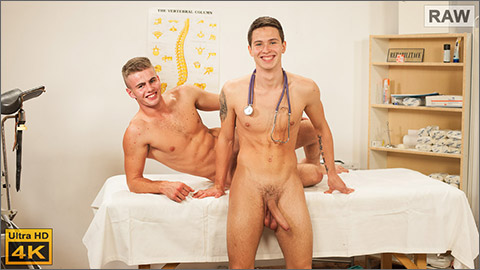 CZECH UP: FILIP ONALEK & MIRO DALEK
We have a wonderful Czech Up with two very sexy str8 guys Miro Dalek and Filip Onalek. Miro is the doctor who is visited by Filip. Filip has come to have his wrist checked to see how it is recovering from an injury. Miro removes the bandage and checks the wrist which seems to be fine now. Being thorough he asks if Fiip has any other problems. It seems that Filip has a pain in his shoulder, so he removes his tee shirt for Miro to check it out. Miro decides to massage the shoulder and tells Filip to lay on the table. He begins to massage the injured shoulder and works all over the back too. He removes Filip's underwear, exposing a very sexy ass. Miro's hands work all over the back and ass and he leans down to gently kiss Filip's back and onto his neck too. He leans over further and kisses Filip on the mouth as well. Then Miro removes his own tee shirt and opens his pants. He continues to rub Filip's sexy ass and kiss it. Then, fully naked he climbs onto the table, his massive cock already quite hard. He places his big cock on the crack of FIlip's ass and begins a gentle fucking motion. Miro's dick gets even harder as he rubs it against the ass crack. Then slides his big cock into Filips ass and begins to fuck him. Fiip moans as the massive dick pounds his tight hole. He takes it so well. Miro pulls Filip up onto his knees and continues to fuck him deep and hard. That big cock stretches the hole wide as Miro continues his fucking. Then Miro pulls out and kisses Filip again before fucking him some more, in spoon position. Filip takes hold of his own cock and wanks it as he feels the dick banging into his hot hole. He keeps wanking until his dick is rock hard and it shoot his hot cum. Miro keeps up his fucking until he is ready to cum too. Then he pulls out and dumps his cum as well, wanking his dick to milk it dry. Then he kisses FIlip once more.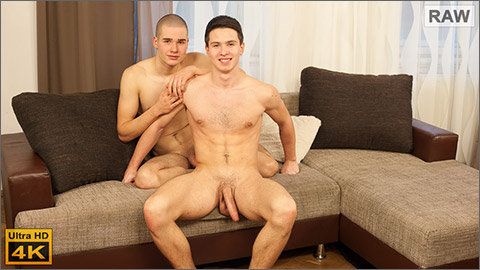 CHERRY BUSTING: ANTON KANER & MIRO DALEK
We have a great Cherry Busting, with hot str8 guys Anton Kaner and Miro Dalek. It is Anton who has never had sex with a guy who gets his hole filled by a cock for the first time. The guys sit and chat for a while and then they start to kiss. They quickly strip to the waist and Miro's jeans go down to release his cock. Anton is eager to please and starts sucking on the rock hard dick, licking up and down the shaft too. His mouth wraps tight around the cock and Miro pushes his head down on it. Then Miro stand and fucks Anton's mouth thrusting his hips to slide the dick inside. Then Anton's pants are removed and his legs raised into the air so that Miro can rim his virgin hole. That hairy hole feels the hot tongue lapping at it. Then Miro slips a finger into the tight hole. Anton moans as he feels the finger in his ass. It fucks in and out, going in nice and deep. Miro moves onto his knees and positions his cock. Then he slides it into that hot hole. His dick stretches the hole wide as he starts to fuck deep inside. Anton moans as he takes the cock all the way. Miro speeds up his fucking, with his cock slamming into the tight ass. Anton keeps taking it, moaning all the while. He is moved onto his keens for Miro to fuck him from behind. Miro's dick goes all the way in and he starts to fuck. Having taken it well Anton then sits on that big cock and rides it before they move to a spoon position. He wanks himself as Miro fucks his ass as hard as he can. Anton keeps wanking and soon shoots his creamy load as Miro's cock is working his hot hole. Then Miro pulls out to shoot his load over Anton's balls and thigh.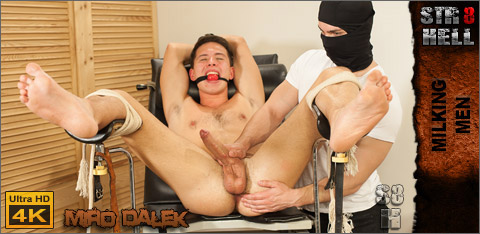 MILKING MEN: MIRO DALEK
Miro Dalek is a very hot straight guy who gets a real treat in this Milking Men set. Shackled and gagged he soon has his cock hard as his tormentor plays with it. That cock is so hard as it is wanked, right to the edge. His balls are played with too. With his underwear cut off Miro's cock and balls are fulling exposed, as is his sexy ass. His dick is wanked to the point of cumming, but then it is stopped. Miro wants to cum but isn't allowed to. His tight hole is fingered too, nice and deep. Then Miro is mover to the table and his cock and balls get the treatment once more. That big cock gets so hard and the wanking continues to eventually allow Miro to cum.Then the tender cockhead is rubbed to make Miro squirm as the last of the cum is milked.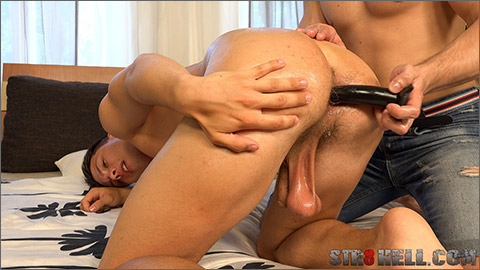 HOT ASS: MIRO DALEK
Miro Dalek is just so hot. He look great as he lays on the bed feeling himself. But he looks even better when he gets naked and wanks on his big, stiff, cock. Then Miro lifts his legs and spreads his ass cheeks to expose his hot ass hole. A helping hand arrives and uses oil to spread over that sexy ass. The hole is oiled too and soon a finger slides deep inside. It goes in well and comes out so we can check the hole again. Then two fingers are worked into the hot hole, opening it up really well. Miro moves onto his knees and feels the fingers slip back into his hot ass as his big balls hang low between his legs. The fingers go in all the way, right up to the knuckles and are then replaced by a dildo that fucks Miro's ass deep. Then he is left on his own to wank his cock to a big, creamy, cum shot.
CLICK HERE TO GO TO HIS WILLIAM HIGGINS BIO PAGE
CLICK HERE TO GO TO HIS STR8HELL BIO PAGE